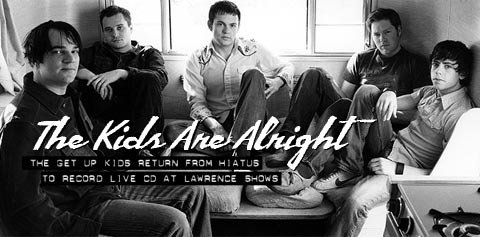 Thursday, December 30, 2004
When Matt Pryor of The Get Up Kids needs advice on how to keep his band intact, he simply looks to the most illustriously unstable rocker of all time.
"I think it was Keith Richards who said the secret to longevity in a band is to not spend very much time together," says Pryor. "Which is probably true. I haven't seen James since September. I saw Jim in October. I see Rob and Ryan once in awhile."
Pryor is referring, of course, to band mates James DeWees, Jim Suptic, Rob Pope and Ryan Pope, who help compose TGUK, Lawrence's most well-traveled band. Since finishing a four-month tour in June that included dates in Japan, England and Canada, the widely popular pop-rock five have been "taking a break."
"If, by 'taking a break,' you mean doing absolutely nothing," Pryor emphasizes.
That's not to say, however, that the individual members of the band haven't been busy. Besides taking care of his two children (ages 2 and 4 months), Pryor has been writing songs for two upcoming side-project records and preparing for a TGUK live record. DeWees has spent most of the fall on tour with New Found Glory and Reggie and the Full Effect. The Pope brothers, meanwhile, have bided their time jamming and recording with friends and label mates Koufax.
All of which points to one thing:
Past Event
Friday, January 7, 2005, 8 p.m.
Granada, 1020 Mass., Lawrence
All ages / $5 - $7
Past Event
Saturday, January 8, 2005, 8 p.m.
Granada, 1020 Mass., Lawrence
All ages / $5 - $7
"Matt just has a problem being around others," jokes the ever-effusive Ryan Pope. "He doesn't play well with others."
Screw Worcester
As the good-natured ribbing would indicate, TGUK have managed to endure 10 years of hard touring, record making and entrepreneurship with friendships intact. Formed in the fall of 1995, the band will celebrate its "aluminum" anniversary with two shows Jan. 7 and 8, both at the Granada.
"We're kind of fibbing on the 10-year thing, but just go along with us," Ryan Pope says. "It's pretty amazing to think about how long we've been making music and how fast the years have gone by : The other day I was driving and I heard an old Get Up Kids song on KJHK and I was like, 'Wow, that's really old.'"
The shows will likely yield a live CD/DVD to be released in June, though that could change if the show doesn't yield enough quality cuts.
"We're not going to put it out if it sucks," Pryor insists. "We've been a touring act since 1997, so hopefully we're a decent live band. It's sort of self-indulgent, but oh well."
The shows which sport a five dollar "1995-era" ticket price marks an occasion for reflecting on the band's career thus far. As Pryor tells it, it's been a steady climb since the band released its 1996 full-length debut "Four Minute Mile," considered by many to be a benchmark emo rock record.
"As you attain goals you start adding little extra levels onto the goal," Pryor says. "Wanted to tour ok. Wanted to make a living playing music ok. Wanted to go to Europe alright. Wanted to go to Japan and Australia ok. Wanted to tour in a bus alright."
Band songs
Get Up Kids
"Then you sort of run out of plateaus to get to, other than like ticket sales plateaus, and that gets really dull, like, 'I really want to sell 1,500 tickets in Worcester, Massachusetts.' Who cares?"
Happy, happy dinosaurs
Pryor's side project The New Amsterdams has done well, too, playing on Late Night with David Letterman last year and recently opening for Jimmy Eat World. He'll return to the studio sometime in 2005 to cut an album due for release in the fall.
In the meantime, Pryor has been writing a children's record.
"It's just something I wanted to do, not because I'm a big fan of the genre necessarily," he says. "I've just written songs and changed the subject matter to be about, like, dinosaurs and owls and bugs."
"I mostly just kept it upbeat and simple. You don't want to do like a prog-rock kids record."
Early returns include songs about "two happy dinosaurs" who move into a house down the street, a boy who refuses to grow past 11 years old and a junk-food junkie who refuses to eat healthy food. Pryor has yet to decide on the album's release date.
"That's the great thing about doing a children's record," Pryor jokes. "There's no pressure to put it out."
Night fever
As anyone who's followed The Get Up Kids' career closely knows, the one thing that's eluded the band thus far is mainstream acceptance the kind of upper-echelon profile afforded to hip crossover bands like Modest Mouse, Franz Ferdinand or The Strokes.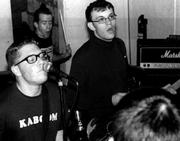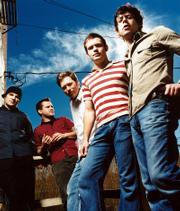 But if they harbor any trace of desire to reach such a plateau, the band certainly won't admit it. Pryor insists that that mainstream success would be more of an unexpected blessing than the realization of a longtime goal. Plus, the band's arrangement with Vagrant Records allows a hefty amount of financial and creative control, making day jobs a luxury rather than a necessity.
For Ryan Pope, the 10-year anniversary marks an occasion to be thankful that his high school education carried him into his mid-20s.
"I remember when we first started I was supposed to be going to college and I was like, 'Uh, I'm not going to go to college,'" Pope says. "The whole reason was this record label (Doghouse) was going to give us a European tour and I was like, 'No way!' I didn't really believe it."
Despite achieving his goal of being paid to travel, Pope admits he still has one goal yet to attain.
"Saturday Night Live," says Pope, who did perform on the Conan O'Brien show. "In my mind it's quite a large notch above, 'cause you get to do two songs instead of one."
"And you can lip synch it."
More like this story on Lawrence.com