Thursday, February 5, 2004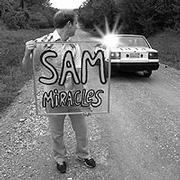 If the most direct songs are the hardest ones to write, then Sam Billen must have a heart homing device.
In the course of two albums with his band The Billions and this, his first solo album, Billen has addressed issues of faith, love and loss with a clarity more commonly associated with preachers than with songwriters.
Download the album's fourth track ("Listen to Me") right here, and you'll understand. Over a simple banjo line and a swelling string arrangements, Sam's angelic voice sings: "When I say I'm sorry, listen to me / When I say I love you, listen to me / When I wipe away all your tears, listen to me / I still love you more than anything."
"Listen to Me" is merely one of ten "Miracles" delivered by Billen on the record, which marks his second effort for Northern Records, an indie Christian label based in California that released The Billions' "Never Felt This Way Before" in 2002.
"Miracles" trades in the plush arrangements that characterize Billions records for a sparse and intimate sound, recorded during a week-long session at Billen's home in Aug. 2003 by producer Chris Colbert, who also recorded "Never Felt This Way Before." The homemade production invites elements of everyday life into the process: crickets, creaky piano benches, kitchen-top percussion and guest appearances from roommates and close friends who happened to drop by (one of which happened to be an amazing violinist).
The disc showcases some of Billen's best songs to date and also some of his goofiest. Each song has its own distinct personality, from the Western movie score vibe of "Far, Far Away" to the lonesome Tom Waits-y piano blues of "Fell In Love With Love."
On "I Finally Know" -- a favorite at recent Billions shows -- Billen sings an inspiring tale of self-discovery over a gaudy 70's piano-rock line that smacks of Billy Joel or Elton John. At the outset of the song he relates a tragedy from his personal life: "In 20 years I've seen the worst that life can give / My father crying as he watched my Mom die." As the song swells in tandem with a big fake string arrangement, he trades in sorrow for optimism, boldly proclaiming: "I finally know / A gift that I never knew I had ... The sun is rising I can start my life again."
"I'm Right Here With You" floats down like a cloud from heaven, mingling finger-picked guitar and vibraphone into a celestial bed over which Billen gently sings, "I imagine holding your hand laying in my death bed with the pictures scattered on the floor / Death doesn't matter anymore."
Despite repeated allusions to God and love, Billen's sentimentality never becomes mawkish. Much of this is due to his earnest vocal delivery, which nestles up right next to you and keeps you warm, so to speak.
Music this honest is terribly rare these days, and to do it with such song-craft is a doubly special feat.
In fact, you might even say it's a miracle.