The average American plans to spend $100 on cards, candy, flowers and jewelry this Valentine's Day, according to a National Retail Federation survey.
But you don't have to be average.
This year, try rejecting the retail sales pitch, spending next to nothing and giving a gift that means more than any generic stuffed animal, heart-shaped box of chocolates or cookie-cutter greeting card ever could.
After all, shouldn't Valentine's Day be a celebration of love rather than money? What's a grown man or woman going to do with a stuffed animal anyway?
The best Valentine's Day gifts are the products of time, thoughtfulness and imagination.
In that spirit, we've assembled some simple gift ideas that get to the heart of the phrase "It's the thought that counts." Most can be made using items commonly kept around the house. Others require a few bucks worth of supplies.
Any of them could be ready in time for Valentine's Day. So get inspired, and get busy.
Can Hallmark really say it better than you? Don't sell yourself short in the creativity department.
All you need is some colorful paper and a pair of scissors to make the most basic greeting card. We made the one above by peeling the face off a sheet of corrugated cardboard to reveal a dynamic texture and then cutting out heart shapes and taping them to the front. Fixing a piece of paper inside creates a writing surface for your message.
Your card can be tiny or huge, but the key is to personalize it to your relationship.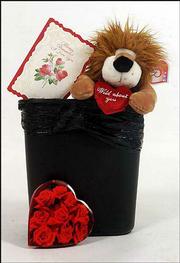 With all the fine papers, scrapbooking accessories and stamps available at art supply and hobby stores, you can create a pretty fancy card. Other adornments might include a collage of magazine cutouts, photographs, lace, doilies or even an original drawing or painting by you.
Cap off the project by writing a heartfelt message about what the recipient means to you. They're sure to appreciate your efforts.
If your sweetheart's sweet tooth craves chocolate, try forgoing the standard box and make a treat of your own instead.
Journal-World food columnist Gwyn Mellinger recommends this Hot Fudge Pudding Cake.
"This is a moist cake with a fair amount of gooey fudge syrup," she says. "It's easy to make and sinfully delicious. It's so chocolatey that I like to serve it with a bit of vanilla ice cream."
Hot Fudge Pudding Cake
----
1 cup flour, sifted
2 teaspoons baking powder
1/4 teaspoon salt
3/4 cup white sugar
2 tablespoons cocoa
1/2 cup milk
2 tablespoons butter or margarine, melted
4 tablespoons cocoa
1 cup brown sugar
1 3/4 cup boiling water
Preheat oven to 350° Fahrenheit. Lightly grease a 9 inch-by-9 inch baking dish. Sift together the flour, baking powder, salt, white sugar and 2 tablespoons cocoa. Blend in the milk and butter. Spread the batter in the prepared dish. In a separate bowl, mix 4 tablespoons cocoa and the brown sugar, and sprinkle it evenly on the cake. Pour the boiling water over the top. Bake for 45 minutes.
After dinner and dessert, light a few candles and settle in for a romantic movie.
Maybe you have some favorites of your own. But if you're looking to avoid stereotypical chick flicks like "Sleepless in Seattle," check out entertainment editor Jon Niccum's picks for the 10 most romantic movies of all time.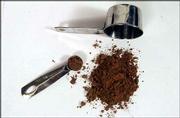 1. "Roman Holiday" (1953): Gregory Peck and Audrey Hepburn star in this story of a princess on an official visit to Rome who slips away incognito and shares a romance with a cynical newspaperman.
2. "Casablanca" (1942): Rick Blaine (Humphrey Bogart) abandons his cynicism to help an old love, Ilse Lund (Ingrid Bergman) escape the Nazis with her underground leader husband.
3. "Flirting" (1989): Two outcasts --a 17-year-old Australian schoolboy and a Ugandan girl at a neighboring school -- fall in love.
4. "The Remains of the Day" (1993): Anthony Hopkins and Emma Thompson connect in this tale of a butler who realizes his lifelong respect and loyalty for his master was misguided.
5. "To Catch a Thief" (1955): An infamous burglar who has retired to the Riviera nabs a thief imitating his old style. Stars dapper Cary Grant and regal Grace Kelly.
6. "The African Queen" (1951): Humphrey Bogart as a gin-drinking river trader and Katharine Hepburn as a prim missionary make odd companions on a boat trip down a dangerous river.
7. "Lost in Translation" (2003): Bill Murray and Scarlett Johansson forge a sweet, if unlikely, connection while staying in a Tokyo hotel on separate business.
8. "Romeo and Juliet" (1968): You know the story. Feuding Montagues/Capulets force their star-crossed children to a tragic end.
9. "Days of Heaven" (1978): Lovers played by Richard Gere and Brooke Adams leave Chicago to work the Southern harvest.
10. "Harold and Maude" (1972): A repressed young man, obsessed with death and funerals, has an affair with an 80-year-old woman. Sounds morbid and wrong, but trust us when we say it's a quirky, heartwarming love story.
Imitate the bard
OK, amateurs probably shouldn't attempt a sonnet for their first venture into love poetry. But nothing's stopping you from pouring your heart out on paper.
Jason Wesco, Perry poet and publisher 219 Press, recommends focusing on familiar territory to surmount the intimidation factor.
"Write in your own voice," he says. "That's where love poetry goes wrong is when people try to write in this alien, foreign, grandiose kind of voice. Use your own language; use the words you use. Write about things that you know, even if it's a small detail."
Try starting with an objects that's special to you and the person you're writing for. It could be as simple as the front porch swing. Have you shared intimate conversations there? Maybe you charted your future together. Do you remember the way the chains creaked as you sat for hours, sometimes not even speaking, just smelling the fresh-cut grass and listening to neighborhood kids chatter down the block.
You get the idea.
Remember, poetry doesn't have to rhyme. It probably shouldn't, Wesco says.
"I say if you write as you speak, most of us don't talk in rhyme," he says.
If you're serious about writing love poetry and want to read someone who does it well, check out Pablo Naruda, Wesco says. The most important component when starting out, he says, is finding a genuine voice.
"When you read good poetry, I think it sounds almost as if someone is talking to you," Wesco says. "Do not be poetic when you write poems. It sounds funny, but it really is true."
More tips
Here are a few more ideas to melt your Valentine's heart.
Make a mix CD of your sweetheart's favorite songs. No need to spend a ton of money. If you don't already have the albums -- and you have the technical savvy to burn a CD on your computer -- Web sites like www.itunes.com and www.napster.com allow you to download tracks for about $1 a pop.
Raid photo albums and memorabilia stashes to assemble a scrapbook of special moments. Don't limit yourself to photographs; search for concert and movie tickets, dried flowers or other meaningful trinkets. For an even more personal touch, add captions that recall your memories of the moments.
An old standby, create a custom coupon book full of everyday and more extraordinary services your loved one can redeem any time. Ideas to include: foot massage, housecleaning, baby-sitting to allow for girls' or boys' night out.