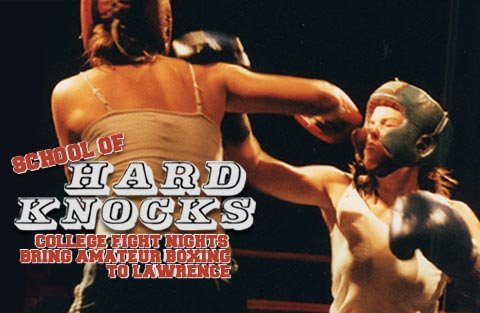 Sunday, February 15, 2004
At 5' 6" and 140 pounds, Wes Smith doesn't exactly look like a championship boxer.
In fact, the first time the skinny vegan from Lawrence got in the ring, he had never even been in a fight, much less strapped on boxing gloves. Three knockdowns and a seemingly endless string of blows to the head later, Smith could finally call himself a fighter.
"I remember stumbling out into the parking lot, nausea, dizziness, all these concussion symptoms, throwing up in the parking lot six times," said Smith, who lost the fight. "I don't exactly know what I was expecting; just some big, cathartic release, I guess."
Bloody noses and bruised egos aside, that moment of catharsis -- or maybe just a super intense adrenaline rush -- is what keeps Knockout Events in business. The Denver-based amateur boxing promoter turns people's primal urge to spar into a lucrative business, traveling state-to-state with a makeshift ring and signing up amateur fighters for "College Fight Nights" at local bars. Fight Night has been through Lawrence twice and is back in town Feb. 17 at the Cadillac Ranch.
"I can't explain it, but they just show up," said Kevin Shaw, co-owner of Knockout Events. "After the fights I have more people come up to me who have boxed that thank me, even with a bloody nose."
Past Event
Tuesday, February 17, 2004, 10 p.m.
Cadillac Ranch, 2515 W. Sixth , Lawrence
21+ / $5
Heavyweights
Shaw and his partner Shane Swartz are the type of entrepreneurs that people with normal careers love to hate. Their brutish amateur boxing events have attracted national attention from the likes of USA Today and Sports Illustrated, making them minicelebrities in their hometown and the cities that they regularly visit to host fight nights.
Predictably, the company also has attracted its share of critics, from senators seeking to ban or regulate fight nights to protesters who take issue with the company employing midget boxers to entertain crowds between fights.
"Oh, you know, they'll say, 'Don't call them midgets; that's not right for you to be exhibiting these guys,'" Shaw said. "In Boulder, it's a real tree-hugger kind of a place, or any college town really; you got activists and they don't like that for some reason."
The company has also been denounced for hosting wheelchair boxing events; a criticism Shaw said is unwarranted.
"These guys are athletes just like you are, just like I am, and they just want to box," he said. "They called us."
But midget and wheelchair bouts are just secondary attractions to the main show: ordinary Joes and Janes strapping on gloves and headgear and pummeling the crap out of each other for three one-minute rounds.
"(An ordinary guy) will be fighting some dude who brings his boxing shoes, matching hand wraps, his own headgear and talks like he's tough, and this guy in his boxer shorts kicks his ass," Shaw said. "I mean, that's cool, and that's fun, and that's what Fight Night's all about."
Fight club
Swartz, a professional boxer with a 17-2 pro record and more than 300 amateur fights, began hosting fight nights in his parents' back yard in 1992 when he was a junior in high school. At the invitation of fraternities in his hometown of Fort Collins, he moved up to doing fund-raisers at local bars.
Though he did regional shows for many years, Swartz didn't make a full-time career of it until 2002, when he teamed up with his brother-in-law Shaw and formed Knockout.
"We bought a truck and trailer and just started hitting it, going on the road kind of like a band would do," Shaw said. "It just went crazy."
Now that Knockout hosts fight nights in eight states, Swartz and Shaw are still the brains and guts of the operation, overseeing events from New Mexico to Kansas to Wyoming.
"It could be a lot more successful if we were willing to turn some of the responsibility over to other people," Swartz said. "But we don't trust anybody else -- including referees who are certified -- other than us in that ring."
Refereeing the bouts is only the beginning of Swartz and Shaw's responsibilities when the duo rolls into town. In addition to setting up and breaking down the ring (maximum size: 12'x12'), they must recruit fighters and card girls, manage rowdy, boozy crowds and sometimes deal with local officials who want to stop the night before it even happens.
"We've never not been able to convince them to let us do our show that night," Shaw said. "But they may have stopped us from coming back."
Knockout has already done two uncontested fight nights in Lawrence. No city ordinance prohibits boxing, but a Kansas statute does prohibit "prize fighting."
Representatives from the Douglas County District Attorney's Office said a full investigation would be necessary to determine whether Knockout Events was violating the statute. For that to happen, someone would first have to file a complaint with the Lawrence Police Department.
Weekend warriors
Fighters must sign a waiver absolving Knockout Events and the bar of responsibility should they get injured (they must have valid health insurance). The fighter also promises not to fight under the influence of drugs or alcohol, though Shaw admits the system is not foolproof.
"I'm sure it happens," he said. "We won't let them fight if they're obviously drunk."
Thanks to protective headgear and cumbersome 20 oz. gloves, broken noses are rare if nonexistent. Still, Knockout keeps a certified EMT on hand for each event and sometimes hires an ambulance for larger events. But though Shaw has witnessed a few dislocated shoulders and torn ligaments, he said the most common problem in the ring is exhaustion.
"Even athletes who have done other sports don't realize how tiring it is until they do it," he said.
People are only allowed to box if they have been in fewer than 10 amateur fights. Though boxers are on the honor system, Shaw said it's easy to tell a non-amateur when he or she gets in the ring and starts putting together combinations.
"It's not even fun to watch and somebody could get hurt," he said. "What we really want are the beginners; that's really our show."
To keep professional-grade fighters from entering, Knockout Events rarely gives away cash prizes, instead offering leather and brass belts to tournament winners.
Though Knockout typically separates male and female fighters, opposite sexes have on occasion agreed to fisticuffs.
"If (guys) want to get up there and make an ass out of themselves, that's fine," Shaw said. "They either beat the girl up or they lose; either way they're screwed."
Final round
KU sophomore Jonathan Wilde was one of the few boxers who made it through an entire fight when Knockout Events came to Lawrence last October. The 19-year-old architecture major won all three of his fights to take the lightweight title.
"By the end of it, it felt good as shit but I was beat to hell," Wilde said. "You can't really tell someone what it's like. After they do it, they sort of realize the rush."
Wilde said he was surprised by the sloppiness of the fighting.
"At first I was thinking of the shit I was going to do, like, 'I'm going to duck and weave or whatever,'" he said. "As soon as I got in there, my headpiece wasn't on real tight and I just got clocked, and my headpiece swung down and I couldn't see and I got hit like three or four more times ... So then after that I just started swinging ... and luckily I hit harder."
On the girls side, Jessica Wright didn't fare quite as well. The 19-year-old lacrosse player came to watch but ended up in the ring at the prodding of friends.
Wright lost her first fight to a taller and stronger opponent and spent the next week staving off a mild concussion.
"Hindsight is 20/20," she said. "No permanent damage done; maybe a little bruise to my pride."