Tuesday, February 17, 2004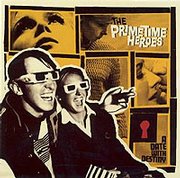 "They're pretty good for what they do."
You've heard it before, used by your friends to describe bands you've never heard and probably don't ever want to. It's the music critic's equivalent of a Get-Out-of-Jail-Free card -- letting a band off the hook because we realize that our tastes may (stunningly) not be in sync with the rest of the world's.
Frankly, it's the easiest way to review an album from a band like Topeka's The Primetime Heroes. One could point to the quality of musicianship; the radio-ready production from Ed Rose; the youthful punk rock exuberance from a bunch of overachieving teenagers; the Ultimate Fakebook-inspired hooks and the welcome rebirth of the Noisome label (previously home to UFB, The Creature Comforts, Ruskabank and Podstar).
All of the above are commendable, but unfortunately do nothing to hide the fact that Primetime Heroes sound like a million other bands that have been doing the same exact thing for more than a decade. "A Date With Destiny" will no doubt bring some good times to the extended Primetime Heroes family. But the rest of the world will likely be content with their copies of "Dookie."
More like this story on Lawrence.com