Wednesday, February 18, 2004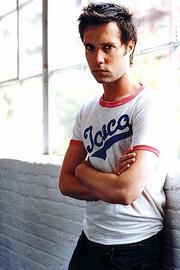 It's not unusual for sons and daughters to follow their parents into the family business. But when both mom and dad are well-established musicians, it puts a bit of a twist on that traditional career path.
Rufus Wainwright understands the situation well. The son of folk music artists Loudon Wainwright III and Kate McGarrigle, the talented performer was already touring with his mom, aunt and sister by his early teens.
"When I was 14, I got so into opera and classical music," Wainwright says. "When I started to emulate and observe those musical traditions, it became shockingly obvious that the whole idea of the rock star falling from the planet Mars is really new. Historically, every musician's parents were really musicians. If your father was an organist, your children would most likely go into the same field. It's not the case of everyone, but I definitely relate to that system."
While Wainwright certainly inherited his wry humor and lyrical skills from his parents, the style of music he chose to go into has been quite dissimilar. With three solo albums under his belt, the singer/pianist has established a bridge between commercial pop songwriting and sophisticated theatrical orchestration. That coupled with his dramatic, vibrato-heavy voice has made the performer a unique commodity in the industry.
The 30-year-old Canadian chuckles when asked if he's heard any words that he's comfortable with for describing him musically.
Past Event
Monday, February 23, 2004, 8 p.m.
Liberty Hall Cinema, 644 Massachussets Street, Lawrence
All ages / $17.50
"I really haven't," says Wainwright, calling from Delaware where he is conducting a few "out-of-the-way gigs" before starting an official tour in New York City.
"If anything, I would just love to be considered a great American songwriter in the tradition of Stephen Foster up to Bob Dylan up to me. But due to the fact that I also enjoy big productions and lavish arrangements, that puts me a little off. I think there is some relation I have between people who wrote Broadway musicals. But it's still not Broadway what I'm doing; it's pop."
Orchestral maneuvers
Lately, Wainwright's family connection has lessened a touch -- at least on this tour. Sister Martha, a gifted vocalist, has been part of Wainwright's live ensemble since he went solo in the late '90s. Now she's opting out for her own career. For the first time in many moons, Wainwright will be without kin while touring on his latest disc, "Want One."
"That whole aspect that I loved before of the family and friends with Martha and Teddy Thompson (son of musicians Richard and Linda Thompson) was really wonderful,"' he says. "But I certainly couldn't play with them forever because they want to do their own thing ... I had to replace them with these two beautiful, talented women: Joan Wasser and Shannon McNally."
Alt-country vocalist McNally brings an added edge (and electric guitar) to Wainwright's cast, as does violinist/vocalist Wasser, a former member of the Boston band Dambuilders.
Wainwright claims their instrumental contributions have made his role more "Bryan Ferry-ish."
"It's a little dreamier," he says of the latest tour. "I took some of the old material from the old records and some new material from (the forthcoming) 'Want Two.' It's a much more pastoral show, which I think is great for theaters. But it's still got punch to it."
Adapting the material on "Want One" into a live setting is no easy chore. The record employs highly complex textures filled with symphonic arrangements and near operatic vocals -- some songs utilize 350-part harmonies in the studio.
Plus, he claims the album is his most intensely personal, covering everything from drug addiction to family squabbles to jilted lovers. In many ways, recording "Want One" gave Wainwright the opportunity for some emotional housecleaning.
He says, "A question that's asked to me a lot is, 'How is it possible that you sing these emotional songs night after night? Is that difficult?' When I'm singing, I'm usually thinking about what to put on my pizza. I try not to get caught up in the moment. I do occasionally, but it's better to be unemotional when you perform."
So does that help him avoid becoming nervous during a show?
"I don't really get too nervous," he replies. "But these things can strike. That's a lesson in life: The minute you think everything is rolling along swimmingly, that's when you step on the piece of glass. (laughs)"
Vast oasis
Wainwright is in the midst of a 21-date excursion that stretches from Manhattan to San Francisco. Despite the blur of metropolises, the artist manages to find his own distinct connections to each stop.
"I find cities really are strikingly different the more I tour," he says. There's a real different flavor in different cities, especially some of the other areas of the world. Like the Midwest is so different than the East Coast in terms of the hunger the audience has. But the bus, the hotel, the backstage area -- they're all the same."
So what does he remember about performing in Lawrence?
"I love Lawrence," he declares. "The first time I played there was (opening for) Lisa Loeb, and I remember it very much being a cultural oasis of sorts in a vast, beautiful part of the country. I remember that tour itself, and we were doing SMALL towns. It was a rude awakening for a poor little gay boy from Canada. But definitely when we hit Lawrence I could breathe a breath of fresh air."