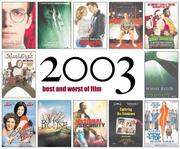 For most people, December represents the holiday season. For me, it means I've got a month left to scramble in order to see every movie released during the year in order to determine if they make the best or worst list.
So what do I look for in a movie?
It's not like I have this down to an exact science, but certain factors keep cropping up when I start determining why some films work better than others. Aside from obvious things like cinematic technique or the quality of acting performances, here are a few more conceptual elements I look for.
Do I get completely caught up in the story?
Does it do what it's supposed to? (For example, does a comedy make me laugh? Does a thriller keep me on the edge of my seat?)
How good is the ending? (If you can't come up with a great finale, there's no reason to make the picture.)
Do I want to see it again, and if so, how does it hold up on repeat viewings?
(Remember, films were eligible for inclusion if they screened for Kansas City press in 2003. Some of the picks -- such as "Big Fish" -- have yet to be released in the Midwest. Other films that have made national lists in other markets -- such as "Monster" -- have not yet been screened for K.C.-area critics.)
Here goes:
Lost in Translation
Sofia Coppola makes a film to rival some of her father Francis' best-known works with "Lost in Translation." Two outsiders (Bill Murray and Scarlett Johannson) sequestered in a Japanese luxury hotel bond with each other in a liaison that can be perceived as an eloquent friendship or an unconsummated love affair. Coppola gathers a career performance from Murray -- one that balances humor, anger, depression and salvation with equal measure. There's almost a dreamlike quality to how foreign the environment seems to these two Americans. And it forces them into the type of complicated relationship that is rarely portrayed on the screen. "Translation" leads to the most emotionally moving ending of any film this year. The wordless sequence is simply perfect.
Master and Commander: The Far Side of the World
What separates an outstanding period epic like this from merely an adequate attempt such as "The Last Samurai" or "Cold Mountain" lies in the believability of the central performances. You can spend millions on costumes and set design, but if the leads can't sell the picture then the rest is just window dressing. For as famous a "movie star" as he is, Russell Crowe can lose himself in a role better than anybody. And he is emblematic of why "Master and Commander" is a superior piece of filmmaking. The uniting factor about this cat-and-mouse adventure of two ships set during the Napoleonic Wars is that it feels utterly authentic. I never once catch the cast acting or become distracted by the director's (Peter Weir) technique. I feel a part of the crew, cringing when the cannons blast and rejoicing when victory is within arm's length.
City of God
Few films feel as alive as Brazilian director Fernando Meirelles' look at the youthful gangs of Rio de Janeiro. As with "Goodfellas," "Gangs of New York" or Guy Ritchie's mobster yarns, the virtuoso Meirelles totally immerses us in a life of crime specific to a time and place -- in this case, the legendary slum known as Cidade de Deus during the 1960s and '70s. (It's based on the factual novel by Paulo Lins.) "City of God" is shot with such kinetic ferocity and colorful immediacy that it's impossible not to get sucked into this rumination on how violence perpetuates itself with each generation.
Shattered Glass
Making a masterful movie about journalism isn't an easy task -- aside from "All the President's Men" there aren't a lot of success stories. But "Shattered Glass" takes the true account of New Republic writer Stephen Glass, who was busted in 1999 for fabricating 27 of his 41 articles, and turns it into a masterpiece. Part detective story, part character study, part ethics lesson, the film is a fascinating look at how a situation like this could be allowed to occur. Hayden Christensen is terrific as the title character, proving, if nothing else, how awful a director George Lucas is for drawing such a wooden performance from the actor in "Attack of the Clones."
Capturing the Friedmans
"You could see that this wasn't exactly Fred MacMurray and 'My Three Sons,'" says one of the detectives who helped arrest Arnold Friedman and his son Jesse in 1987 on charges that they repeatedly molested students who had come to their home for computer classes. But did this crime really transpire? Interestingly enough, the mystery isn't the crux of this harrowing documentary, but rather what the justice system and the media did to a seemingly perfect family of New Yorkers. What makes the film truly distinctive is that the Friedmans' lives from the arrest onward are preserved by oldest brother David on home video.
Open Range
Kevin Costner returns with the best Hollywood western since 1992's "Unforgiven." It's a simple tale of free-grazing cattlemen who run afoul of a territorial rancher, but the texture of the relaxed picture bleeds authenticity. A first-class performance by Robert Duvall as the salty boss of the good guys elevates the material. The climactic shootout may be the finest ever staged. Who says Costner is washed up?
Big Fish
Director Tim Burton ("Batman") returns to form with a vivid fable of a son (Billy Crudup) trying to reconcile with his larger-than-life father (Albert Finney). Using flashbacks to illustrate some of the many whoppers spun by the storytelling dad (played as a younger man by Ewan McGregor), Burton has fun with both the brassy visuals and the serious internal themes behind the paternal relationship. The movie skillfully illustrates how real truth almost always lies somewhere in the middle.
School of Rock
What's not to like about this pairing of comedic-force-of-nature Jack Black and brilliant indie scribe Mike White? The result is a mainstream comedy that is hilarious and poignant without ever stooping to sentimentalism in order to sell a gag. Most importantly, the kids actually rock.
Whale Rider
This lyrical import from New Zealand finds a Maori girl (Keisha Castle-Hughes) bucking tribal tradition by trying to become its rightful chieftain, much to the chagrin of her conservative grandfather who demands a male fulfill that destiny. Stories of empowerment are plentiful these days (see the grossly overrated "Bend It Like Beckham"). Few have the sense of otherworldly magic like "Whale Rider." This family-friendly tale may seem simplistic, but it resolves itself in a way that is truly transcendent.
Bad Santa
The most gloriously subversive movie of the year is undoubtedly this anti-Christmas tale from filmmaker Terry Zwigoff ("Ghost World"). What is so impressive about the dark, dark comedy is how Billy Bob Thornton's character -- who poses as a department store Santa each holiday in order to rob its safe -- is so irredeemable. He's not a lovable bad guy like Archie Bunker; he's genuinely abhorrent. And yet, he achieves redemption thanks to his unwanted relationship with a chunky, weird kid (Brett Kelly), who emerges as the most unique cinematic character of 2003.
Honorable mention:
"Kill Bill -- Vol. 1," "Spellbound," "The Lord of the Rings: The Return of the King," "The Station Agent," "Down With Love."