Saturday, January 3, 2004
Medal of Honor: Infiltrator arrived in the same time frame that the ill-fated (but unfortunately hot-selling) Rising Sun debuted on the consoles. This handheld version has a quality that's totally absent from its console brethren: it's fun.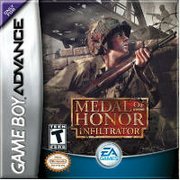 A few seconds into the game, old-school NES gamers will get a rush of nostalgia. Well, the ones who played Ikari Warriors, anyway. This action gem is played from a Zelda-like top-down perspective, and it works beautifully. It dodges the shotgun level design these games are usually rushed out with inspired moments and scenarios. Sure, you can only shoot in eight directions which can really become a pain, but the control and maneuverability is so tight you will be able to quickly compensate for the missing element.
You can only carry one weapon and grenade type which makes the game's focus on the combat itself. Some levels are played simply with a cursor, shooting enemies turret-style. Most of the missions are pretty short and uncomplicated, which detract from its value, but there is a Deathmatch mode when you link with another GBA.
The graphics are very colorful and intelligently used, especially with the full-motion (yes you read right) movies, adding much to the presentation. But when you game on the go, you still need more gameplay to warrant the purchase price.
Graphics: A
Sound: B+
First Play: B
Last Play: B-
Gameplay: A-
Overall: 85% B