There is a flaw inherent in the survival horror genre: Most games focus too much on the scare rather than the gameplay. The problem being that when gameplay plays second fiddle, you are severely limited to the mood you are in and time of day you play to actually feel scared in a game. This is a fault of Fatal Frame 2.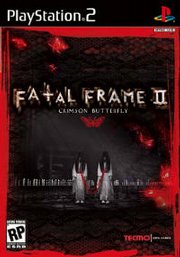 Your character Mio survives an early childhood scare, almost killing her twin sister. You start off lost in a misty wooded area and village, eventually trespassing among various scary houses and shrines, learning to take the picture of ghosts in order to win a battle. The combat system is a nice twist, but the level of fun is truly hampered by aimless exposition. You will walk and walk through great camera angles reminiscent of bad Japanese horror, however making controlling Mio a total chore. Not to mention that the super-scripted "scares" come too few and far between a boatload of backtracking for items, which makes the cinematic angles unnecessarily familiar.
Playing at night can produce a few jumps with surround sound turned high in a dark room. The atmosphere is incredibly eerie and is by far the game's strong point. The visuals look wonderful for a PS2 game despite the porcelain doll look of the main character which may be more frightening than the game itself.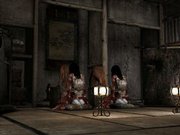 When you peel away the scripted events and not-so scripted storyline, there is a fairly boring and slow-paced game to be played with wonky controls reminiscent of other super-average survival horror games. Fatal Frame 2 doesn't entice you to play during the daytime like Eternal Darkness or Resident Evil: Code Veronica, but it will give you a few thrills at night.
Graphics: A-
Sound: A
First Play: C-
Last Play: C
Gameplay: C
Overall: 75% C