Wednesday, January 14, 2004
The first time Dave Temple saw Alex Broskow skate a handrail, he knew the eight-year-old kid was going to be something special.
"He couldn't jump high enough to get on the rails (because he was so small), so he would skate faster than anybody else so vertically it would be a shorter jump," recalls Temple, who was already a teenager when he and his rollerblading friends started tutoring Broskow. "Nobody was skating that fast to handrails back then; it was crazy."
Back then, Broskow was just a grommet; a little runt who hung around in-line skaters twice his age. With his miniature frame covered in protective gear, Broskow dazzled onlookers at parking lot exhibitions and skate parks by leaping over shopping carts and stacks of milk crates.
Broskow's friends knew he had had potential to be great, but they didn't anticipate just how quickly he would develop.
"There were two years that went by when I didn't see him 'cause he kept moving to small towns," says Jeromy Morris, who also skated with the older group that taught Broskow the ropes. "Then he came back and he was just better than everybody."
"That's when everybody knew that he was the one ... He was the ripper."
Roller rocker
Today, the 18-year-old Broskow is a rollerblading rock star. His long blonde hair, saggy pants and backwards baseball cap are fixtures in skate mags and videos worldwide. With sponsorships from four different companies, Broskow's name helps dictate which skates, wheels, frames and clothes kids buy.
To the world outside in-line skating, however, Broskow is probably better known for his failures than his successes.
"I think he probably had more clips on REAL TV where he'd eat shit than he did video stunts for awhile," says Justin Eisinger, associate editor of Daily Bread, the leading in-line skate magazine. "Once he started landing all his stuff he got a lot of attention real fast."
Message boards of online skate zines -- which industry honchos use to keep tabs on hot, young skaters that they use to pimp out their goods -- are crammed with gushing praise for the young daredevil skater. Users post lists of his best stunts: the Disaster Royale off the balcony, the Backslide Savannah along the roof, the Topsoul 540 out off the kink rail with the huge drop at the end ...
"For the first time in a couple years our industry has had its eyes blown open by a young kid," Eisinger says. "Alex basically was a new breed of skater. He took a lot of things that skaters were walking a fine line with ... like how big you could go and how fast you could skate and how much you could scare the hell of out yourself ... and he just decided to do it anyway."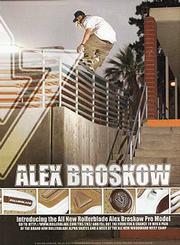 In October, Rollerblade (the skate company) knighted Broskow with the ultimate street-skating honor: his own line of pro skates.
"It was amazing ... just coming from like a year ago being just a kid that wasn't really that big to the next year them telling me they want give me a pro skate," Broskow says. "Like, someone asked me, 'How's it feel to be the best?' and I'm like, 'I'm not the best ... I'm just a normal person who rollerblades.'"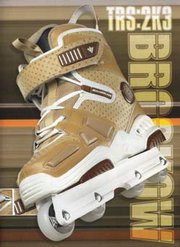 No one knows Broskow's influence better than Temple, who enlisted his old friend to wear his upstart clothing company's apparel in competitions, magazine shoots and skater videos. With Broskow's name behind its product, Vibralux Clothing (no relation to the local glam band) is on pace to achieve the unthinkable for a small startup business: profitability within a year of starting.
"It's very hard for me to talk about Alex in terms of being a marketing tool because he's such an old friend of mine, but I guess when you get down to it, if Alex wears Vibralux, then other people want to wear Vibralux," Temple says. "Whatever he does, people all over the world pay attention to it and they want to do it too."
Hammer heads
From the looks of his modest apartment on Indiana Street, Broskow isn't too different than any other 18-year-old kid. His sparsely decorated room is devoid of furniture save for a mattress in the corner, and his living room prominently features a giant TV and a Playstation 2. The only evidence of Broskow's true identity is hanging on the fridge: a $62 ticket for skating on campus, proudly displayed next to a warrant for his arrest.
"(The cop) messed up the ticket," Broskow explains. "The court date is ten days before it actually happened ... I'm kind of just like 'whatever' about it 'cause I know it's nothing."
Not that Broskow would have much difficulty paying the ticket if he wanted to. Last year he raked in more than $25,000 from sponsorships and competitions, and this year figures to be even more profitable with his skate line, the 'Alex Broskow TRS:2K3 Pro Model Skate'. For each of the 7,000 skates sold (at $249), he'll clear $2.
Broskow's apartment is more of a crash pad than a permanent home. During the warmer seasons he is almost always on the road, competing at pro skate events and doing tours to promote his sponsors: Rollerblade for the skates, Vibralux for the clothes, Ground Control for the frames and 4x4 for the
wheels. Since turning pro when he was 15 (he qualified by placing third at a national competition), Broskow has twice won the IMYTA (I Match Your Trick Association) competition and consistently placed among the top finishers at other national events.
"The kid wants for nothing," says Broskow's mother Sherry Littlefield, who used to drive Alex and his friends as far as Omaha to skate big rails. "He's traveled to Europe, he's been all over the United States ... I can't say anything bad about any of it."
Broskow's success has also helped raise the profile of KFC, a crew of Kansas City skaters that he has hung with since the start (the acronym stands for 'Kansas F***in' City'). The KFC crew -- which also includes flashy street skaters like Brandon Mateer, Nathan Simpson and Jeremy Rockwell -- is known for its over-the-top skate videos such as the recently released "Straight Jackit," which sold out of its initial run of 4,000 within two months of being released.
Director Adam Johnson says the early KFC videos were largely financed by royalties he made selling outtakes of Broskow's mangling spills to REAL TV.
"We pushed the limits before the limits were being pushed, and that lots of times leads to accidents," Johnson says. "One time he was getting pulled by a car (going 30 mph while Broskow held on to the passenger window) and he hit this bump and tried to do a 360 into a steep bank ... He overshot the bank by like 12 feet and landed sideways and hit his head on the concrete."
Broskow says the spills only serve as motivation to try the trick again.
"You want to conquer it; you want to own it," he says. "It's all about getting those hammers ... you know, the big trick where people are like, 'What the f***!?' That's a hammer."
No sell outs
When the skating day is over, however, Broskow's real challenge begins: marketing himself and managing his career.
At Broskow's level, image is everything. His integrity, and thus career, rides largely on the business decisions he makes: Whose clothes will he wear? What magazines will be pose for? Will he sell out or stay true to the raw street ethic that raised him?
Last January, Broskow found himself at a sponsorship crossroads. At the time, he was skating on a team for Senate, the industry's top wheel-maker. When Broskow informed Senate that he wanted to sponsor his friend Dave Temple's new Vibralux clothing line, the company told him they wouldn't allow it.
Faced with a decision to keep a steady paycheck from Senate or join his friend in an unproven business venture, Broskow opted to quit Senate and join Vibralux.
"This was somewhat of a precedent in the industry with Senate being a company that pays their riders very well and offers them lot of promotion," Temple says. "Alex was ready to give it all up just to be able to skate for Vibralux, which is -- by design -- not a company that's ever going to be as big as Senate was."
"(Alex is) incredibly smart business-wise and he's had plenty of opportunities to do things that would have made him money but would have definitely compromised his credibility. And he doesn't even have to think about it, he knows in his heart what's best for him."
For all the opportunities skating has afforded Broskow, it's also forced him to make some difficult decisions in his personal life.
This May, he was supposed to graduate from high school. That all changed last year, however, when a busy traveling schedule forced him to drop out.
"It was a very gut-wrenching decision but I think it was the right thing for Alex at the time," his mother says. "This opportunity only comes once and it's been his dream for so long ... and I trusted him that he would get his GED like he promised me."
With the cold, hard grip of winter putting the squeeze on outdoor skating, Broskow has been kicking back and spending time with his KFC crew. They're the reason he moved back to Lawrence after a four-month stint living in San Diego.
"Everybody's all lazy (in California) cause it's so nice," he says. "It just feels like when I'm here I progress more than anywhere else, mostly just because I'm having fun with my friends."
More like this story on Lawrence.com