Thursday, January 15, 2004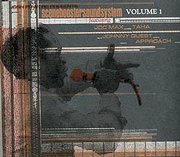 "There were no keyboards used on the production of this album," Josh Powers proudly announces in the liner notes to "SceneboosterSoundSystem Vol. 1."
Powers' dedication to old-school hip-hop mechanics -- no keyboards, samples from first pressings of records, conscious MC's with maximum positivity and minimum profanity -- speaks volumes about his approach to music and life in general. A longtime DJ in the Kansas City and Lawrence area (his funk set turns the Replay Lounge beer garden into a writhing mass of ass-shakers every Friday night), Powers is a prolific collector of funk and jazz records and seamlessly translates that passion into his efforts as a producer.
"Vol. 1" invites four of the area's finest MCs -- Joc Max, Taha, Approach and Johnny Quest -- to lyrically gesticulate over seven tracks of funk and jazz influenced beats (the disc also contains three instrumentals). The tracks range from funky head-bobbers like "Check My Dialect (feat. Johnny Quest)" to chilled-out reflective pieces like "Well Wishin'" (feat. Approach). Throughout, Powers' beats recall old-school production similar to A Tribe Called Quest or De La Soul.
Powers separates himself from the local producer pack by painstakingly tweaking samples from old jazz records, many of which came from his workplace -- the Dick Wright Jazz Archive at the University of Kansas. The tracks are distinguished by lively upright bass lines (a few of which he played himself), mellow jazz piano chords and funky drum breaks.
The MC's on the record seem to match Powers' old-school credo perfectly. At the end of "Contrast" -- one of the disc's standout tracks -- Taha delivers a fitting summary of the record: "The point I'm trying to make is, um, we need to make a 360 and come back to what was originally what hip-hop was started for. You know -- back in the days cats used to hit you with some knowledge, some wisdom."
Joc Max also impresses with his cunning lyricism on "Principles": "Popular course wasn't the one that was set for me / In turn I'm labeled left field, a backstreet traveler / Ball of confusion unraveler."
Local songstress Lisa Donnelly's sultry voice carries the chorus on "Well Wishin,'" inviting the audience to, "Come and ride with me / Come and roll / Open your eyes and see / Space to grow."
With 37 minutes of choice hip-hop and killer screen-printed artwork, "SceneboosterSoundsystem, Vol. 1" is a reminder of why it's still worth it to buy albums.