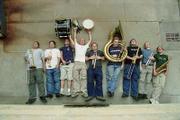 Take a Wisconsin-made meat grinder found at a New Orleans yard sale and cram it full with a sousaphone, a snare drum, a bass drum, two trombones, a sax, two trumpets, and eight people who can play the hell out of these ingredients. Then stuff in a liberal dose of hip-hop inventiveness and start crankin'. Fry this up with a healthy portion of cultural consciousness, and oo-wee, you've got the delicious (and nutritious) Youngblood Brass Band. Lawrence.com spoke with Youngblood MC/snare drummer David Henzie-Skogen, in Cajun accents as far as you know.
LCOM: You were featured on NPR's "All Songs Considered." How did that come about?
David Henzie-Skogen: I wish I had a really exciting story for it, but I don't know how it came about. Our publicist wasn't working at the time, because we weren't on tour, and our manager was pretty surprised about the whole thing. I guess we have some friends at NPR that we don't know about.
L: How's the music scene in Madison?
H-S: [...] We enjoy calling Madison home base. Since we've been traveling so much it seems more and more comforting to be home. I think there's a lot of people that are doing pretty interesting things that don't really have any national visibility. One of the things we'd like to do, if we see any kind of success, is to be able to be a platform for some other local artists. [...] Madison? I think it's a lot like Lawrence. I think people draw that comparison a lot. I would say that Lawrence seems to have a little bit more of a vibrant hip-hop scene.
L: Let's talk about Layered, your arts collective.
Past Event
Friday, January 23, 2004, 9 p.m.
Bottleneck, 737 New Hampshire, Lawrence
18+ / $7 - $8
H-S: Layered was kind of started when Ozone (Records) was going to do the last record, and we suggested that we also have it under our own label name just to kind of keep the whole do-it-yourself aesthetic we've always tried to promote. And we were thinking more and more of how we'd been working in schools around the country, and wanted some way to kind of organize all these things and all these thoughts, and also get other artists involved and do educational work that was broader than just us talking about what we know. So we started this Layered arts collective as a not-for-profit organization that everything would fall under. There's the record label (Layered Records), the book-publishing house (Layered Books). There's the educational foundation that we represent when we go to schools and teach and lecture and give workshops and clinics. And it also brings in other artists from around the country to Madison and has them do songwriting clinics and music history workshops or whatever, and then also do a performance at night. [...] We want to be doing all these things and have X number of artists that we can put records out for, and put out X number of books, and do this many after-school workshops, and bring in this many people. Looking at it all on paper it looks ambitious as hell. But, you know, you gotta try.
L: Your band has been known for playing "New Orleans-based" music. Can you define that?
H-S: I think what that means to us at this point in time, especially with how we're writing and approaching music now, is the fact that the instrumentation of the band is based on the traditional instrumentation of a New Orleans brass band. [...] Maybe four or five years ago we started writing a lot more of our music ourselves. We started thinking a lot more about combining the rest of the elements of the music that had always influenced us a lot, and just making the music sound more like us than us trying to sound like a New Orleans brass band.
L: What drove you toward New Orleans in the first place?
H-S: [...] All our friends were basically horn players. It seemed natural to us to start a brass band, without ever really thinking about... I mean, there really aren't too many brass bands outside of New Orleans. We just started playing, and we just started doing this stuff at, you know, pep band events and things like that, and football games. And then we got a couple of gigs in Madison, and just started building it like that. [...] To us it just seemed like a different way to play music that we could do outside of orchestra or band... It didn't have to be a band with guitars and bass and all this stuff. That's one thing we really encourage when we go into schools too, is just that you don't have to think of music in terms of the box... Whether you play horn or whether you're a DJ or a writer or you play violin or whatever, there's a million things you can do with your instrument that no one's obviously going to tell you to do, stuff you have to explore on your own. We just try and make their instruments seem more interesting to them or seem cooler to them. [...] We all listen to so much different music now. [...] To some extent it pushes us in terms of how we can relate the music to our band.
L: How'd you get hooked up with (former Frank Zappa vocalist) Ike Willis on your first record?
H-S: [...] It's how we got hooked up with a lot of people on that first album... we called him. We were thinking of who we should get to sing on this song. We tossed around the idea of people in the band singin' it, and we were like, nah, we don't wanna do that to ourselves. [...] And Nat (McIntosh, sousaphonist) and Ben (McIntosh, former Youngblood trombonist)... huge Zappa fans, and they're just like, "We should call Ike Willis." It was really easy.
L: How do you make any money when you tour with a nine-piece band?
H-S: We don't make a lot of money. Everybody has some kind of supplemental income... most of us are music teachers or something like that. One thing that's really helped in the last year is that in the last 12 months we were in Europe like four times. Europe has really saved our ass money-wise because when we go to Europe we can come back and pay our rent for a couple of months. Then we can afford to tour in America and bust our ass and break even. [...] We can also, if we have enough lead time, set up clinics at middle schools and high schools and performances and stuff like that for more institutions and organizations. And then we're also a band that, if we want to, if we're in a city early enough, and it's not snowing, we can go find out where the most people are and just hit on the street and promote the show and be playing acoustically, and then tossing around a bucket and bein' like "feed us dinner."
L: Why do you think Europe is such a savior for so many bands?
H-S: [...] I think there are a lot more bands trying to do it and tour in America. It's definitely a little more dog-eat-dog. Part of it is the way the arts are portrayed in the media, in general, in America versus Europe. There's really no way for Youngblood to get on commercial radio in America, [...] but in Belgium we can be on top 15 radio, which is kind of mind-boggling. I think the biggest thing is that in Europe, kids of any age group are coming out and checking out the show, whereas in America, by and large, you have to be 21. The problem with that, to me, is that by the time most people reach the age of 21, they've made a lot of decisions about what kind of things they prefer, what music they like and all that, and a lot of that is shaped by the fact that they don't have a whole lot of experiences that involve live music culture. [...] And they (European clubs) do pay more, and they take care of you. There's always hotels, there's always two meals a day and there's all this stuff that would be really hard to find if you're on tour here. [...] Over there, in a lot of the countries, there's actually government funding for arts promotion, [...] like, a lot of these clubs that we've been to in Germany and Croatia, the club itself gets government funding for promotion and to bring in artists, because it's a volunteer-run club. [...] And live music culture is just celebrated a little more because its more freely available. You look at the number of European festivals in the summer where there's hundreds of artists. In America we have that, but on a smaller scale. Or you have the giant touring behemoths like Lollapalooza and Warped, but those have turned into festivals where you've gotta have Universal (Records) throwing thousands of dollars down your throat to get on Lollapalooza or whatever.
More like this story on Lawrence.com