Park City, Utah — It was next to impossible Saturday to get a ticket to "CSA: The Confederate States of America," but those who managed to snare a seat for this year's "buzz" film at the Sundance Film Festival left with a lasting impression.
"The lady next to me said, 'Oooh ... this is much more disturbing than I expected,'" said Kansas University graduate student Mark vonSchlemmer, who worked as an editorial assistant on the film by Lawrence director and KU film professor Kevin Willmott.
"I'm still thinking about it," said another audience member long after the credits rolled.
Willmott's film premiered Saturday at Sundance, the nation's most prestigious showcase for independent films, and despite the film's being sold out, hundreds of people lined up hours before the show to try to get "wait-list" tickets. All of the remaining screenings for the film are sold out, and tickets for some screenings were being sold at a premium on eBay. The festival, which was founded by actor Robert Redford, concludes Sunday.
For casual moviegoers expecting light satire, Willmott's faux documentary, about what would have happened if the South had won the Civil War, caused some awkward moments. As the Sundance program promised, the provocative film was "certain to elicit uncomfortable laughter," and indeed it did.
After the film, producer Rick Cowan introduced the many people who had worked on the film, including KU students, then Willmott led a question-and-answer session and shared insights into the film's inspiration.
"My own father was born in 1898, so to me, slavery wasn't ancient history," he said.
Willmott, born when his father was 60 years old, said his father used to tell stories about his grandmother seeing Union Gen. William Tecumseh Sherman's famous march to the sea in Georgia.
Willmott, who once sold a script to Fox on abolitionist John Brown, turned to the faux-documentary form as a way to deal with slavery, a subject he felt many Americans were still uneasy about.
"We need to teach about how we ended up here," he said. "In the black community, John Brown is seen as a hero. In the white community, he's often seen as crazy. Why does wanting to end slavery seem crazy?"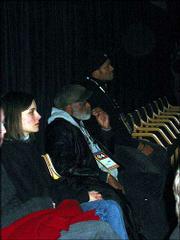 On Sunday, reporters clamored for interviews with Willmott, whose film is not in competition for awards at the festival but which could win an audience award.
Cowan, speaking for himself and Williams, said of the Sundance experience: "It went extremely well. There were 500 people turned away trying to get tickets. They laughed at the right spots, they gasped at the right spots, and it stimulated the most interesting Q&A; I've ever heard after a film."
Among attendees at the film were Melvin and Mario Van Peebles. Melvin is the legendary black filmmaker who helped found the blaxploitation genre with 1971's "Sweet Sweetback's Baad Asssss Song." His son Mario also is a director, best known for such films as "New Jack City" and "Posse." The two were in Park City for the American premiere of the film "Baadasssss!," Mario's version of his father's life story.
Said the elder Van Peebles: "I know everyone is going to ask me what I think about this film ("CSA"). I think it's real. This is what I hoped would happen when I opened up the doors."
Film director Spike Lee has agreed to be an executive producer and help "CSA" reach a national audience. Until Saturday, the film had been screened only in Lawrence.
More like this story on Lawrence.com