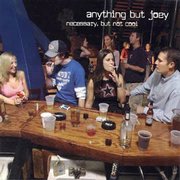 Before giving Anything But Joey's new EP a listen, go check out the photo section of the band's Web site.
You'll find a number of titillating categories to choose from, including, but not limited to: "Girls Kissing," "Drunken Stupor" and "Our friends!" The collection is a journey into the frat-like brotherhood of ABJ and their fans. 'Hey look, it's Matt with some hotties at Abe & Jakes! ... Whoa! Bryan totally slammed half a bottle of Jim Beam!' And be sure to check out "Bryan Humping Things." Down this whimsical path, you'll find frosty-tipped guitarist Bryan Chesen saddling up to a Chinese dragon, to a statue of Will Rogers, and to a big green dinosaur. 'Holy crap, is he really licking the ass of that bear statue!?'
By now, most any self-respecting music connoisseur would have deposited "Necessary, But Not Cool" into a trash bin hungering for a jewel case. But ABJ's brain-busting local popularity dictated not only that we review the CD, but that we review it fairly and impartially.
But how? I mean come on ... these guys are to local music what Jackass is to cinema. They want you to hate them. They want you to trash their record. Then when they sell 10,000 copies or sell out Abe & Jakes, who has the last laugh?
Well, here's the bad news guys: Your new EP's not that bad. In fact (insert big fat pride-sucking sound here), it's actually pretty good for what it is: silly pop rock with Weezer-inspired hooks and bounce-inducing choruses.
In fact, the four songs on "Necessary" are as good as any of the punk pop schlock clogging up the radio -- maybe even better. Heck, at least ABJ isn't moping about the girls that left them and the identity they're struggling to find. They're willfully immature, horny and they just want to party -- nothing wrong with that, right?
Well, no, unless you're actually looking for some substance with your listening experience. That's where ABJ comes up short, despite radio-friendly production and pitch-perfect harmonies and the addition of some ear-candy synthesizers. Pop-punk cliches are a dime a dozen in songs like "I Don't Mind," which begins: "Lately every movie makes me cry / Even warnings from the FBI / I think it's 'cause I had to say goodbye." Equally banal is "Sunburn": "How can I make you see? / Who do I have to be? / 'Cause all I am is me."
ABJ could take a hint from fellow local popsters Ultimake Fakebook and mix the hooks with some grown-up insight. Then again, maybe growing up would be a bad career move for a band that depends on teens for its fan base.
Perhaps ABJ sums it up best on "Better Than You," a kiss-off anthem to all its detractors that defiantly chimes (over and over again): "You may not like what I do / But I can do it better than you."
Indeed ABJ can, and who knows, it might just win them a Grammy or land them on MTV. (And if it does, don't forget to send us the picture of Bryan humping Kurt Loder!)