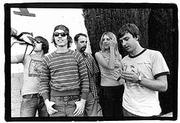 "The Anniversary has broken up."
So wrote Anniversary singer and guitarist Josh Berwanger in a recent e-mail to lawrence.com, confirming a rumor that had been circulating for a week and inspiring a collective 'duh' amongst anybody who had been following the band during the last few months.
The band -- which had been recognized among the rock heavyweights in Lawrence -- had been virtually invisible for months both locally and nationally, save for an October show at the Tap Room. The fivesome had stopped touring after a much-publicized personal fallout with their record label (Vagrant) and with former label mates, The Get Up Kids.
Neither Berwanger nor Anniversary singer/guitarist Justin Roelofs wished to comment on the reasons for the breakup. Roelofs in fact didn't confirm an official breakup, instead referring to a 'definite hiatus.' Each alluded to 'different directions' both musically and in their personal lives.
Berwanger is already at work on a new project with bassist James David and drummer Christian Jankowski. The group -- "Josh Berwanger and the Holy Ghosts" -- is demoing new material and will hit the studio March 25 to record a full-length album. Also contributing to the project are Casey Prestwood from Hot Rod Circuit and local blues guitarist TK Webb.
"This is just us getting together and going at it and playing music and not worrying about anything else," Berwanger said. "We have nothing to prove to anyone or anything; it just feels good to be making music again."
Roelof's is also staying busy, writing and demoing new material at home. In recent months he has written a slew of new songs, a few of which he recently recorded with a Boston-based singer/songwriter named Pink Nasty.
"It's very dark music, actually," Roelofs said. "I've written more songs the last month than I have in the last two years. I haven't even got any agenda or any fucking real ambition at the moment. Which is really nice (laughter); it's what I've been looking for all along, but, hence, I don't have any clue what I'm really doing or what I'm going to do with it," he said. "You could also tell people that I've been lifting a lot of weights and eating a strict protein shake diet."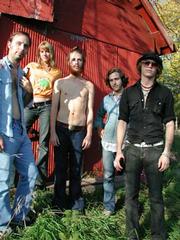 Since the high-school friends formed the band nearly eight years ago, The Anniversary released two well-received albums -- "Designing a Nervous Breakdown" (2000) and "Your Majesty" (2002) -- as well as a split with Superdrag and a 7-inch titled "What's My Name?" The band toured the country with bands like The Get Up Kids, Superdrag and Dashboard Confessional, earning a strong national following and consistently selling out local venues like The Bottleneck.