Tuesday, January 27, 2004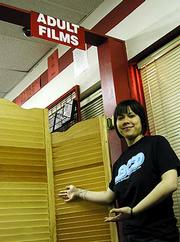 You can't come between a man and his porn.
Case in point: Christina Mosier was working a Saturday night clerk shift at Miracle Video when a patron from a nearby tavern dropped by after a few jugs.
Mosier recalls him teetering, stumbling, and spilling money out of his pockets. But mostly she remembers watching the security monitor as he fell into the gay porn stack, sending the entire collection of adult films, from Anal to Zippersnake, domino-style to the floor. Between police reports and a taxi for the bull in a porno shop, customers sifted through the rubble and calmly took their selections to the checkout counter.
In instances like this, the "sea of porn" Mosier navigates becomes more reality than metaphor, but generally it's smooth sailing for this 20-year-old smut peddler.
"Everyone is pretty good about 'live and let live.' Everyone comes and gets their porn or gets their movies and it's no big deal."
But the porn industry IS a big deal. According to Internet Filter Review (which compiles statistics gathered by search engines, media and research sites), the porn industry generated $57 billion worldwide in 2003, and $12 billion in the US alone.
So what happens when a young woman becomes a cog in this male-dominated multi-billion dollar machine that continues to grind and grind and grind, again and again, faster and harder, year after year?
"It's something that I never really thought I'd be working with, and before I worked here I was one of those people who would laugh at the thought of working at a porn store."
But things change. Call it desensitization or call it an epiphany. Whatever the reason, Mosier's "working knowledge" of the porn industry has grown into something more.
"This one's called 'Jurassic Pork'," she titters, recalling an early trip to 'the back room.'
"I love my porn! It sounds so weird coming from a young girl, but I'm not offended by it." She's quick to add, however: "There are some things that go a little too far that we have, but you find what you like."
In an industry where having sloppy intercourse in front of 30 people for distribution to hundreds of thousands more is the norm, "a little too far" is open to interpretation.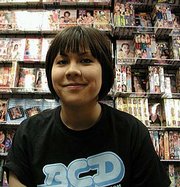 "There's a bondage section in the back. We have a midget shelf. But we don't really carry anything too specific. As surprising as it may seem, we do have boundaries as to what we'll get in."
So go elsewhere for your "Filthy Sanchez." Seek your "Donkey Punch" at another emporium. So far, it's not available at Miracle Video (19th and Haskell). But don't lose hope.
"I think that whatever sells is what we get in. We try to keep up with what's popular and what people are buying and watching."
Noting the ratio of male to female porn customers (a ratio she estimates to be about 100 / 1), it's no surprise to Mosier that the trends tend to be male-oriented.
"There's been an increasing amount of what's called 'gonzo porn', which is porn with no story line," she states without a hint of irony. "I wouldn't call it amateur, but it's not lit very well, it doesn't sound very good. It's just guys doing sometimes really disgusting things to girls in various surroundings. A lot of the women that come in here are looking for something with a story line, and guys have a tendency to get stuff that's just what we'd call 'wall to wall.'"
So what's the routine when confronted with the necessity of checking out porn titles that may not agree with her own sensibilities?
"A lot of people I think are embarrassed by it, and I try to make customers feel as comfortable as possible. I just try to be as professional as possible and just rent them their movies and get them of their way. Some people like just oral porn, and some people ... there's a LOT of anal porn back there. That's a little bit disturbing. But I don't say anything. I just work here."
The thrust of the adult film industry is well known, but when, in spite of her appreciation of porn, the pendulum swings toward demeaning women, she's ambivalent.
"There definitely are things that I think should not be distributed. But then again, who am I to say what's gross or what's wrong? There are some things here that don't appeal to me, but it's just business. There have been a lot of legal battles as to what's obscenity and what's not, and what you can do and who decides it, so it's all very subjective, and I just want to say 'If you don't like it, you don't have to be around it.' There are definitely things that we have where I look at it and think, 'That's really disgusting. That's awful', and 'How can any woman subject herself to something like that?' And there's some stuff back there that I think is really great. I think that women aren't really as exposed to pornography as much as men, and so a lot of women just have the opinion of 'It's bad. It's wrong. It's disgusting. It's gross.' But when you're around it all the time, you see that there are definitely two sides to the story."
The effect of pornography on society has been a hot-button issue as long as there have been people who experience chronic rectal discomfort, and Mosier recognizes that there's room for debate. And that can even mean questioning the legality of the adult industry itself.
"You can pay a girl to have sex with somebody and it's illegal, but if there's a camera there it's not illegal because it's for the purpose of selling and distributing."
Ultimately, it comes down to comfort and curiosity.
"There's a lot of questions that come up working here. It's a private aspect of people's lives, and you're not a firsthand part of it, but you're the supplier. So you know what people like sexually, which is kind of awkward for complete strangers, so it's kind of like this intimate, but not really at all, relationship. It's and interesting place to work. I like it here."
So does this youthful maven of filth have any advice for renting porn from a woman? Just calm down. It's going to be all right. Feel free to move about the cabin, and let her know if you have any questions. Feel free to ask for advice, or what her favorite title is (it's "Cuckoo for Cocoa Cocks"). But don't make assumptions.
"There was a kid that used to come here when I was working. He would hang out here for hours. People would return their porn and he would just knock it the whole time and make fun of it in front of these customers. Since then he's acquired a girlfriend and I know that they rent porn for him. It's just interesting how people will so easily make fun of it but then secretly take a movie and watch it at home. I think it was only because he assumed that, because I'm a female, I don't like porn, and he was trying to make it clear that he wasn't a sleazeball," she said.
"Everyone's doing it, but no one talks about it. So if we were just to break that barrier, then maybe everyone wouldn't have to feel so bad, and people would look me in the eye when I'm checking their videos out."