Tuesday, January 27, 2004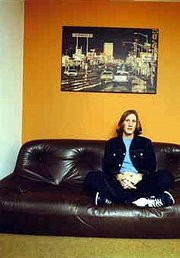 l.com: Did I catch you at lunch time? You should certainly be eating lunch. You need to keep your strength up.
Dalley: ... I'm just kind of walking around New York. I had a snack before I left. I'm gonna get something later while I'm out. That's what I love about New York, just like grabbin' slices throughout the day. I'm one of those snackers. That whole school of thought of continually digesting instead of having three big meals or whatever.
l.com: Lawrence.com just had a delicious potato and egg burrito from Burrito King. While you're in Lawrence, you simply must try one.
Dalley: Cool! That'd be great!
l.com: Is Statistics the one-man show it's being touted as?
Dalley: I'm touring with a full band. I go into the studio and do the bulk of it myself. The EP (Statistics) I pretty much did entirely by myself. I had one guy play drums on a couple songs. I had some more friends sit in on a few songs on this full-length. But yeah, for touring especially, I think it's just vital to have the live band, especially for the more rockin' songs. There are some acts that can pull off the, you know, one guy by himself acoustic, or someone playing along with a sampler. But I think for what I'm doin'-and from knowing my attention span at shows-I think having a live band is just vital to this-like the energy and the performance.
l.com: Why are you touring as Statistics?
Dalley: My first band was Desaparecidos, and that was basically my first real passion-that was what I wanted to work on and tour on-just focus on. But everyone in the band's got other projects goin', namely my singer (Conor Oberst)-he's busy with Bright Eyes. So in the down time I just started four-tracking and recording in my room and just kinda working on stuff 'cause I wanted to keep that-right now I'm doing music full time, so I feel like I should constantly be working on it-you know either out on the road, writing, or just-I don't want to slack or be lazy, I guess. So Statistics just kind of developed and then just came along more and more. Originally it just came out of a desire to want to write more. Ultimately touring is one of my all-time favorite things. I love to be out and see new places and meet people. I think it's an honor to have anyone come out to your show and give you some of their money and some of their evening. It's an amazing thing.
Past Event
Saturday, January 31, 2004, 11 p.m.
Replay Lounge, 946 Mass., Lawrence
21+ / $2
l.com: How often can Desaparecidos get together these days?
Dalley: Not very often. We're supposed to be recording this month. We actually got together in December, but we had plans to be recording all through this month and into early February. We had studio time booked and everything. We got together and said, "We don't want to rush anything and we've got time constraints." It was more on Conor's end than anything. I think the rest of us were all ready and willing to work our lives around it, but Conor's just on a much higher level and he's got bigger commitments and that sort of thing-as far as touring and deadlines go. So we decided to put it on hiatus. As of now there's no plans to work on it or tour any time in the next year or so, but it's something we all love and wanna do down the road. In a way it was kind of a relief to me, because now I can tour as much as I possibly can on this album, which is what I really like to do.
l.com: You must love it to be touring like this.
Dalley: Yeah, it goes from January 31st-you guys are the first show down in Lawrence-through April 10th or some time that week-it's not completely squared away just yet, but 'til mid-April. And then I was going to take the last two weeks of April off and then maybe try to go over to Europe in May.
l.com: Is this kind of touring schedule the norm for you?
Dalley: I've done as much as five weeks before, continuously, but never ten. This is what I've always wanted. ... if I could have Desa' and Statistics goin' at the same time, hopin' to be able to bounce from one project to the other, either recording or touring.
l.com: What's keeping you from doing a Bright Eyes / Desaparecidos / Statistics tour?
Dalley: I don't know. We never thought about doing that kind of combination. I think Bright Eyes tends to tour with bands that are sonically a little bit more acoustic-based acts-I think the next tour they're doing is gonna be just Conor by himself playing acoustic and two other guys acoustic. I think maybe he didn't want my music-which is more electronic and has louder guitars and that sort of thing-to clash with an evening of music or something. We may someday. We all book through the same guy.
l.com: Bright Eyes has achieved a modicum of popularity in certain less discriminating circles. Are you ever consumed by jealousy or resentment?
Dalley: No, no.
l.com: You want to punch him, don't you?
Dalley: No nothing like that. Conor and I have been friends since we were in like fourth grade or something, and he's really been working at it for a really long time. And he's put out multiple albums and stuff, and different projects, and as Bright Eyes. I think it's really amazing to see all the hard work that he, and Saddle Creek Records as well, have poured into their craft, and it's good to see some recognition where it's due. ... It is pretty unreal how well he's doin'.
l.com: You totally want to punch him.
Dalley: Sometimes it is intense when something comes up-I don't know if this is verbatim-but the vibe of like "Hey, you're in Desaparecidos, right? I really like what Conor's done with that." I mean, I understand completely, but it's like, there are other elements to it-there are four other people that worked just as hard on it.
l.com: Is the Omaha music scene everything we hear it is?
Dalley: I think there's a similar thing in Lawrence that there is in Omaha. We're both in the heartland. We're both landlocked. We both can have some pretty brutal winters. I think what it all boils down to is a really close-knit group of friends-not necessarily people that hang out every night-but people that go to each other's shows and support each other. I think that they ultimately inspire each other. And I think that's the key to success, 'cause obviously Lawrence has cranked out a lot of really great bands too ...
l.com: You look like a young Roger Waters.
Dalley: I hadn't heard that until recently, and multiple people have said that I look like a young Roger Waters. That's awesome.
l.com: So in your off time, you can maybe start up some sort of Floyd tribute band.
Dalley: I'll try to sell myself off as some sort of reincarnated kind of vibe-didn't they try to do that with the Doors? Like have some guy come in-
l.com: It was Ian Astbury from The Cult.
Dalley: Was it?
l.com: It's disgraceful.
Dalley: Oh my God.
l.com: So when you come out with your Floyd tribute band, I expect you to act with a little more integrity.
Dalley: ... You'll be the first person thanked for the inspiration.
l.com: Maybe I'll see you at the show.
Dalley: Hopefully we'll grab a burrito.