Tuesday, January 27, 2004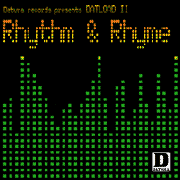 Datura Records is known locally as the upstart hip-hop label behind records like Approach's "Ultraproteus EP" and The Deep Thinkers "Necks Move." But long before owner/operator Brent Lippincott moved to Lawrence from Murfreesboro (TN), he was already hard at work on "Datcomp," a compilation of hip-hop and electronica artists from across the country.
"Datload II" takes the idea a step further by offering 18 free tracks on the label's Website. Listeners can download individual tracks or the entire album and are encouraged to burn the songs to CD and make copies for friends.
The album offers an outstanding mix of hip-hop and electronica, throwing local artists like SoundsGood, Mac Lethal and Josh Powers in the mix with larger national acts like Akrobatik and Rasco (both on Coup d'Etat Records, which recently picked up Approach for a re-release of "Ultraproteus"). Seemingly, all types are welcome, from the gangsta rap of Profit (5150 MenTaL ProDucTioN$) to the socially conscious rhymes of Deep Thinkers and Human Cropcircles.
While tracks from Josh Powers, Mac Lethal and The Guild appeared on albums earlier this year, Datload offers excellent previously unreleased cuts from a number of local artists. SoundsGood teams up with Mac Lethal & Godemus on "Hurricane," a lyrical tongue twister with a frantic beat that lives up to its title. Archetype offers the chilled out "Help Them See," a down-tempo track with a sampled hook of a choir singing "Help Them See the Light." Fur1ous and DJ Sku also impress with "Generation Hip Hop," a bouncy cut with Jay-Z-esque production.
The non-local contributions are equally impressive. Akrobatik's "Front Steps" is impossible not to move to and equally engaging lyrically. Rasco brings full positivity on "All I Wanna Be," a testament to the type of father and husband he wants to be. Detroit MC Spitball loosens things up with "Rockin' It," a hilarious DJ PRZM-produced cut with rhymes like, "The way I spit words out / You think I ate eight cans of alphabet soup and made myself puke."

Though all the tracks don't live up to the promise of the aforementioned highlights, it's hard to complain when the music is offered free of charge. What Datload II lacks in consistency it more than makes up for in spirit: here's a bunch of cool stuff, check it out.