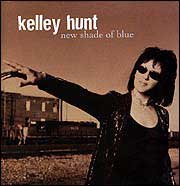 Kelley Hunt is a pro.
Pro like Karl Malone. Pro like Dan Rather. Pro like P. Diddy.
That's the impression she leaves on "New Shade of Blue," her third full-length album and first studio effort in nearly a decade (2000's "Inspiration" was recorded live). The 12-song album is most likely the record the Kansas-bred songstress always dreamt of making: a Nashville-produced gutbuster stacked with horns, bluesy slide guitar, Hammond b3 organ, big-time drums and plenty of tasteful studio sheen.
It's the kind of record tailor-made to win over the types of fans that have been following Hunt through half-a-dozen performances on NPR's "Prairie Home Companion" and at blues festivals across the country. If ever there was an artist that fit the NPR format, it's Hunt. She's equally versed in the traditions of blues, pop, jazz and R&B; she's too smart for the mainstream but mainstream enough to win over the average listener.
It shouldn't be surprising, then, that the strongest asset of Hunt's new endeavor is its diversity. The album shifts seamlessly from 12-bar blues to boogie-woogie to "Titanic"-sized ballads. What catches your ear depends largely on your personal tastes. What's never in doubt, however, is Hunt's ability to master all of the above song forms.
While Hunt isn't averse to cranking up the amps now and again and letting loose, the album's most memorable moments are its most sublime. The smooth "Temptation" cruises along on a bluesy acoustic slide guitar line. "New Shade of Blue" is reminiscent of Fiona Apple with its brooding piano chords and achingly low vocal register, while "Would You Still Be There" is the kind of ballad destined to be enlisted for "Mystic River 2."
Such a diversity of styles could cripple a less-capable vocalist, but Hunt proves up to the task. Whether she's wailing like Janis, crooning like Aretha or swooning like Dolly, Hunt adapts her vocal stylings to fit the occasion. Lyrically, she rarely misses her mark (though half the songs are covers or involve co-writers). The only questionable decision is a cover of The Beatles' "The Word," especially when Hunt's own songs more than carry their own weight.
Hunt's only downfall may be her conservatism when it comes to song choice. All of the material on "New Shade of Blue" is strong, but the only track that really takes a chance is "Darkness." With its jazzy bossa nova rhythm and self-searching lyrics, the song represents a distinctive side of Hunt that could set her apart from the Norah Joneses of the songwriting world.
Still, it's hard to fault such a well-conceived and executed record. "New Shade of Blue" could be a career-defining record for this already popular artist.