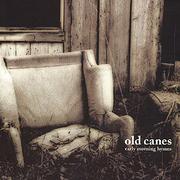 Imagine for a second that local indie rock favorites The Appleseed Cast awake from their sleeping bags to find all their equipment stolen from their van. Amps, electric guitars, basses, effects pedals, custom drums -- all now just a list of items to be turned into the band's insurance carrier.
With a show scheduled in eight hours, the boys decide to make the best of a bad situation. They scour the local antique stores and pawn shops and buy all they can with the $300 they made last night: an acoustic guitar, some tambourines, a beat-up trumpet, a toy piano, a half-strung banjo and a harmonica.
Realizing that the band's sonically exacting "Low Level Owl Vol. 1 & 2" albums probably won't translate 'Emmet Otter's Jug Band'-style, they huddle in their van and write 10 new songs en route to their homecoming show in Lawrence. They pull into the alley behind the Replay, unload their salvaged treasures and deliver ... Old Canes.
While that's not an entirely factual account of the birth of Appleseed Cast front man Chris Crisci's new side project, it might as well be true. The 10-song album (12 if you count a couple of noisy interludes) indulges Crisci's fascination with basement recording, employing brick-a-brack instrumentation, intimate acoustic guitars and hushed vocals to re-contextualize his typically rock-oriented songcraft.
Early Morning Hymns
Second Nature recordings (2004)
Crisci's supporting 'cast' is not the Appleseeds but rather Jordan Geiger (The Minus Story) on trumpet, bells, toy piano, harmonica and banjo and Nathan "Junior" Richardson (The Casket Lottery) on drums. Geiger seems to have the strongest influence on the project, as "Early Morning Hymns" often employs the same "wall-of'crap" approach as The Minus Story's "The Captain Is Dead..."
Recorded at home on half-inch 8-track tape, the project has a surprisingly high fidelity. Double-tracked acoustic guitars shimmer on top of boomy bass drums and washy cymbals. Crisci's vocals, while sometimes buried in the mix, nonetheless sound strong and prescient.
Songs typically range from fast to faster, with furiously strummed acoustic guitars and driving, marching band-style percussion. Richardson's lyrical drumming shines on songs like "The Song Was Right," with Geiger's banjo adding an element of transcendent mystery.
While Crisci's main band is no stranger to experimentation, Old Canes seems to allow him to try out more left-of-center ideas. The melody from "Taxi On Vermont" could very well be lifted from a Spanish bullfighting anthem with its memorable trumpet line and whipshot drums. "Face It" answers the question "What if The Appleseed Cast went bluegrass?" with its hoedown-like chorus and driving beat.
More than just a "what if" side-project, Old Canes seems to be just as authentic a vehicle for Crisci's emotionally thick songwriting as The 'Cast. While the album won't translate as well to the live stage as that band's efforts (nor should it be expected to), it's a welcome experiment that allows a talented singer/songwriter room to grow and could ultimately influence the future sound of The Appleseed Cast.