Professional football season is already off to a great start on home consoles, so how does the collegiate game match up?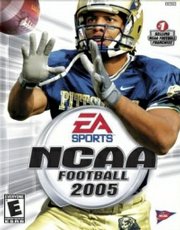 EA's NCAA Football series has seen dramatic improvements in the last few years. The 2004 edition, proved to be the definitive college experience with all the sights sounds and personality of all the major schools, which outdid its 2003 predecessor. Although NCAA 2005 doesn't quite make the leaps of the last couple years, it's still a fine game of football.
The biggest improvement (aside from Xbox Live capability for box owners) is the Home Field Advantage feature. It makes the crowd interact, support, boo and shout with respect to how bad or well you or your opponent is doing. For schools with strong tradition, you'll experience even more multi-tiered variety of crowd interaction. So much so that sometimes the controller vibrates and the screen shakes because of how loud the stadium gets. There are even added animations for the players when they get frustrated that they can't hear anything. Cool.
Each player is susceptible emotionally to his performance. If a receiver drops a few balls and gets smacked hard on a missed catch, he will start to lose his composure. This can affect not only one game but a string of games if you can't get the player out of his depression. There is a new super tackle button when used correctly, lays the uber-smack down on a futile ball-carrier. Combine those with new end-zone celebration options and you have a decent new feature set to play around with on the field.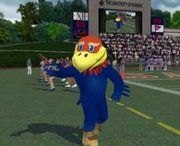 There are some minor tweaks to Dynasty mode with budgeting, recruiting and player discipline, but overall it's what EA's fans are used to. The feature set remains fairly familiar.
One thing to always enhance your college experience is to spend $10 on E-bay and send a memory card to a seller who has created the full rosters for all teams. Man, does that really add to the experience. Unfortunately with NCAA rules the way they are, likenesses of college athletes can't be shipped with the retail product.
The look of the game is really becoming antiquated. NCAA Football and Madden alike is really due for a graphical facelift any day now. Not that graphics are the most important thing, but seeing the competition get better and better each year makes looking at a graphically unimproved title fairly cumbersome.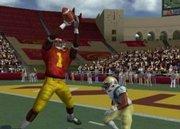 I suppose the inexplicable fun factor doesn't seem improved. It's kinda weird. It's still fun, yes but not really more so. It's still awesome to create your own school. The atmosphere still really puts you in the college mood. The game is still really worthy of a $50 tag for those incoming freshman who haven't played it before. For the veterans however, the price tag may not be the true value.
Graphics: B-
Sound: A-
First Play: A-
Last Play: B+
Gameplay: B+
Overall: 89% B+