I like playing soccer. I was never great, but I held my own as an attacker. Outside of the phenomenal Winning Eleven series, soccer video games are all a blur to me. Yeah, even EA's FIFA games fade in my mind after a few months. Out of said FIFA camp comes this European-only rendition to capitalize on our love of non-American football.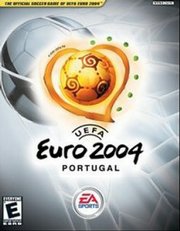 Instead of worrying about packing 300+ teams onto the title, more concentration was honed on recreating the European soccer experience, specifically the 51 UEFA countries. FIFA fans will be familiar with all provided modes of play including fresh Situation and Fantasy modes. More attention to detail is apparent in the inclusion of all national anthems and most contextual crowd chants. At first play, the UEFA tournament atmosphere is pretty engrossing.
New to an EA soccer game is a mood system where less-talented players seem to get negatively affected by poor team performance, whether it be a loss of an entire game or a mere botched play. It doesn't seem to match the disciplines of specific teams, however. The depth of morale effect only seems to be proportionate to the talent of the player. I like the idea of having wavering morale, but not having it truly team-specific makes it seem incomplete.
As much as it tries to be different, Euro 2004 seems like FIFA 2004 all over again with slightly improved opponent intelligence and nearly identical controls. The new corner kick and throw-in mechanics introduced in the latest FIFA remain in tact and the overall look is the same. When the camera gets close you can see some nice improvements to more subtle animations which can really add to the realism.
The real player faces have a great degree of recognizability, despite slightly dated character models. The default camera angles are too far from the action to do any of the design work any justice. Luckily, like most sports games, you can adjust the camera to your liking. The crowd chants are immersive and the specific national anthems really to the trick to add that extra national flair.
Oh, wait. We aren't in Europe. Unfortunately if you aren't dedicated to European soccer or already casually play FIFA 2004, there is really nothing here to convince you to play. Even the Euro-faithful may want to give this a trial run to see if the focus it offers is enough to warrant a purchase.
Graphics: B
Sound: B+
First Play: B
Last Play: C+
Gameplay: B-
Overall: 81% B-