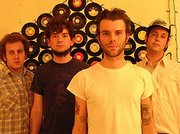 Lucero's a weird band. Are they southern rock? Emo? Indie? An alt-country Nickelback? Or are they just a hard-working rock band trying to, in the words of Elvis Presley (with whom they share a practice space), "Follow That Dream." lawrence.com spoke with the craggy-voiced singer about murder, Tiger Style Records, and murder.
lawrence.com: Is this your first record on Tiger Style Records ("That Much Further West")?
Ben Nichols: Yeah, it is. We'd done two records before this last one on a local Memphis label, and then we did our third record with Tiger Style.
It's a strange fit.
It is. You're right. I don't know exactly - how did that happen? Oh, there was an intern working at Tiger Style who was actually from Littlerock, Ark., which is my hometown, and I think he actually introduced them to the CD, to the first two CDs, and then they just came out and saw us live in New York, and liked it, and yeah, it is an odd fit, just considering the rest of the bands on the label. But they were really excited about it, and they worked real hard on it, and so it worked out great.
Did Tiger Style have any input into the production of the record?
No, not really. We did that record at our practice space here in Memphis, and kept it pretty simple and pretty straightforward. Just recorded it on ADATs ourselves. And we got finished with it, sent 'em a copy, and they're like, "Sounds good." And that was that. It was pretty easy. And then they worked really hard to support the record, and no meddlin', no "You should change this, you should change that." They were really cool guys.
You started this band as a part country, part hardcore band. How do you explain the common crossover between punk and country?
Past Event
Friday, June 18, 2004, midnight
Clinton State Park, Clinton Lake, Lawrence
All ages / $40 - $105
I think it's all extremely heartfelt music. It's all coming from the same place, kind of. Just two different takes on the same thing. And growing up, all the kids who liked hardcore music or punk rock music or whatever, they all liked Johnny Cash and they all liked the Pogues, Tom Waits, and, at least when I was growing up, a lot of the more punk rock folks who I looked up to had really good taste in music outside of punk rock. They liked Hank Williams, and they liked George Jones, and even Willie Nelson and stuff like that. So I'm not sure. It makes a good fit. Maybe it's a similar approach to life, either way you go about it.
Elvis learned karate in your practice space. Do you feel the Presley mojo in the air?
(laughs) People ask us that a lot.
Do you ever hear a disembodied voice commanding you to put on some nice white cotton panties?
No, no I don't. We've never seen Elvis, never talked to Elvis, never seen his ghost. But I figure, we're taking a shower in the same shower, we're sittin' on the same toilet.
You gotta TCB, baby.
Yeah, yeah.
Some people really hate your voice.
Yeah, apparently so. (laughs) I don't know... I have no idea what the hell people are sending out, the PR people.
You get a lot of good press, but man - do you want to hear this?
Yeah, yeah. I hear it a lot.
"Time Out New York" says - and keep in mind they're in New York, so their opinion lacks any sort of credibility - "Lucero's Memphis twang sounds great on their album, but the music's appeal is negated fully by singer Ben Nichols' aching vocal style."
Negated fully. Man.
That's harsh.
That is pretty harsh.
Some rag called The Village Voice says, "Memphis's Lucero sound like an alt-country Nickelback: dank, dreary, and lethargic."
Yeah, I had read that one before.
And this one is from Roctober.
Roctober?
Yeah, whatever that is. Regarding the new album, they say, "Annoying in a way that annoys too much to describe any further."
That's pretty good. We gotta get that stuff up on the website.
How do you respond to stuff like this?
I don't know. I guess you don't respond to 'em. Do you have to respond to 'em? I don't know. You can't please everybody. I ended up with the voice I got through no - it wasn't up to me. I just kinda got stuck with it. I like singin', I like writin' songs, so I don't know. It does the trick for some folks. A few people come out and see our shows. A few people have bought the record. That's good enough for me. I'd be doin' it no matter what, probably.
You guys tour a lot. Who's been your favorite band to tour with?
Ooh. We just did a tour with Against Me, a punk rock band from Florida, and that was a lot of fun. We played a lot of all-ages shows, which was something we don't do enough of, and so that was really cool. Then there's Drag the River from Colorado, and they're really good guys. That was a good match.
Wakarusa is going to be like a reunion for you. North Mississippi Allstars are friends of yours. You've played with Drive-by Truckers and Slobberbone.
Yeah, looking forward to seeing them. Man, it's a really cool festival. I'm a huge fan of the Drive-by Truckers. They're one of my favorite bands, period, right now. I saw (Drive-by Truckers songwriter/vocalist) Patterson Hood last week on a solo run, and he was just doing acoustic songs, but he had (Drive-by Truckers guitarist) Jason Isbell with him and man, that kid is just brilliant.
Is Patterson Hood scary? He seems to be pretty in touch with his dark side.
Yeah, definitely. But no, he's the most smiliest, friendliest down-to-earth guy. Every time I talk to him, every time I've met him, he's overly friendly. And yeah, you wouldn't think it when you met him, but he writes really good stories that make really good songs. And they are darker, for sure.
He can sure write about killin'.
Yes, he does. And I don't know if he's ever killed anyone or not, but he can write a good song about it for sure.
The same thing with Brent Best from Slobberbone. Between the two of them they've resurrected the murder ballad.
Yeah, and for me the lyrics are tough. Lyrics are hard for me, for sure, and it's really tough to write about - I'm not as good at the third person type songs. If I didn't actually do it, if it didn't happen to me, if I didn't see it, it's really tough for me to write a song about it. So yeah, I'm not as good at the murder ballad. I'd actually probably have to kill someone and go to jail before I could write a song about killing someone and going to jail. I could do it, but I'd have a tough time singing it. I'm not sure if it would feel right for me.
Hopefully it doesn't come to that.
Yeah, hopefully it doesn't. We'll see, won't we. If I keep gettin' these bad reviews, who knows what might happen.
I can give you the name of the guy from Time Out New York.