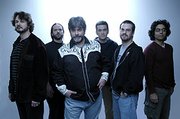 After losing a founding member to cancer in 2002, Leftover Salmon faced an uncertain future. But two years later they've proven you can't keep Salmon down. We know how that can be. lawrence.com speaks with Drew Emmitt about the new record, the road and feta cheese.
lawrence.com: You've got a brand new self-titled record out. Tell us what's brought you to this point as a band.
Drew Emmitt: Oh boy. (laughs) A whole lot of things, obviously. I guess number one, what's brought us to this point is a whole lot of touring. The last 15 years we've just been all over the place and back. And we've built a great fan base, and it's been a real grassroots growth thing. We've never gotten any big radio hits or anything. It's all just about the touring, and the records kind of come out when we have time, and sort of supplement the touring thing, generally. I feel like this record - we really wanted to put everything we had into it and really make it the culmination of all the touring, and of course the new line up, and just a lot of things going on the last couple years. Losing (co-founder and banjoist) Mark Vann, of course, [was] a very big blow to this band, being such a big part of the chemistry and a one-of-a-kind banjo player and a great friend. Recovering from that the last couple of years has been very difficult, and I think this album was kind of like our way of saying, "We're back, and this is where the band is today." I think it's a milestone for us, which is why we went with a self-titled thing, 'cause it's like starting all over again in a way.
Was it difficult to think in terms of "replacing" Mark?
Very difficult. In fact, we went on the road right after his funeral. We canceled a few dates, but then we went back out, and for like a year we took out various banjo players ... And I felt like, there's no way this band can go on, Mark is such an integral part of our sound, and such an integral part of the organization, and replacing him was virtually an impossible thing because he's the only banjo player I've ever seen who could play full-on rock 'n' roll and full-on bluegrass like nobody's business. And there's just nobody like him anywhere. He defined a whole style of playing the banjo. We've had Noam Pikelny with us now for a little over a year, and Noam's a great player, no question about it, and he's really helped us rebuild the band to where it is now, but there's no way of ever replacing Mark and his sound.
You guys are pretty well-known touring machines.
Well, it varies. We've cut back from where we used to be. We used to tour in a school bus about 280, 290 days a year. We did that for about four years on the school bus, and then we started renting the big busses and going out for longer even. Sometimes we'd go out for like 45 days. So we've cut it back. The last few years, the longest tour we did was in February, was five weeks. That was big. And then we did another three-week tour in April, but we've been taking bigger breaks in between, which has been really good for everybody's state of mind.
Past Event
Friday, June 18, 2004, midnight
Clinton State Park, Clinton Lake, Lawrence
All ages / $40 - $105
Are you able to take your family on the road?
There's virtually no way to take family on the road. It's such a crazy life, especially the way we do it. We play a gig and then we get on the bus and ride all night. It's hard enough on us. I think it'd be great if we could, but it's definitely a difficult lifestyle, and certainly not one it would be easy to take small children on, as much as I'd like to. It's brutal. Touring is definitely brutal. Payoffs are huge. It's a wonderful life playing music, connecting with the fans, but everything in between can really get old.
Can you explain (guitarist/vocalist) Vince Herman's statement that this is your first record for grownups?
(laughs) Maybe it's because we're more grown up. I think the longer you're in the business, the more you get a different view of it, and you get a little more settled in what you're doing. It's not like this big, huge, exciting thing happening to you all the time. You kind of settle into a groove. I think that we have definitely settled into more of a more mature kind of place in our career, and I think this record was about that. I think mostly just focusing on the music more and on the songs, and just putting a really good album together instead of being the wild, crazy Leftover Salmon we usually are. It was really good for us to make a more serious record, I think.
Your bio reflects a band that is eclectic enough to customize its set to suit the venue or audience. Have you ever been caught off guard?
(laughs) No, but we did play a bar mitzvah last year in Chicago, and I don't think that they knew what to expect either. I think that, coming from both camps, we were wondering what the heck we were doing there, and I think a lot of them were wondering what the heck we were doing there. But, even in a situation like that, we can still mold ourselves to the moment. I mean, this band started out basically as a wedding and ski area party band because we all played bluegrass, and we figured - back then it was virtually impossible to tour with a bluegrass band, so we made a new band with more appeal to a wider range of people and be better for clubs and things like that. So we started out playing weddings and playing requests and things like that. So we've run the gamut, believe me.
You ever pull out any of the standards? Surprise the folks with a little "We Are Family?"
(laughing) No, but we used to do a mean version of "Hot Hot Hot," which we haven't done for a while.
Oh, man. We'd love to hear us some Buster Poindexter. Is Leftover Salmon most comfortable on the festival circuit?
Well, yeah. I mean, that's pretty much where we came from. We all met at the Telluride Bluegrass Festival. We've always been a festival band and that's always been a big part of our whole scene, the festival culture. Some of our most comfortable gigs are in little hole-in-the-wall places where we walk in and go, "Oh my God, what are we doing here." But then, once we get onstage, it's just so comfortable. It's like being in your living room, and sometimes those are our most comfortable gigs, and the ones we probably get away with most on.
Do any of the festivals you've played stack up to this crazy lineup we've got at Wakarusa?
It's pretty outstanding. Especially, I mean that's a big weekend. The Dead is playing at Red Rocks in Colorado, it's the Telluride Bluegrass Festival - the first one we haven't been to, incidentally. This is what we're doing instead of Telluride this year, so it's kind of a big deal for us. Yeah, it's an amazing lineup. It's sort of like the sleeper festival. People are finding out, "God, everybody's at this festival! What is this Wakarusa Festival? Holy cow." It's pretty outstanding. I think it's going to be quite a time.
Over 70 bands at last count. Have you ever worked a festival this size and gotten stiffed?
(laughs) You know, we've been really lucky. We've put on our own festival a couple times and not really been able to pay ourselves, because that's the way it is putting on your own festival. But no, I can't really - Well, actually there was one last summer, honestly. There was one. I probably shouldn't mention the one that it was. We were there with Widespread Panic, and yeah, we did have a little problem. But that doesn't happen very often.
What's your favorite way to prepare salmon?
I have a really great recipe.
Field & Stream just had a recipe for a hobo foil pack trout, and it looked pretty damn good. That'd probably work for salmon, too.
I have a really good one. Put the salmon in the baking pan, and you crumble feta cheese over it. And then you put capers on the feta cheese. And then you melt some butter on the stove to where it's just about browning, and then you pour that over it, and you top it off with a little bit of dill and some lemon and you cook it for about 45 minutes. It's really good.
What temperature?
375.
Sounds great. Not a big fan of foot cheese, but I can see it working with fish.
Yeah, it's awesome, and the capers, it's just wonderful. It's like bagels and lox kind of.
Does being kosher have any musical benefits?
Oh yeah, all kinds. I can't mention any of them though. (laughs)
We can avoid the circumcision aspects of the band.
Good, good. Yeah, we do play the Moyle Fest.
I'd not heard of that one.
It's a lesser known festival.
More like this story on Lawrence.com