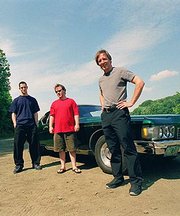 There was a time when Jamie Masefield was playing in 5 different bands on a number of different instruments and free lancing gigs across New England. But in none of these experiences was he getting to play jazz on the mandolin. In 1993, he began booking one night a month at a non-profit coffeehouse in Burlington called The Last Elm Cafe, a move that put his vision on the map. The name, "the Jazz Mandolin Project" began as a personal title toward a goal toward which he would focus all his energy. Masefield put his Project on hold just long enough to grant lawrence.com this interview:
lawrence.com: Have you guys played in Lawrence before?
Jamie Masefield: Oh yeah, many times. In fact, Lawrence is one of my favorite places in the country to play.
Why's that?
We've always had great gigs there. It's been a consistently positive place for us to play. We've played - the first time I played there could have been about eight years ago at the Jazzhaus, and since then we've played The Bottleneck, and the Granada, and Liberty Hall, and all the gigs have always been great, I don't know why.
We're spectacular people.
The people seem to appreciate it so much that you've come to play in that place ...
Past Event
Saturday, April 10, 2004, 9 p.m.
Grand Emporium, 3832 Main, Kansas City, MO
21+ / $12 - $14
Before you founded JMP, you were a multi-instrumentalist in several bands. What made you decided to concentrate on mandolin?
Well, I started playing music on the tenor banjo, which is tuned similar to the mandolin, and I had been playing a lot of traditional New Orleans jazz and a lot of historic jazz. But what I was really hankering to do while I was in college was to also get something going - a more contemporary thing. And I wanted to try to write my own material and get a show on nationally. And the mandolin was the instrument I felt I could do something contemporary with, and it was at that time that I started listening to the modern jazz guitar players like Jim Hall and John Scofield, Pat Metheny, Mike Stern, Bill Frisell. And when I heard those guys it really turned on a light bulb in my head, and it made my wonder what I might be able to do in a similar vein on the mandolin. So that was how the whole concept of the Jazz Mandolin Project really got going, was that interest in the modern jazz approach.
Do you ever regret putting so much focus on the mandolin? Do you ever think, "This song could really use some guitar"?
Well, the fact is that I don't play guitar. It's really just a situation where I'm playing the instruments that I know how to play. The mandolin is a violin family tuning. It's totally different than a guitar tuning, so this was my only choice.
Have you ever brought a guitar player in?
No, never. And that's really part of the mindset. There's so many - just about every band has a guitar in it, and I guess that's part of the challenge is to do something that's different. And so I have been influenced by guitar players, I'm trying to do something in the mandolin vein, and obviously not in the guitar vein.
Have you played a lot of these big outdoor festivals?
Yeah. I mean, that's really what the summer schedule is all about for years, are these festivals. Playing in clubs in the summertime is really not a good way to go, and so the festivals are really the thing to do. So that's played an important role for years.
Are you mostly booked into jam festivals?
A lot of them are jam festivals, but we also play jazz festivals. Straight up jazz festivals. Other things pop up as well. In Pittsburgh we just played the 48th International Folk Festival, which was a total blast, where they had something like 80 countries represented, of nationalities within the Pittsburgh area. So, the Irish people in the Pittsburgh area got together, and they all have these dance troupes, and it's actually pretty amazing. There were Greek dance troupes and Indian dance troupes, all made up of younger children mostly, or teenagers I guess. And then they also had food kiosks from all these nationalities from all over the world. And so these were all put on by people who lived in the Pittsburgh area. So that was a really cool festival for us to play at, and we played as much international music as we had in our repertoire, so that was a different kind of festival.
Do you have any plans with Jon Fishman now that he's looking for something to do?
(laughs) Well, hard to say. For publicity purposes I would say we're going to keep doing what we've been doing, which is Jon coming out once or twice a year for a special tour, and keeping it at that. I have a couple other drummers that I really love to play with as well, and Jon has a family and a home, and, you know, lots of obligations that he's actually pretty eager to kind of dive into more. So I think things are gonna stay on a pretty even keel in terms of what Jon will be doing with us.
What are you working on right now?
We're pretty much in tour mode. I'm putting thoughts together for my next album, but I don't see it being an album like the last ones have been. I think the next album's gonna be a major departure for me. It's going to be something really different. But it's just in the thought process now, so I don't have a lot of juicy bits of information to tell you, other than I just think it'll be something a bit different.
As far as outdoor festivals in this country go, do you think that Wakarusa seems like a pretty impressive debut?
It certainly does. I think it's a pretty bold move and I hope it goes well. My concern with these festivals is always what the - I was a geography major, so my concern is always what's the population density around these places. That's the kind of thought that I'd put into it. So I hope that it goes well for Wakarusa. It seems like a really cool thing, and as I said, I love playing in Lawrence. I don't know what it is, but people always are great listeners, and ready for a musical adventure, so I hope that it goes well for their first time.