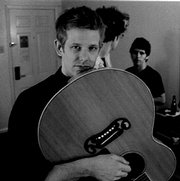 What the hell are Spoon doing at the Wakarusa Music Festival? Well, just like everyone else who doesn't have a golden retriever wearing a bandana, they're here to see Guided by Voices. But that's not important. What's important is that they're here to rock you in a Spoon-like fashion. Thank goodness we're not in Wyoming. Sure, they've got mountains, but we've got Spoon.
lawrence.com: Did you ever imagine that Spoon would be on the jam band circuit?
Jim Eno: (laughs) Are we on the jam band circuit?
You are now.
We are? What do you mean?
Starting with the Wakarusa Music Fest in Lawrence, Kansas.
Oh, that's right. Well, GBV's (Guided by Voices) doin' it too, so both of us are on the jam band circuit now.
Past Event
Friday, June 18, 2004, midnight
Clinton State Park, Clinton Lake, Lawrence
All ages / $40 - $105
Did it ever enter your wildest imaginings?
No, no, uh-uh. Actually, we know GBV and we really like those guys, so we actually restructured our - we were actually gonna start on that Monday, but we got into the festival, and we really wanna hang out with those guys and play with them and see Lawrence again, so we thought that would be a good thing to do.
Your Lawrence audience is pretty rabid.
Yeah, we love Lawrence. Back from the days when we played the Replay Lounge in front of ten people. (laughs)
It was a little different than that at your last show, with the bevy of obnoxious front row girls dousing everybody with Rolling Rock.
(laughing) Oh yeah, exactly right.
Would you say that your Austin audience is as strong as your audience in the rest of the country?
Well, the Austin audience is pretty strong just because we play in Austin a lot more than we play anywhere else.
I imagine a lot of people come out to see if you really have a keyboard player named Eggo.
He left. We have a new keyboard player now.
Oh. Let's get back to your audience.
The good thing about our audience, pretty much country-wide it seems that, since we haven't been on the radio, there are fans of the entire record; fans of the records as opposed to fans of the singles, since we don't have any. So that's pretty exciting, because every song is basically recognized, and people feel a lot more attachment to the songs than, "Hey, I heard that on the radio when I was in high school" or something. So we've noticed that all the way across the country, as far as people knowing the whole record, being excited about every song as opposed to just having their arms crossed waiting for -
"Free Bird"
..."Free Bird," exactly. The Spoon equivalent of "Free Bird" ...
Remind me why Spoon was banned from Wyoming.
Oh, I can't talk about that. Our lawyers don't let us talk about that.
When can we find out.
I don't know. I don't know when the statute of limitations is up, so we'll see. It might have something to with Eggo. Sorry to be vague there.
But you're still a quartet?
Yep. We have a new keyboard player we're taking out on this tour. His name's Eric Harvey. He's a friend of ours. I think it's gonna sound good. He's gonna play some guitar on some songs too, I think. We've been practicing, trying to get ready for you guys.
Are you still riding the wave of "Kill the Moonlight" (Spoon's 2002 release)?
Well, not really. We've really been focused on the next record. We've been working on that since the end of last year ... And so what we wanted to do was go out on tour - We like the idea of going on tour when we don't have a record released, just 'cause we think it's a good idea to keep going out and playing in front of people. We can play some new material and see how it goes. So that was the idea about the planning of this tour. Plus it gives us a break from recording.
"Kill the Moonlight" was a progression for you guys in a lot of ways, for example the prevalence of keyboards. What's in store with the new record?
... Well, we're going about it how we go about all of our records, and it's - Britt writes all the songs, so we'll go through and focus on a song-by-song basis what type of sound it needs. So, in other words, we don't look at what direction we want to take a specific record necessarily. It's more, "What are the songs sounding like," and "What's the best approach to take for the song." It's sounding to me like it's going to be a rock record. At least that's what it feels to me.
Are you content to let Britt generally take the spotlight?
Yeah, I tend not to do many interviews. Britt's better at them. I don't know if I'm good at interviews.
So far so good.
Thanks. I appreciate that. You can rate me after, I guess. Britt - he's the songwriter, and a lot of times I'm not gonna answer questions about what lyrics are about or what he was thinking when he wrote songs, so a lot of people are interested in that. So he can talk about that a lot better than me.
You've had a lot of bass players and keyboard players.
We've had a lot of bass players and a lot of keyboard players because sometimes we'll do shows in Austin, or short tours where we'll work a bass player or a keyboard player in. But the line up since "Kill the Moonlight" has been me, Britt, and Josh on bass. So Josh Zarbo is our permanent bass player now, and will be touring with us and working on the record. He's already been playing on the record and helping with everything, so it's just the new keyboard player addition. And it's not like we wanna switch players all the time, unfortunately. It's just how it's worked out.
Is it because of your iron fist?
(laughs) We've had multiple keyboard players leave for just other situations. It's more like if other opportunities come up. That's been the main reason. We've had a keyboard player, for instance, that left because he got married and he doesn't really want to tour as much as we want to, so that's the type of thing. And we'd really like to have a lineup that would be around for a long time. We don't consciously try to change lineups. It's just how it's turned out for us.
What can we expect from Spoon this time out?
... I think the songs that we're working on I'm excited about. Britt's written - he's still writing hits, so it's really fun to still be working on great songs, so I'm extremely excited about it. So we're looking forward to playing these few songs live on this tour. I think we're hopefully gonna work up four to six new ones to play. We may not play six new ones every show, but we'll probably be rotating maybe through six, so yeah, we're looking forward to it.
A little advice for Wakarusa. Stretch one of them into 20 minutes and you'll have a whole new audience.
(laughing) Okay, we'll do that. Maybe "Paper Tiger" we'll stretch out for a long, long time or something.
More like this story on Lawrence.com