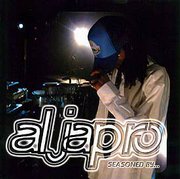 Out of the swamps of the industrious Lawrence hip-hop scene comes another interesting cross-pollination project featuring prolific beatmaker Miles Bonny (SoundsGood, Dino Jack Crispy, The Find) and rapper Approach. Conceived and recorded earlier this year, "Al Japro" will be given away as a bonus disc to Approach fans who buy the re-release of his album "Ultra Proteus," which is being re-released by New York's Coup d'Etat Entertainment.
The duo cooks up ten well-conceived tracks showcasing Approach's alter-ego "Al Japro." Bonny's playful production ranges from hard-hitting hip-hop ("Directory Assistance") to jazzy lounge ("Al's Show") to laid-back funk ("Seasoned By"). Though Bonny stays true to hip-hop's rhythmic sensibilities, he's not afraid to pepper his beats with exotic Hawaiian music, flamenco guitar or gigantic symphonic swells.
Approach explores a darker, more personal side than he revealed on "Ultra Proteus," which mostly featured party-rocking lyrical turns of phrase. On "Token" he sings about his racial identity: "Never the one to play the clown in the back / Never the one to play your vision of black."
The album also features a guest spot from Definitive Jux recording artist Murs, who offers Approach advice on how to survive in the underground hip-hop scene: "Free Mp3s made me a gold mine / 'Cause if they burn it and they like it then they coming to the show / And in turn they going to buy it and from there it's gonna grow" ("Directory Assistance").
One of the album's most unexpected highlights, however, comes when the typically mic-shy Bonny steps up to sing the chorus of "Patience Brings Pleasure." Holy Pharrell, Batman! ... Bonny can sing!
Through most of Approach's efforts will be focused on the national and worldwide re-release of "Ultra Proteus," "Al Japro" is an equally engaging listen and should be every bit as well-received by hardcore hip-hop fans.
More like this story on Lawrence.com