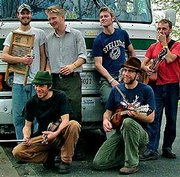 There are lots of mountains in the world but few are older or wiser than the Blue Ridge of Virginia. An hour's drive west from the state capital, foothills cradle the small city of Charlottesville where generations of workers, artists and students have built a progressive community steeped in the best traditions of the American South. The Hackensaw Boys first began playing their joyful blend of old-time and bluegrass string-band music on the streets of Charlottesville in the autumn of 1999. Later, in the year 2004, lawrence.com spoke with said Boys regarding some hippie fest they're playing here in Lawrence, Kansas.
lawrence.com: You guys are finally within cell phone range.
Skeeter: Yeah. Yeah man. We're on our way. We're in Columbia, Mo.
Which Hackensaw am I talking to?
Baby J.
I've never heard of you.
I'm either Dante J. or Skeeter.
Past Event
Saturday, April 10, 2004, 9 p.m.
Grand Emporium, 3832 Main, Kansas City, MO
21+ / $12 - $14
Oh, Dante J.
I switch up. Keep it interesting.
Keep people guessing. Why the pseudonyms, anyway?
I think it probably started out as just sort of being silly, but it's kind of fun, you know? You can, not necessarily hide behind a personality, but you can also make one up too. It's more for fun, I guess.
Is there any truth at all to your band bios?
Well, sure. There's some truth involved somewhere in there. I haven't read the most recent bio, but are there any questions of truth that you have?
Well, originally I was supposed to talk to Shiner, who is reported to be a hardened criminal.
Oh, nah, he's not a dangerous criminal anyway.
How about you? I can buy that you worked in a bagel factory, I guess. Are you really some sort of sumo champion?
Oh, yeah. There's truth to that. We were at a Harley Davidson weird parking lot thing one time, and the best thing they had going on was plastic sumo wrestling suits. And I challenged the band, and I won ten consecutive matches. So that explains the sumo wrestling.
Impressive, Grasshopper. But you have a problem with truckstop burritos?
Yeah, they cost more than you think for me. That's an 800 dollar burrito.
Are we talking about a hospital stay?
Yeah, but it's been a while. I learned my lesson.
Is there a particular brand you'd like to warn against?
Any time you're gonna spend a dollar on a frozen, deep-fried burrito, I think you should beware.
Good advice. You guys have played a lot of these festivals.
Yeah, we've had a pretty good run the last couple years. We've had some fortunate fortune with getting opportunities like Telluride and Bonnaroo and High Sierra and Wakarusa. We feel good about it. They're fun to do. You get to see a lot of people in different places, which is kind of fun, and you get to actually see other bands play music, which is cool too.
How does the festival experience compare to clubs?
There's a built-in audience, which is always kind of nice. You can also get exposure to people who wouldn't necessarily come out to an individual club to see you.
And you guys have a history of that, touring with Modest Mouse, Cake, and the Flaming Lips.
Yeah, that's true. It's been successful in the fact that we haven't had anybody that didn't like us [or] been mean about it, and there's definitely been, overall I would say, pretty much all positive feedback. And all the audiences we've gotten, it's been fun. I can't remember a time opening up for those other bands where the audience totally didn't appreciate what we were doing. Everybody seems to enjoy it.
Well, the bands that I mentioned have all made some strides in opening peoples' minds with their own music.
Yeah, they're not standard-issue music. They're creative, and it's interesting. Like Modest Mouse has got their own thing going on, and Cake as well. And it's also good for us too, because if we opened for just bluegrass bands all the time, I think what we do loses any sort of impact. It's being redundant. We enjoy playing with other bands because it gives people a chance to think a little differently and not just ignore the opening band because it's going to sound like the other band, just not as good.
Is someone playing a didgeridoo in the background?
I think it's a cooling fan.
Oh.
I'm sitting back in an alley. I'll walk around the corner here.
It sounds like you're down under.
I wish.
Well, you may want to think about adding a didgeridoo. It sounds pretty good. Is the Dirty Bird (the Hackensaw Boys' 1964 GMC touring coach) still running?
The Dirty Bird will be pullin' in. Yep, it's our last stop on a three-week tour. We'll be ready to let loose a little bit, and then we gotta drive straight home. We're gonna play and probably leave, unfortunately, because one of the other guys in the band is actually part of Modest Mouse's new album, so he's gonna go support that.
How hard is it to find parts for the Bird?
Well, we broke down in Denver. Friday night we got on the bus and ran into a little starter trouble, and we thought it was the battery so we replaced the battery, then we replaced the cable. Then by Saturday we realized it was the starter, and Pee Paw Hackensaw there spent all day trying to work on it, only to find out we couldn't get any parts til Monday. We got a new one, put it in, and it was backwards, so Monday morning we found some guy who accidentally had a rebuilt one hangin' out that was a mis-order at this place, and we picked it up, put it in, and made our way to Columbia. We were hopin' to get here. It's one of our favorite stops comin' through, so fortunately we did.
What kind of sound system does it have?
We currently have a vintage circa 1986 Technics amplifier with some, I would say little four-inch speakers and a tape deck.
What are you guys listening to on the bus.
We listen to everything. Everything from like Roscoe Holcomb to jazz, Charlie Mingus, and some rock 'n' roll, like Lungfish. One of the guys likes the Handsome Family a lot. Pretty much anything that has good feel to it, that doesn't sound too slick or overproduced, or kind of made up by the record companies I guess. We're not too specific. Our merchandise guy's a big hip-hop fan, so he's got the underground hip-hop scene covered for us.
He'll have to hunt down some of our local hip-hop. We've got a pretty healthy scene here. But he's not going to find it at Wakarusa.
Yeah, well they'd have a hard time making that one work, I think, unfortunately. I wish. I wish it could be, 'cause that would be awesome. But I just think, unfortunately, culturally, it just doesn't work for whatever reason.
Maybe some day.
I hope so. That'd be awfully nice.
What do you think about bluegrass being clumped in with the hippie music?
Well, I think like that David Grisman, and Sam Bush, and that generation of bluegrass players, I feel that they took bluegrass, played it, and then took it to different genres, and started doing a lot of blending, so it's sort of been there for a long time. Bluegrass, in the true sense, has sort of disappeared, and then kind of come back I guess, you know? ... It's not how I learned about bluegrass. I definitely learned about it just pretty much playing in this band. And I wouldn't even say I'm really a bluegrass fan in the Bill Monroe sense of things, like Del McCoury and that style, a very specific style, which is bluegrass. But like the old time stuff, which is pre-Bill Monroe, like Rosoe Holcomb and Doc Boggs ...
Before it kind of sped up?
Well, not even sped up as much as smoothed out. And I certainly appreciate that style, but I'm sort of like a rock 'n' roller kind of. I like it a little rough, people shoutin' and hollerin' and just goin' crazy. And smooth bluegrass guys in suits, that's really about, to me, it seems like it's about hot licks and stuff like that, which is - that's cool too. But old time is more my cup of tea I guess.
Now that Phish is broken up, there are about a hundred million Trustafarians looking for some new music to spend their parents' money on. Maybe you can hook up with some of that.
(laughing) Maybe so ... It's sort of cool that our band gets the opportunity to sort of jump into a scene and jump out, and I would have a hard time playing all the hippie festivals just because I feel like it would sort of get the same, stagnant for me. I like to hear something fresh all the time. I'm also kind of the three minute song kind of person just because of my short attention span ...
What are you guys working on right now?
We've had a new record in the works for a while. We're looking forward to puttin' that out hopefully in the next three months or so. We just did a tour of the Netherlands, which was very successful. I think we're going back for a UK/Netherlands tour in late October and November, so that's been real exciting. I think the record's gonna be real good once we get it finished.
What is it about the Netherlands? A lot of bands really seem to do well there. Slobberbone are like gods there.
Yeah, I would say that it's a really different audience; it's a really different style. People really listen. I think there's a few more music aficionados that really go to listen to music, and people just love music in general ... People know all the information about their bands, and they really pay attention to the music. There were a few shows where it occurred, but sort of the bar scene, going out drinking and there's a band there? It was sort of the opposite, where there was a band there and you could drink some beer too. Which was kind of nice ... Overall, it was really a pleasure ...
I'm often amazed at how inconvenienced audiences seem to be by the band on stage.
Yeah, that's the crux of the problem. I appreciate the fans comin' out and stuff, but it's crazy to me to think people pay money not to see a show.
More like this story on Lawrence.com