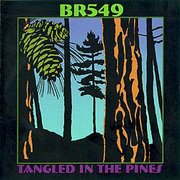 With a band like BR549, expectations for quality precede listening. The Lawrence-rooted, Nashville-bred band (lead singer Chuck Mead grew up in Lawrence and cut his teeth with The Homestead Grays) has been recognized as one of the top neo-traditionalist country acts in the country for the better part of a decade. Besides touring with the likes of Bob Dylan and Tim McGraw, BR549 has been nominated for Grammy awards and deemed "Nashville's hippest band" by Playboy.
That said, "Tangled in the Pines" is even better than one might expect. The group's fifth full-length finds its players in peak form, cutting all of the tracks live without batting a road-weary eyelash. Themes of progress and journeying permeate frontman Chuck Mead's lyrics; fitting subjects considering the band has two new members and last put out a full-length in June 2001. Overall, it's a very upbeat album, forsaking tear-in-your-beer ballads in favor of roadhouse-style romps and fiddle-centric country.
In BR549's country lexicon, Chuck Berry is every bit as present as Hank Sr., and that translates to more dirty guitar solos and attitude than typical country fair. The whole album sounds like a late-night whoopfest at Robert's Western Wear shop, where the band first made a name for itself on the legendary Nashville strip. Unlike contemporaries Dwight Yoakam or George Strait, BR549 isn't afraid to dirty it up a bit with distorted fiddle sounds or swampy electric guitar jams.
The band takes advantage of its multiplicity of talented vocalists, stacking harmonies three-strong and trading leads. Mead carries standout tracks like "I'm All Right (For the Shape I'm In)" with his tender-yet-seasoned drawl, but new guitarist Chris Scruggs (yes, as in the grandson of banjo great Earl Scruggs) enlivens "Honky Tonkin' Lifestyle" with his Roger Miller-esque crooning.
Multi-instrumentalist Don Herron, however, is the real ace up the band's sleeve, contributing tasty fiddle and steel guitar licks. Bassist Geoff Firebaugh also injects some doghouse thump into sizzlers like "Way Too Late (To Go Home Early Now)."
For an old-school country band, the best way to sound fresh is to sound familiar. In that department, BR549 delivers the goods and then some.