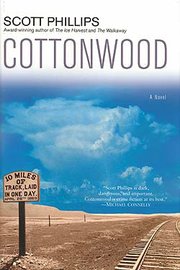 If MTV's The Real World ever decided to shoot a show in 1870s Kansas, the result might look something like Scott Phillips' "Cottonwood."
Phillips, born in Wichita, has accumulated somewhat of a cult following for his Kansas-based mysteries, and his newest is no exception. In "Cottonwood," Phillips paints a brazen and graphically funny picture of life on the Kansas prairie, a life where hot-blooded males find no shortage of young vixens ready to do their bidding, and where being in the wrong place at the wrong time is enough justification for an undeserved demise.
In the story, Bill Ogden is a young entrepreneur who is watching Cottonwood -- his one-horse Kansas town -- grow with the promise of a railroad and cattle trail. Ogden has plenty of time to work as a farmer, photographer and saloon owner while his wife is screwing the hired man. A Greek scholar in the midst of alcoholics and whores, Ogden longs for a new opportunity. He finds this in the town's new mystery tycoon Marc Leval (think 19th century Donald Trump). Leval, whose fortune can't be pinpointed, decides to make Cottonwood his new project, and he picks Ogden to be his right-hand man.
In these days of urban sprawl it's hard to imagine a time when commercial expansion was desirable, but Leval's promise to "bring civilization to the prairie" thrills the Cottonwood folk and the town becomes a Kansas hot spot almost overnight. Eventually, in a sort of Sim City gone badly, the townsfolk turn against each other as Leval struggles to maintain his powerful image. Things worsen considerably when the Cottonwood citizens discover that many of their own have been the victims of vicious serial killers. When the men decide to take matters into their own hands, Ogden becomes the central figure in a situation that sends him packing for California.
As one plot races into the next readers may be hard-pressed to learn how the anecdotes relate to one another. Phillips takes pride in that there is never a dull moment in "Cottonwood," but frankly I sometimes wished there was. The novel is filled with twists and turns that can be as confusing as they are rewarding. Comparing Phillips to other popular mystery writers is like comparing British sitcoms to American -- his punch line builds up gradually (rather than serving as immediate gratification) and it can be difficult to follow at times, with extraneous characters and plot lines. But it's nothing if not entertaining.
Past Event
Tuesday, March 9, 2004, 7 a.m.
Raven Book Store, 6 E. Seventh St., Lawrence
All ages / Free
It would be hard to come away with anything other than a grin after reading Scott Phillips, and readers looking for more depth may be sorely disappointed. The characters are more portraits than people and their actions seem to happen on a whim.
Slim characterization not withstanding, "Cottonwood" has loads to offer in the way of charm and humor. The references to Lawrence, Wichita and Topeka are great fun for locals. Phillips' numerous 1870s euphemisms for male genitalia are also guaranteed chuckles.
Even if you are not a fan of mysteries or westerns, "Cottonwood" is a good read thanks to both its fresh perspective on historical events (such as the murderous Bloody Bender clan) and its genre-bending (the novel could also be classified as historical fiction or even as romance). A Hemmingway it is not, but if you enjoy brazen sexuality or western shoot-em-ups, then this novel is definitely for you.