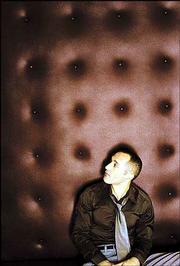 It's Kansas City, not Lawrence, that is known for jazz. However, for the past 27 years, the KU Jazz Festival has brought the best of the style to town.
"It's a good chance for people in Lawrence to hear some really good jazz music," said Dan Gailey, director of the festival.
This year is no different, with The Refuge Trio performing on Friday and Bob Mintzer on Saturday.
The Refuge Trio is composed of Theo Bleckmann, John Hollenbeck and Gary Versace. Although the individual members have gained reputations in the jazz world, the group itself is new. Bleckmann, Hollenbeck and Versace have worked together often and formed the group after collaborating at a Joni Mitchell tribute last March in New York. The Jazz Festival will be the Refuge Trio's second gig.
All three are classically trained artists, but the sound they create is progressive and experimental.
Friday and Saturday 03.05,03.067:30pm :: KU Jazz Festival
"It's not the normal thing, but it is based on it," Hollenbeck said. "The sound is even new to us. We don't know what to expect ourselves."
The blend comes from the diverse background each artist has. Hollenbeck brings a melodic jazz drumming that he mixes with a world-music sound. Versace adds keyboards and piano, while Bleckmann contributes voice and electronics. Bleckmann has gained some notoriety with his innovative use of technology in his tunes.
"I am trying to incorporate electronics into a mainstream effect," Bleckmann said. "It can be accessible, listenable and touchable. It doesn't have to be cold."
"Theo Bleckmann is a phenomenal artist," Gailey said. "He stretches people's ideas of what jazz is."
The trio is still experimenting with its sound, creating original works and giving a new twist to standards. The members describe this partnership as free and interactive, with all three contributing to the creative process.
"I'm interested in a lot of different styles of music," Bleckmann said. "I think all of it is valid."
Bob Mintzer will give audiences a taste of a more traditional jazz sound. Mintzer is a Grammy winner who has reached a wide audience with his work in the jazz group The Yellowjackets. The tenor saxophonist has been a part of some of the best big bands of the '60s and '70s, winning a Grammy for his work on "Homage to Count Basie."
The concerts, which are usually at the Lied Center, will be in Swarthout Recital Hall this year.
"It is a much more intimate venue," Gailey said. "The only negative thing is we are anticipating turning people away."
More like this story on Lawrence.com