Last month Nintendo released a limited-edition, two-tone version of the Game Boy Advance SP. The models have Platinum bases with Onyx lids, for a silver-and-black look that's sleek and unique. According to local retailers, they are hard to keep in stock and expect them to be hard to find very soon.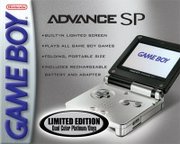 Some gamers expect the system to be treated like old errant baseball cards. They are limited and rise sharply in value after the market is clean of them.
"With more than 40 percent of Game Boy Advance SP players over the age of 18, the system is enjoying an expansion toward an older demographic," said George Harrison, Nintendo of America's senior vice president of marketing and corporate communications. "It's easy to see how these celebratory silver-and-black versions will appeal to an older audience. And with a limited supply, they're likely to become collector's items."
November 2003 was a landmark month for the Game Boy Advance. The Toy Retail Sales Tracking Service reported that Game Boy Advance sold more than 1.3 million units. That's more than 50 percent more Game Boy Advance units sold in November than PlayStation 2. As the best-selling game system in the world, total U.S. sales for Game Boy Advance in 2003 are expected to top 8 million.