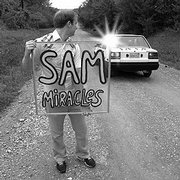 Being that he's a Christian, Sam Billen lets God handle most of his band's decisions.
"On a pancake that I had the other day Jesus drew a picture of a one-way sign to a Grammy award," he said. "And then Jesus' face was up in the top of it in syrup. It was amazing."
Billen was kidding, of course. But as the saying goes, there's a little bit of truth to every joke, and in Billen's case, the truth is that it's hard to be a Christian songwriter and not be known as a CHRISTIAN SONGWRITER. That tag can do for a songwriter's career what "Home Alone" did for Macaulay Culkin.
Of course, there are exceptions: DC Talk, Jars of Clay, Stryper...
Which leaves Billen pretty much up the River Jordan without a paddle.
As a solo artist, the 22-year-old songwriter more commonly brings to mind indie artists like Death Cab For Cutie or The High Llamas. His band The Billions has been compared to everyone from Built to Spill to Pinback.

Billen's latest effort is a solo album titled "Miracles" released under the moniker "Sam." The 11-song home recording showcases his heart-on-sleeve songwriting and Beach Boys-inspired pop sensibilities. The songs are decorated with lush violin arrangements, plucky banjo lines, casiotone keyboards, sleigh bells, synthesized sitar sounds and just about anything else Billen found laying around the farmhouse where he resides just west of Lawrence.
It's an album that would satisfy any fan of melodic indie rock, unless, of course, said fan had an aversion to music that made overt references to Jesus Christ.
"It's not like I'm afraid to say that I'm a Christian, so I'm going to avoid saying Jesus or Christ in any of my songs," he said. "I didn't set out to write some album that was gonna save people; I set out just to write an album, and in my lyrics it comes out, because that's how I live."
But it would be misleading to say that Billen's sole muse is his religion. "Miracles" finds him equally occupied with matters of the heart, be it his fiance Yuka (who he'll marry later this year), his family or seemingly random fantasies involving far away places and basement hemp growers.
The latter is the subject of "Watching for Sirens," a ramshackle bedroom recording with a peculiar chorus of: "Watching for Sirens / As I grow my marijuana / Come in dinner's ready / Or we'll eat it all without ya / Family ties are breaking / And the TV is his father."
"I basically just wanted to use the word 'marijuana' in a song, 'cause it just sounded so perfect in that part," explained Billen, who was quick to add that he didn't endorse using the drug. "Some of my friends are like, 'Man, I know you wrote that song about me, dude' and all this stuff, and I'm like, 'No I didn't.'"
On "I Finally Know," Billen deals frankly with the death of his mother, who lived with cancer for three years after being diagnosed as having three months to live. He sings: "In 20 years I've seen the worst that life can give / My father crying as he watched my Mom die / My love for life was dying right behind her."
Past Event
Friday, March 12, 2004, 8:30 p.m.
Signs of Life, 722 Mass., Lawrence
All ages / Free
"(My Mom's death) was a kind of a turning point for me going from surface faith to real faith, which I still struggle with, but at least it's something real that I'm struggling with now," he said. "I've learned that (God's) plans are a lot bigger than mine, and her dying has helped me and a lot of other people possibly even a lot more than if she would have stayed alive."
The album marks Billen's second effort for Northern Records, a California-based indie Christian label that signed The Billions to a five-album or five-year record deal (whichever comes first) after hearing the band's first album "Quiet As It's Kept."
The label suggested Sam record a solo album while his brother Dan, an equally creative force in The Billions, took time off for the birth of his first child.
"To (Northern) it was kind of a thing to keep me busy and keep us all motivated in something musical until the band got back together to tour," he said. "Little do they know we were never apart; we've been playing the whole time. So we just got a free album out of this."
The Billion's relationship with Northern has been up-and-down, as the label struggles to make the most of limited resources. The Billions last album, "Never Felt This Way Before," sold over a thousand copies (mostly while touring) and benefited from a push to college radio and a deal with Parasol Distribution, which offered the album on its Website.
"We've had tough times with (Northern) but at the same time we still feel like they're family, because they've given us our start," Billen said. "It's a pretty big deal, just to have a record label pay for you to record an album of your own."
The marketing plan for "Miracles" is still up in the air, with no distribution lined up yet and little in the way of radio or media promotion. Billen will do a two-week solo tour of the Midwest and East Coast in late March and early April, and then will return to Lawrence to focus on the next Billions album, which the band hopes to record this summer.
"We're going to go for a bigger sound ... more of a mainstream sound," Billen said. "We're kind of just realizing that the albums are for other people, too."
Northern Records co-owner Eric Campuzano said the biggest obstacle to marketing The Billions (and "Miracles") has been getting the band on the road.
"If they toured more, we could market them more, that's all it comes down to, whether it's in the Christian market or the general market," he said. "I think it's probably easier to get a record deal than it is to get a booking agent. And I know it sucks for The Billions ... I'm beating down their door saying, 'Get out there -- tour, tour, tour!' and they're like, 'We're trying -- we can't find anybody to book us.'"
Thus far, the band's approach to touring has been to play anywhere and everywhere no matter what the cost (or crowd size). That likely will change as Dan raises his child and the other band members settle into serious relationships.
"We all feel a little bit more adult to have somebody in the band with an actual family," Sam said. "If it does anything it's just going to make us make wiser decisions about what we do, 'cause before we'd go on any tour that was offered and we'd come back negative 200, 300 bucks and just be totally screwed for rent."
The label has also pushed Sam to step into more a lead role in the band and assume all the singing duties. Sam, however, still wants the Billions to be a forum for the band's multiple songwriters, which now totals four with the addition of guitarist Simon Bates.
"I feel confident just kind of taking a step down, you know, letting the other guys take over a little bit," he said. "I kind of rung myself dry on this last album."
More like this story on Lawrence.com