Wednesday, March 10, 2004
Carol Pilant loves Wheatfields Bakery & Cafe.
"I come here probably once a week," said Pilant during breakfast on a recent morning at the 904 Vt. establishment.
"One time I spent most of the day here with a friend and moved through breakfast and lunch. It's a comfortable place to be. I sometimes come and read and write. I also just like to visit with friends."
Pilant is in her first year of retirement after having worked for 25 years as a librarian at Central Junior High School. And Wheatfields is where she goes in search of sublime baked goods.
"Their bakery is the best in town, period. They have the best breads outside France, where I lived for a year. I just like the regular baguette and the French Walnut (bread). It really is the best," she said.
Pilant is one of many area residents who have worn a steady path to Wheatfields since it opened in 1995, hungry for its European, artisan-style fresh breads baked in an enormous wood-fired oven that was specially built.
It was only a matter of time before word of Wheatfields got out.
And has it ever.
Wheatfields will be featured in a viewer's choice episode of the Food Network's cable television program "The Best Of," airing at 8:30 p.m. today in Lawrence on Sunflower Broadband's Channel 69. A rerun of the show will air at 12:30 a.m. Thursday.
A film crew from the cable television network came to Lawrence in October to tape segments for "The Best Of" program at two locations, Wheatfields and the Hereford House, 4931 W. Sixth St.
No date has been set yet to air the segment on the Lawrence steakhouse. It will appear on a program called "The Best Of Sizzling Steaks."
Pilant, for one, wasn't caught off guard when she learned that her favorite bakery would be highlighted on the Food Network.
"That's as it should be. When I saw it (a note on the door of Wheatfields informing customers of the upcoming program), I thought it was cool," she said.
Tipped off TV network
Wednesday 03.10Wheatfields Bakery & Cafe, 904 Vt., will appear in a viewer's choice episode of the Food Network show "The Best Of," at 8:30 p.m. today and at 12:30 a.m. Thursday.The Food Network is available in Lawrence on Sunflower Broadband's Channel 69.
Donna Beecham is to thank for the bakery's appearance on "The Best Of."
She's known at Wheatfields as "the bread lady," where, every Tuesday night for the past several years, she has picked up that day's leftover breads and pastries for delivery to Baldwin-area nursing homes, charities and ministries.
So impressed is she with Wheatfields that the 52-year-old Baldwin resident e-mailed the Web site of the Food Network last August, making a case for "The Best Of" producers to visit Lawrence and film a segment on the business.
"I was actually shocked when the producer called about a month later. I was in shock when Karen (Karen Fox, based in Philadelphia) says, 'Hi Donna, this is Karen from the Food Network.' They read it, they actually read my e-mail," Beecham said.
She felt Wheatfields deserved recognition for its willingness to help out in the community.
Customers have many favorite items at Wheatfields, but the most popular specialties are the ones that emerge each morning from the bakery's wood-fired oven.Among the bakery's best-selling styles of bread are:
Golden Multi-Grain, which features plump wheat berries, rolled oats, flax seeds and sunflower seeds.
Kalamata Olive, in which copious amounts of ripe Greek olives are folded into white sourdough.
Cherry Hazelnut, a specialty bread made only on Saturdays.
Semolina, a popular, weekly special made with unbleached wheat flour and semolina (a flour often used in making pasta).
Ciabbata, a pillowy, Italian bread made with unbleached wheat flour, light rye flour and a splash of olive oil.
"That's why I wanted the Food Network to know about Wheatfields -- not to mention that their food is awesome. Goodness gracious, it's just the best bread in the world," Beecham said.
"Whatever's left on the shelf at the end of the day, I take it away. Sometimes it's pastries and sweets, but it's mostly bread, and it's every variety. This last bunch I handed out, I opened up the sack and there were two whole focaccias. It's like finding gold -- people go crazy."
A film crew from "The Best Of" was already planning to visit restaurants in the Kansas City area, so Beecham's e-mail sold producers on the idea of making a jaunt to tape segments in Lawrence.
"When we get ready to go into a city, we look to the e-mails to see if there is an interesting one that describes what would be a good location for us," said Fox, a research producer for "The Best Of."
"That's what happened in the case of Wheatfields. Their recipe that they gave us was great. It was for an olive bread (used) in a sandwich, and even the people in New York said that was interesting."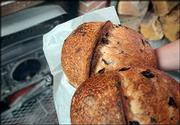 'They feel taken care of'
Katie Kutilek, general manager of Wheatfields, wasn't all that shocked when she found out Wheatfields was going to appear on "The Best Of."
"It doesn't surprise me. The fact that it is a 'Viewer's Choice' show and that one of our customers (Beecham) alerted them ... All the time, customers come to me and tell me how important we are to their life in Lawrence. Our regular customers will come up to me and give me a hug after they've had a good lunch," Kutilek said.
The bakers, chefs and front-end staff enjoyed the experience of being taped for the television program, according to Kutilek.
"It was fun. We had no idea what to expect. The field producer called me and assured me this is what they do, working with people in small kitchens. They (the film crew) were here for four hours. I'm kind of curious to see what that translates to," she said.
Brian Barton, assistant kitchen manager, made a tuna-and-artichoke-salad sandwich on the bakery's own Kalamata Olive bread. Marc Silverstein, co-host of "The Best Of," raved about the bread, one of the most popular items at Wheatfields.
"They spent some time in the bakery at the bench where people were shaping bread, they lined up loaves of bread and did 'beauty shots' (of food), they talked to some customers and showed how our front end (of the cafe) works," Kutilek said.
The crew interviewed Kutilek, as well as Rita York, head baker, and Beecham.
Kutilek said she understood why Wheatfields was so beloved in Lawrence among those who value the taste of artisanal breads, homemade soups and gourmet sandwiches.
"It's a combination of the consistent high quality of the food, and also it's kind of a family thing. We know so many of our customers by name -- we even know their pets' names. They come in to eat, they run into their friends here, they know the employees well.
"They feel more than fed -- they feel taken care of."
More like this story on Lawrence.com