The Winning Eleven International series graced the Playstation 2 last year to much critical acclaim. It bested EA's FIFA series with deeper control and gameplay, but how does this year's edition fare?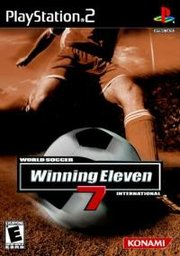 Upon trudging through the convoluted menu system and finally starting a match, it's obvious to any onlooker what makes Winning Eleven 7 so great. "Wow, it's like he's actually moving." "Woah, did you actually control that move?" "I feel like I am in the stadium." Like last year's iteration, Winning Eleven 7 boasts unparalleled control over your team. This year, the control has been tightened, the animations have been smoothed over and increased, the crowd gets versatile and the reactions from the defense are more tailored to the actual abilities of the true team.
Unfortunately, WE7 is not as easy to pick up as FIFA. The menu system is dense, all team licenses aren't represented and some controls for kick in and throw ins have a significant learning curve. But where FIFA shines in accessibility, WE7 makes up for on the field after the learning curve...and then some.
For the national teams that aren't represented, you can do some minor editing and make the teams yourself; they had this in mind when shipping the game. Although the trading system pales in comparison to FIFA's robust scouting statistics, what is here gets the job done and any frustrations met off the field melt away when on.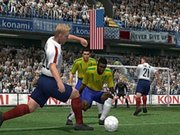 You have Match, League, Cup and Master League modes. There is a training mode which you must play only because most of you out there are used to the FIFA-everyone-can-pick-it-up set up. But trust me, no matter if you are a soccer fan or not, the rewards are ten-fold from the amount of time learning how to communicate with your team.
Subtlety also makes this title solid. In most soccer games, your player reacts negatively only to his bad play. Here, your team will flail and get angry with you if you suck. Your goalie will shrug in frustration if you leave him in a one-on-one situation. There are endless amounts of animations that add a realistic touch to the game even though they aren't particularly connected to a specific aspect of soccer.
The stadium models and character models are among the best I've seen on the PS2. Combine that with those smooth animations and you have a really pretty package. The commentary is nice and hardly makes a mistake, which is common in most sports games. I am not sure why there is no Dolby surround available in this stadium-centric game, but the crowd and other sound effects are sampled well.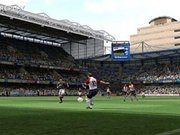 Yes, for the American FIFA gamer, Winning Eleven 7 is intimidating, even at first play. But you owe it you yourself to get the better soccer experience once you learn your way around the grass.
Graphics: A
Sound: B+
First Play: A-
Last Play: A-
Gameplay: A
Overall: 92% A-
More like this story on Lawrence.com