The most recent person to present Madison Davis Lacy with an Emmy Award is probably going to prison.
"The last one I got was handed to me by Martha Stewart," Lacy says, laughing.
The documentary filmmaker was nominated in 2002 for a Daytime Emmy for "Beyond Tara -- The Extraordinary Life of Hattie McDaniel," which aired on American Movie Classics. Lacy found himself seated amongst soap opera stars and talk show hosts as an unlikely fellow competitor.
"The documentary is the last thing that's given out to anybody," he recalls. "So we had to wait through the whole affair. They announce my name, and the whole place went quiet as if to say, 'Who the (expletive) is that?' I went up, and lo and behold, Martha was there ... I shook her hand and told her how much I respected her work."
He adds, "I think she's a very interesting, talented lady. Too bad she lies."
The latest Emmys incident is kind of a metaphor for Lacy's experience as a black filmmaker thriving anonymously in a primarily white medium. While others are focused on the more glossy aspects of the industry, Lacy continues to crank out award-winning work that has lasting societal value.
Currently, the New Yorker is spending this semester at KU as a Langston Hughes visiting professor. On Tuesday, he will join Lawrence colleagues Kevin Willmott and Chuck Berg in a conference titled "Images of Race and Ethnicity in Film" for the university's "Legacies of Brown v. Board of Education" conference.
"I'd never imagined I'd come to Kansas to do this kind of thing," he says.
However, this isn't Lacy's first time working in the area. He traveled to Kansas City previously when collaborating with noted documentarian Ken Burns on his epic series, "Jazz." His interviews with legendary K.C. musicians Jay McShann and Claude "Fiddler" Williams became part of the program.
Recently, while putting together a dual video project for the soon-to-open Brown vs. Topeka Board of Education Museum, Lacy was recruited by KU American studies professor Bill Tuttle to apply for the visiting position.
Past Event
Tuesday, March 16, 2004, 9:45 a.m.
Woodruff Auditorium, 1301 Jayhawk Blvd., Lawrence
All ages
He agreed despite having no previous teaching experience.
"It's a lot of fun because it forces you to think about things you do automatically," he says. "For example, today I had students preparing some small documentaries as practice for the prospect of being in the marketplace. Somebody asked about budgeting. I do budgeting almost by instinct and I had to sit down and think, 'How am I going to get the basic principles across?'"
Lacy is teaching two classes: a "Broadcast Documentary Workshop" and a studies course called "Race in the American Documentary: The Struggle for Hearts and Minds" that he admits to "sort of making up as I go along."
The instructor claims to be very impressed with the work being submitted by the students. As for his teaching style, he says, "I bark at them a lot and give them some hard and fast rules about how to get a film on the air -- and even just get one done."
Eyes on the prize
Lacy is best known as the writer-director-producer of such lauded documentaries as "Eyes on the Prize II," "Free to Dance" and "Richard Wright: Black Boy." But for years, he tried to get films off the ground with little success.
"When I got out of (Washington State University) in 1968, it was very difficult to acquire the kinds of jobs that I thought I was prepared for," he says. "There was still a lot of racial discrimination, especially in the unions on the West Coast."
Despite Los Angeles being the hotbed of the motion picture industry, Lacy decided it wasn't the place for him.
"I came East because I knew I had a better chance of making it in the documentary realm," he explains. "When I left Los Angeles I didn't have a single award to my name and I had not made a long-form film. Since then I've had a career. I've run a television station in New York City. I've worked for major productions and I've earned four Emmys. If I would have stayed in Los Angeles? I dare say I probably would have been one miserable S.O.B."
Right now Lacy is occupied with several projects, including a history of the African-American theater, "It'll Be Me," which harmoniously takes its title from a Langston Hughes poem. The second, "Gates of the Walled City," focuses on author Theodore Dreiser ("An American Tragedy").
In May, Kansas audiences can see two films he did specifically for the new Brown vs. Topeka Board of Education Museum in Topeka.
"One is about the importance of education to African Americans," he says. "The second is sort of an impressionistic video called 'Pass It On.' It has a little message in there for young people about how the story isn't over until it's over and there's still work to be done for a fair and equitable society."
Although he writes virtually all of the movies he makes, he has yet to self-generate a topic.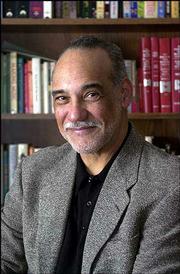 "Generally, these projects that I do find their way to me," states Lacy.
No restrictions
While his years spent advancing in the PBS ranks to an executive producer position exposed him to a diverse range of material, Lacy says he now almost exclusively undertakes movies that have a minority interest.
"I really don't have time to spend working on things that might NOT be considered a 'black project,'" he says.
The reason for this decision partly comes from the resistance he's encountered when trying to gain backing for more mainstream ventures.
"Some of the funders and some of these entities to whom you go for financing, they look at you and see you're black and say, 'Well, why is HE trying to tell a story about blah, blah, blah?' I don't feel like going through that crap," Lacy says. "Now, the only thing I ask from funders is that just because this story might be about an African-American subject does not mean that it needs less funding. So I get the same kind of money everybody else gets."
He adds, "Some black producers feel restricted. I feel absolutely free as a bird."