Behind-the-scenes work often goes unrecognized.
So it's little wonder that the fiery tactics of abolitionist John Brown, the military recruiting efforts of James Lane and the freedom cries of newspaperman John Speer surface first in discussions of 1850s Lawrence.
But a new quilt created by a couple of area stitchers in honor of the city's 150th birthday draws attention to courageous women from Lawrence's storied territorial period.
The Sesquicentennial Sampler features nine quilt blocks, each bearing a historical pattern whose name cleverly coordinates with a woman. So Slave Chain represents Ann Clarke, a slave who escaped via an Underground Railroad link in Lawrence; and The Fish Block remembers Eudora Fish, a Shawnee Indian and namesake of the city east of Lawrence.
Quilt historian Barbara Brackman had already completed the research and linked the women with patterns for another project, so when she found out fellow members of the Kaw Valley Quilters Guild had volunteered to make the sesquicentennial quilt, she offered the patterns.
"What I've been trying to do for years is use people's interest in quilt patterns to teach them about local history," Brackman says. "I've always used quilts, which are very accessible, to sort of reach a little further into facts.
"I think John Brown is over-praised for bad behavior, personally. But people ... who just did a quiet heroic job are neglected."
Joyce Colton, of Big Springs, and Mary Boucher, of Lawrence, pieced the 76-inch-square quilt, which will be unveiled Saturday at Watkins Community Museum of History.
History 'through all eyes'
Eight pieced blocks are arranged around a central star with an appliqued ninth block in its center. The central block contains the Northern Lily & Southern Rose pattern in honor of Lucy Larcom, who never came to Kansas.
She was a New Englander who helped edit a literary magazine written by Lowell, Mass., mill workers. In 1855, she won a poetry contest sponsored by the New England Emigrant Aid Society to encourage people who believed in freedom to move to Kansas. One of the verses seems to call for a union of Northern and Southern women:
"Sister True, join us too,
Where the Kansas flows
Let the Northern lily bloom
With the Southern rose."
Among the other women memorialized in the quilt are abolitionist advocates bent on ensuring Kansas entered the Union as a free state, writers who chronicled life in Bleeding Kansas, the state's FIRST first lady, the Civil War's first widow, a conductor on the Underground Railroad and a philanthropist whose husband worked as a banker.
"It's high time that some of the women were given their due," Boucher says. "I know that having read about Quantrill's Raid and that sort of thing that women who settled Lawrence must have been very strong to have survived losing so many of their husbands and sons and brothers and continued to build a city that we can be proud of today. It's pretty amazing."
Alison Miller, curator of collections and registrar at Watkins, agrees.
"I think it's an underepresented part of our history, and I think when most people think of the sesquicentennial, they tend to think of the well-known male figures," Miller says. "It's important that we understand history through all eyes."
Lasting significance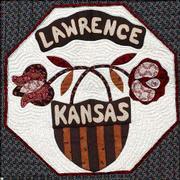 Boucher and Colton say they felt a strong sense of history when working on the quilt. They chose reproduction fabrics in shades of tan and brown -- with a few hints of red -- to mimic the sepia tones of historic images. And although they machine-stitched their quilt, Boucher and Colton believe their 1850s counterparts would approve.
"I would like to think that if these ladies were here today, they would use the same techniques that we did and they would like this quilt," Colton says. "They would be pleased to be part of it."
Eventually, the quilt will be displayed in the stairwell at the museum. The Friends of Watkins commissioned the quilt and chipped in $200 to pay for the fabric. Lori Kukuk, of McLouth, machine-quilted the piece.
A book containing the stories and patterns will be for sale at the museum gift shop for those who want to learn more about the featured women or even make a sesquicentennial quilt of their own.
"I think it's a great thing to do this year is to celebrate the sesquicentennial by slaving away on a quilt," Brackman says. "You can do a block a month."
For Colton and Boucher, who both quilt whenever they can, this project has special significance.
"I hadn't stopped to think about how that quilt's going to be hanging around here a lot longer than I am," Boucher says. "Maybe one of my grandkids will walk in there and say my grandmother worked on that."