Ubisoft, one of the world's largest video game publishers, announced today that Tom Clancy's Splinter Cell Pandora Tomorrow has reached gold master status for the PC, Xbox, and Game Boy Advance and is expected to arrive on store shelves March 27th. Developed by Ubisoft's Shanghai studio, Splinter Cell Pandora Tomorrow tells the conspiracy-ridden story of black ops agent Sam Fisher as he explores the shadowy world of international espionage.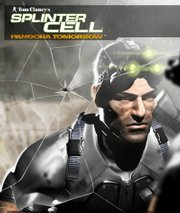 With an offline story as compelling as the original Tom Clancy's Splinter Cell and a revolutionary online component for the Xbox and PC, Splinter Cell Pandora Tomorrow is one of the most anticipated games of 2004. On Xbox Live or over the Internet on the PC, gamers will experience a revolution in online gameplay: for the first time in gaming, players can play from a third-person perspective against others playing in first person.
In third-person perspective, play as a SHADOWNET spy achieving Third Echelon's objectives as you infiltrate hostile ground. From a first-person point of view, play as an ARGUS mercenary, tracking and eliminating the intruding SHADOWNET spies. This innovation in perspectives allows the online game to create an incredible tension totally new to gaming.
Expect our review right around the release.