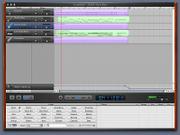 Apple Computer's GarageBand may be the best software release of 2004. The new music recording and composition application gives people the power to create music simply, even when the user lacks knowledge of music theory or musical ability. The software is perfect for anyone interested in recording or playing music -- from the novice to the professional it's a great tool and a great toy.
It's also a sweet deal, sold for $49 as part of Apple's new iLife suite that bundles GarageBand with iMovie (video editing), iDVD (DVD authoring), iPhoto (photo editing/management) and iTunes (music management). Each component of the iLife suite is worth $50 on it's own so getting all five applications for that price is a steal.
Garageband comes with over 1000 loops, 50 software instruments, 200 effects and four guitar amplifier models. The recording and midi aspects are usable but weak. If you see yourself really tearing into editing and automation, you'll be disappointed.
The loops, for the most part, are better than I expected. And honestly, I really didn't expect much. I mean, how cool are the loops going to be in a $50 application? But I have to admit I spent a majority of the time checking out the software going 'Wow. That's cool.' The instruments are shockingly good at times. The Rhodes and acoustic guitar are pretty awesome and the synthesizer is surprisingly useful. The effects are good, if not a little basic, and guitar amp modeling is very good.
Operation is simple and geared toward the novice. The interface is rudimentary and uncluttered and almost all of the functions are accessible without the use of pull down menus. The upper half of the screen is dedicated to an edit window that allows you to see what's happening with the individual tracks while the bottom half toggles between a 'fine tuning' edit window and the loop browser.
Creating a new song is unbelievably easy. For example, start with clicking 'Drums' in the loop browser. To the right appears a list of different styles of drumbeats that you can audition by clicking. Once you find a beat you like, simply drag it into the edit window. Follow this same process for finding a bass loop, guitar loop, keyboard loop, etc. and within a few minutes, you have a completed song (or at least a verse or chorus). In addition to the tons of software-based instruments and loops at your disposal, you can also record 'real' tracks as well. Just plug your mic or guitar into your computer and away you go.
Each track has a built-in noise gate, equalizer and compressor as well as two selectable effects (filters, distortions, flangers, etc.) and echo and reverb sends. For the most part these components all sound very good but lack a bit of the fine-tuning found in more expensive applications. You have control over volume and pan but can only automate volume. It does have its limits.
To get the most out GarageBand, you'd want to add a decent microphone ($50), a midi keyboard ($99) and the JamPack refill package that tallies an additional 2000 loops, 100 software instruments, 100 effects and 15 guitar amplifier models ($99). There are also a number of third party refills available. Many of my favorite Reason refills (Dirty Old Relics, Skip to My Loops) are available for GarageBand as are synthesizer refills from Access and others.
And now for the bad news. GarageBand only works on Macs. And not just any Mac. You'll need at least a 600mhz G3 running OS 10.2.6 with 256mb of ram and a DVD drive. It runs easily enough on my dual 1ghz G4 with 1gb of ram, but I've seen it bring G3 iBooks to their knees. You are also limited to recording a single stereo signal.
Overall, I am very impressed with GarageBand. It's simple and fun and will hopefully encourage more people to make music. And, for the price it cannot be beat. If you own a Mac and love music, I highly recommend it.