If first anniversaries are traditionally celebrated with paper, then the paper trail of sales receipts for Nintendo's Game Boy Advance SP might be the most impressive first-anniversary gift ever. In its first year, the Game Boy Advance SP has sold more than 6.5 million units in North America, the highest one-year sales figures of any video game system in history, including home consoles. It also helped propel the Game Boy Advance line to the most successful year in the 14-year history of the Game Boy series, which has sold more than 160 million systems worldwide.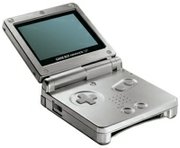 "By moving from the base Game Boy Advance model to the SP, Nintendo took portable gaming from the realm of a common Volkswagen to a baby Benz," says Michael Pachter, director of research for Wedbush Morgan Securities in Los Angeles. "It elevated the nature of portable gaming, and gave a tremendous boost to the video game industry overall."
We agree with the Big N's sentiments. It's stature in the industry has been phenomenal. We can't wait to see how they respond once the PSP hits these shores.