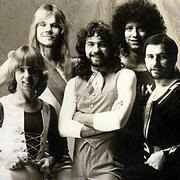 lawrence.com :: Would you have done an 8:30 a.m. interview in 1978?
James Young :: I'm not sure. I can't remember.
You can't remember 1978?
Generally, I think we did no interviews before the middle of the day or later in the day, but as research in radio goes -- and we've got a guy that works for us -- and I send him off to all these radio conferences to keep track of what's goin' on in radio. He attended some seminar that said the maximum listenership of radio is 7:15 on Thursay morning. So if I'm trying to get the message out I decided I have to get up 'cause I'm on my mission for us to climb Mt. Everest for the second time as a recording act. So I'm just trying to be efficient about it.
Well, it's actually Friday, and we're not on the radio.
No, but I had a radio interview before this and I was awake anyway, and these days actually -- we have the first show of a run starting tonight, so I'll get up that day, but tomorrow after a show I will not get up.
Well, thanks for doing it. I appreciate it.
Past Event
Saturday, May 8, 2004, 7:30 p.m.
Capitol Federal Park @ Sandstone, 633 N. 130th St., Bonner Springs, KS
All ages / $17 - $42
My pleasure.
Some of my absolute earliest musical memories are of listening to WLS out of Chicago, when John Landecker and Larry Lujack and those guys were on. I listened on a Panasonic transistor radio I won selling pizzas in band. And my first memories are of "Come Sail Away" and "We Will Rock You" by Queen. So thanks for that.
How 'bout that.
And another early Styx-related memory was a Tommy Shaw quote in what must have been Creem magazine in about 1981, where he said that in one particular town on tour, he "couldn't get laid in a women's prison with a handful of pardons."
(laughing) Well it was actually a guy that worked for us that came up with it, and Tommy just happened to use it at one point in time. And I'm sure the guy that worked for us maybe didn't even originate it, but he never divulged his sources, so we credit him. Jim Cahill was his name, and he's gone on to become very successful in the television advertising.
When Styx really started going toward the theatrical -- in appearance as well as musically, you always looked like you wanted to be somewhere else.
We had such success with the pop side of the band on the commercial level, that the record company, of course, which is a for-profit enterprise, that everything got skewed that way. And my stuff was more in the background unless people say the band live, then they got a chance to sort of sense the power of the band. But there's a lot of people that thought we got softer as we went along. And Dennis became more dominant in the framework of the band. But for the past five years, needless to say, his sense of dominance is completely gone.
"Paradise Theatre" really holds up though, and as far as becoming "softer," it's one of your more rockin' records.
There was no doubt that in response to "Cornerstone," which preceded it, and my own grumblings about how soft "Cornerstone" was, internally anyway, that "Paradise Theatre definitely had more punch, and kind of elevated the band again as a rock band. So another great moment in Styx history was 1981. [Our] first number one album was "Paradise Theatre," and probably the most successful tour of that year -- unless the Stones toured, there would have been few other people who could have outdone us that year.
What's the current lineup?
Well, it's myself and Tommy Shaw. The blonde leading the blonde, the alpha dog tagteam. And the original drummer John Panozzo passed away in '96. His place has been taken by the incredible Todd Sucherman, who for my money is the best drummer in rock and roll. Five years ago we parted company with our original keyboard player, and Lawrence Gowan, the Canadian rock phenomenon that was the biggest thing in Canada in the mid-'80s, but for some reason his popularity never crossed into the States,... And he is, overall, a better keyboard player than the guy he replaced. He's an incredibly athletic performer and a great singer in his own right, but a different sounding singer. But nonetheless, still, it works. In the stage show he sings three of Dennis' songs and I sing one that Dennis and I co-wrote. The original bass player, Chuck Panozzo, has got serious health issues which have been publicized in other places, but Chuck is still doing reasonably well and he comes out from time to time because his energy level is really not what it used to be. But he still is capable of coming out onstage for three songs here and there, and so he'll appear from time to time, I believe, on the upcoming tour we're doing with ourselves and Peter Frampton and the grandsons of Ozzy, as I call them -- Ozzy Nelson, that is [buh-doom, crash --ed.].
So is Glen Burtnik taking over when Chuck can't play?
Actually Glen, after being with "The Brave New Styx," as we call it, since 1999, and coming in on bass, whereas he'd filled in for Tommy on guitar and vocals back in '90-'91, Glen chose to leave the band. The band is really re-committed in a very powerful and strong way to live concerts and touring, and Glen, after four years of it -- he's got children that are in the formative stages, and it just ultimately became too much for him and he just decided that being there to watch his kids be raised and going back to being more of a writer -- and he's still performing, of course. I think he's got some sort of solo record, that's at least being released in Europe, that he's putting out. The schedule was just a little bit too much for him and his devotion to his wife and his kids. ... Half the year being gone from his house, that's a lot for some people. Being a touring musician, we could play 150, 160 shows a year. We choose to play 100, 110, 120. And certain people and certain marriages are not cut out for that.
So who's on bass?
A fella named Ricky Phillips who was the bass player in The Babys with John Waite, and Bad English with John Waite and Jonathan Cain. Actually John Waite and Jonathan Cain were in both those bands. And Ricky has actually been with us since last September, and we're excited about him being here. Great player, a great guy.
Does the new line-up feel real to you? Does it feel like Styx?
Absolutely. For me, this is the best lineup that's ever taken the stage in this band, and no disrespect to anyone that came before, but there's and amazing enthusiasm and vitality about this lineup, and God rest John Panozzo's soul, but Todd is truly brilliant and Lawrence is truly amazing, and it's an inspiration to be next to them onstage. And Ricky is rock solid and quietly brings a lot of things to the table that are not immediately obvious, and an incredible internal strength, which is good for a touring band; we need to have people on an even keel out here. So in my judgment this is the best incarnation of Styx, and there's numerous people in radio that believe that not only is this the best live incarnation of Styx, but also that "Cyclorama," the first studio album with the new lineup that we've ever done, and the first Styx album of the new millennium, is the best Styx album that was ever recorded. "The Grand Illusion," sales-wise of course, has dramatically outdistanced it, as have most other records, for all the reasons that exist for bands that have been around for as long as we have. It can be hard to gain traction and hard to get attention at radio that plays current music.
And John Waite and Billy Bob Thornton were on that record?
John Waite did a cameo vocal on one track, yes indeed. Billy Bob became an acquaintance of Tommy's, and then the rest of us in 2002. Tommy was invited to go to the Cleveland Rock and Roll Hall of Fame and Museum. They were having a tribute to Hank Williams. And since Hank was from Montgomery, Alabama, and Tommy grew up in Montgomery, they called in Tommy. And Billy Bob was hired to kind of moderate the whole thing, and so those two guys met there and it turned out that Billy Bob had been in the audience for Styx in 1973 when they came through Arkansas. "Lady" was a hit actually in Little Rock before it became a hit nationally a year and a half later. And he was eighteen years old and in the audience when Styx first played in Arkansas. So there's a huge mutual admiration society there with him, and Tommy and I sang on a record that he put out last year, and he returned the favor and did a little thing on our record. And Tommy has become very good friends with him, and actually on the last Warren Zevon album before his departure, Tommy actually made an appearance on "Knockin' on Heaven's Door," which was recorded at Billy's home studio in Beverly Hills.
You've go a new record out in a few days, "Come Sail Away: The Styx Anthology."
Yeah. May 4. It's the most complete career retrospective that's been done on us, and Universal, which owns the A&M years through their acquisition of Polygram, who had previously swallowed A&M Records. Universal actually went out and bought our Wooden Nickel catalog, which has the original recording of "Lady," so even "Styx Greatest Hits" doesn't even have the original recording of Lady. We re-recorded it for "Styx Greatest Hits," released in 1995, which is about to go double platinum. ... The double live retrospective we did, "Return to Paradise," in '96, when we finally got back together after not working with Tommy for 13 years, that's a gold double CD. But this one is the most complete, and has five songs from the Wooden Nickel era which is '72 through '74, and then the whole A&M era as well as recent recordings that have been on CMC Sanctuary. ...
Who selected the music for the anthology?
It was a combination of Universal -- a guy named Bill Levinson who's really kind of in charge of these things went through and listened to everything and made suggestions -- and Tommy and I went through and also moved a couple thing around. So it was the band and the record company kind of working together on it.
So Dennis didn't have any input despite almost sixty percent of the record being his music?
I know that he certainly had a say so. Tommy and I didn't agree with some of his choices, but he's incredibly well represented on here. And as part of the settlement of the lawsuit where he sued us back in the year 2000 -- and then he asked that it be settled before it got to trial -- he agreed to basically have no say so. Except in one small area here. And he's incredibly well represented here on this.
Even the title of the anthology is one of his songs.
Yeah, that's one of his songs that's the title of it. So the reality is that Dennis -- yeah, he and I were different people to start with, and we've always been very different, and it was the middle ground for the first 10 years, where we were able to compromise, that great things happened. And just his own, in my judgment, unwillingness to compromise -- which really kind of, certainly started to, in 1984 if not earlier -- is just the reason we're not together now. In his mind it's all about him -- and that's a personal observation -- and he was very significant to the development of the band, as we all were, and he sees it differently than I do, and he sees it differently that Tommy does, and right now Tommy and I have the power, and I think that we've wielded that power in and evenhanded way.
It seems that maybe you were victims of timing. The songs that people wanted to hear, and that were the reasons that people bought Styx records, were Dennis's songs. The same thing happened with REO. Gary Richrath wanted to a rock band, but the world wanted Kevin Cronin.
The irony is that record companies are guilty of being for-profit businesses, and many times it's manager's job to protect the long term because there's lots of economic incentives for people in the sales and promotions staff, that if the record sells this many copies... They're thinking of the record that's in front of them because there's no guarantee in the wacky world of rock and roll music that the next record is gonna ever be there, and so they take the path of least resistance, and if the think they can get the pop radio and make something a big hit, which in the short term certainly generates sales -- but there's a saying many people said, "You live by the single, you die by the single." And there was something that Will Ferrell did on Saturday Night Live back in 1997 where he actually did an impersonation of Dennis DeYoung at the piano, and was singing "Best of Times." They were releasing a CD, which was of course completely make believe, but it was called "The Songs That Ruined Everything." And Will Ferrell on there said something about "took a respected proressive rock band and turned them into an easy listening laughingstock." (laughs) And that's exaggeration, and it's for Saturday Night Live so you'd expect them to take a nugget of what is true and then exaggerate it, but I think there was an element of truth to that, certainly from my perspective, and sadly it aired the night Dennis DeYoung's father died, so it was brutal for Dennis. Although I think that he, in a way, was able to take it as sort of that, hey, he was important enough to be singled out. It's like being made fun of by Don Rickles in a way. You're significant enough so you're well known enough so you can be made fun of. But nonetheless, I do believe that there has to be an element of truth in the parody if it's going to succeed in people's minds. And I'm the rock guy in the band. There's no secret about that, back to day one.
I was Mr. Cutting Edge in November of 1970 and playin' Hendrix and "Foxey Lady," that's what I was known for. And I'd been in the front row for The Who in 1967, on July 4 when they first came through Chicago. None of the other guys. And I'd been to Newport '69 in LA at age 19 and saw Hendrix play twice. I was sort of, if there was an alternative thing, or in the psychedelic era. And the Panozzos and Dennis were very mainstream, and I was the cutting edge psychedelic, Hendrix-influenced, Clapton-influenced kinda guy. And as I said, it was the middle ground, the compromise, where it all met, where we succeeded, but once the element of compromise went away -- and that was, as I said, certainly no later than '84, and in my mind it was much earlier than that -- the beginning of the end of the band was already there. Decision making in the band is difficult, and I know there's people -- there's rock songs I know they wish were there, and there's a ballad or two that people wish were on there that aren't there, but -- 35 songs. We did a syndicated radio show the other night where they were talking about that Ozzy had gotten back together with Tony Iommi and basically packaged eight Black Sabbath CDs together. That's the only way to really do something complete, and there's always going to be some dissension about what there has to be, so I view myself as a consensus builder, and I could never make Dennis happy when he was in the band so I can't make him happy when he's out of the band.
If you could go back to 1972, would you change anything about how the band was run from the beginning?
I really wouldn't change a thing. It is what it is, and we were voted the most popular band in America in a survey of teenagers in a Gallup poll in 1979. We've had an incredible career, and we can play concerts for the rest of our life. I have more job security than 99 percent of people in America, and that means probably 99.99 percent of people in the world. I didn't agree with everything, but as I said, I'm a team player, and really, what we do is very much a team sport, and if you don't have a team of people around you, not only in the framework of the band, but surrounding the band at management level and all the support systems that bands need, and at the record company level, and the promotion level -- if you don't have a good team of people, you're not going to succeed, so everyone has to compromise, if not creatively, many times you're forced to do things you don't want to do or that you'd rather not do, but this is the commerce of art, which is a sad way of putting it in some ways, and the record company, if they're going to really put their shoulder behind promoting something, they would like you to put a little effort into it yourself. And sometimes they'll ask you to do things you'd rather not do, and sometimes you'll get away with saying no without harming things, and sometimes you have to say yes 'cause you fear you will harm things. But I love what I do. I'm a lucky guy. We're havin' a blast out here.
Do you think Styx can take credit -- or blame, depending on how you look at it -- for the power ballad?
Zeppelin certainly, "Stairway to Heaven" is kind of something, although it starts out -- it's a minor key, not a major key -- it's kind of a minor key -- I don't know what you'd call it, but it starts soft and then ends up big, so the arc that the power ballad follows -- I'd have to say that "Stairway to Heaven" was maybe the first, but we were one of the first.
Ballpark figure -- how many people do you estimate Styx has gotten laid?
(laughing) Well, two or three anyway.
How accurate was the Styx episode of "Behind the Music," because that show is legendary.
About 98 percent.
So there's not much chance of a reunion with Dennis DeYoung.
I don't know what incentive there could be for me to do it. As far as I'm concerned, the answer is never.
You and Tommy always seemed to veer more toward angry, while Dennis always seemed like he felt victimized. There was the infamous Tommy Shaw / Ted Nugent interchange.
As far as that whole Nugent and Tommy thing, Dennis and Tommy had a conversation in 1991 about that, and Tommy said he would never do it again, and he's never done it again. But Tommy was furious at Dennis for a variety of reasons that didn't come out in that thing, and to me, completely justified. Certainly, the one hour version of "Behind the Music" -- you can really interpret it a number of ways, and that's the beauty of it, but in my own mind, without saying anything disparaging, any more than I already have, which is nothing but telling the truth from my perspective about all this, is that Dennis and I are very different human beings, and he ceased to want to be part of the democracy of the band.
And I see this whole thing as, we are the American colonies, he's the King of England. And there was a lot of colonists, when America broke away from England that thought it was a bad idea. But if I'm George Washington and Tommy's Thomas Jefferson here, I see this as this is the Brave New Styx, as we've called ourselves, partly after the "Brave New World" album, which was the last thing he participated in.
And [I] completely disagree with the way he wants to do this whole thing, and he has exacted a huge price from all of us, in the fact that -- for all the years where we all wanted to get together and he was busy doing other things. Everything was going to be on his timetable. We were supposed to get the band back together after one solo album after "Kilroy," and he wouldn't even return phone calls in a sense, or wouldn't even entertain the notion, until his third solo record kind of fizzled, and then his only option was Styx. We were his second choice starting in 1984, and even in 1996 and 1997 we were his second choice 'cause he was still busy trying to make it on Broadway. And finally it just got to the point, after 20 years of being his second choice, I said, "I'm going to be 50 years old soon, and I've allowed this guy to jack me around forever. I'm tired of it. Enough's enough.
Did you ever imagine that Styx would be remembered mostly for "Mr. Roboto?"
I knew it was an incredibly catchy tune, and I fully supported that song on that record, even though the "Kilroy" album, and the concept of the stage play, and the incredibly expensive stage production -- that was Dennis's dream and [it] turned into the rest of our nightmare. ... Dennis turned to me one day when everyone else was really upset by the way things were going at that point in time, 'cause that really did break up the band, but I tried to hold it together.
And there was a number of times in that process where Dennis knew the other guys weren't happy, but I stood strong 'cause I'd agreed to do this, and I put my faith in the man, and ultimately I felt like -- in the end, after telling me that he couldn't have done it without me that he just ran off and did these solo records and never called, never did anything. They say the definition of a friend in Hollywood is someone that stabs you in the front. Well, that's how I felt. And I really felt as if everything, the effort and time that I put into this band which was my whole life as well as his, that I had no say so and no ability to do anything until he decided he wanted to do something.
Really, all he'd had to do was agree to go on tour in 1999, and we'd probably, in some way, shape, or form, be together. But just the way that whole thing happened, and the way he dealt with it -- I probably said too much here -- but it just -- you know, I'm happier without him, and the good news is, for people who really want to hear him sing "Babe," he's back on the road, in his own incarnation of doing what he's doing, "Dennis DeYoung Does the Music of Styx." And if you want to hear somebody sing "Babe," you can go see him play.
Thanks James. And for my money, when you were picking songs from Equinox -- "Born for Adventure."
(laughs) Yeah, well, amazingly, they used "Midnight Ride" on Regis and Kelly the other day; just a little blurb of it. It was pretty astounding.
But "Prelude 12?" What the hell? How can that compete with women, whiskey, and sin.
(laughs)