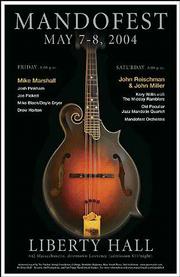 Even as a contributing component to bluegrass, rock, jazz and classical music, the mandolin has traditionally taken a backseat to other instruments. Now it's stepping onto center stage.
In its 11th year, Mandofest has become one of the nation's premier mandolin festivals, drawing some of the best pickers.
"Lawrence is known as one of the hot spots for mandolin. I would throw it in with Nashville and Austin," says Scott Tichenor, co-founder of Mandofest.
This year will be no exception. Concerts are scheduled for 8 p.m. today and 8 p.m. Saturday at Liberty Hall, 642 Mass.
Kicking off the festival are Mike Marshall and Josh Pinkham.
Marshall is an original member of the David Grisman Quintet. A master of the violin, guitar and mandolin, Marshall swings between bluegrass, jazz and Latin styles.
Friday and Saturday 05.07 and 05.088pm :: Mandofest
"He is one of the top two or three players in the United States, maybe in the world," Tichenor says.
Marshall will team up with 14-year-old virtuoso Pinkham.
The teenager has been playing the mandolin for three years. Now, he is a nationally known and respected player who has collaborated with many of his mentors, including Marshall and Grisman.
Tonight's concert will also feature national mandolin champion Drew Horton, Lawrence pickers Mike Black and Dayle Dryer, and Joe Pickett, a past Telluride contest winner.
Canadian artist John Reischman and guitarist John Miller will headline Saturday night's concert.
"(Reischman) is so tasteful and elegant. He doesn't seem to have any limitations," Tichenor says.
Reischman also will play a couple of tunes with the 40-member mandolin orchestra comprised of out-of-state and local mandolin players.
The orchestra uses instruments in the mandolin family -- mandolin, mandocello and mandola. These are similar to the violin, cello and viola in the violin family. Double basses and guitars will accompany the orchestra. This is the seventh year the choir has performed.
The Old Peculiar Jazz Quartet comprised of Tichenor and fellow Mandofest co-founders Jeff and Beth Dearinger, will perform, as will Kory Willis and the Midday Ramblers.
Although the mandolin dates its origins back to the lute, it is an instrument that has experienced peaks and valleys of popularity.
"The perception of the mandolin is as a bluegrass instrument primarily because of Bill Monroe, which isn't a bad thing." Tichenor says.
Tichenor believes most people are not aware of how versatile the mandolin is. Today, it is heard in classical, jazz and rock music.
Musicians from all styles have the opportunity to come together at Mandofest.
The event started modestly with Tichenor and the Dearingers wanting to provide Lawrence mandolin players with a platform in which to collaborate. From there, it has bloomed into a two-day event complete with concerts, workshops and jam sessions.
"The festival has grown partly from the popularity of the instrument and partly through the reputation of the event," Beth Dearinger says.
For Tichenor, half the fun of the festival is participating in informal jams with fellow players.
"They keep Liberty Hall open into the wee hours for jam sessions after the concerts," Tichenor says. "We play until they kick us out, and then we go somewhere else."