J.D. Kerr has made some bad choices in his lifetime. Not bad choices like choosing the wrong wallpaper or going to see a Martin Lawrence movie; bad choices leading to drug and alcohol abuse, abandonment, and jail time.
The child of a codependent mother and an alcoholic father who "went out for a cup of coffee and a pack of cigarettes and never came back" when he was six years old, J.D. was shuffled around an abusive foster system before government policy "emancipated" him from the group home he was raised in, effectively putting him out on his own at the age of 15.
During high school, J.D. saw former students still hanging around in front of his school; still hanging out in front of the gas station smoking cigarettes. Deciding that wasn't the life he wanted, he spent the next 10 years in the military, earning a degree and working as a structural and aeronautical engineer.
But military travel, combined with substance abuse, proved to be too much for the self-described "young and stupid" husband and father of two. That marriage ended and soon the lifestyle J.D. had worked to build in the military began to decline. More substance abuse, homelessness, and trouble with the law followed, culminating in a close brush with a year-long prison term. Throughout his adult life J.D. had always wanted to help people, but he couldn't help himself.
"I had always told myself that I wasn't going to be like my real father," he says. "And then one day I just woke up and realized, 'You know what? I'm exactly like him. I'm divorced, I left my family, I'm drinking myself into the ground' ... I hit rock bottom."
After a conversation with a friend, J.D. finally realized that "the pain of the solution had become less than the pain of the problem," and that it was time to make a change.
Twelve years later, J.D. is free of drugs and alcohol, is again married with children, maintains a good relationship with his first wife and their grown children, and uses the perspective of his dark past to help at risk youth.
As a Teaching Parent in one of three homes at the O'Connell Youth Ranch in Lawrence, J.D. and his family live with and care for eight boys. Most of the boys are juvenile offenders whose offences -- which may range from habitual truancy to grand theft auto -- don't merit placement in a standard lockdown facility. Other boys are placed there by various social service agencies from across the state.
Founded in the early '70s, the O'Connell Youth Ranch uses a behavior modification method called the Family Teaching Model, wherein youth learn through example what it's like to live in a family, including all the ups and downs of family life.
For example, says Kerr: "Just because my wife and I get into an argument, it doesn't mean somebody's gonna get hit; it doesn't mean anybody's stuff's gonna get thrown out; it doesn't mean the kids are gonna be verbally or physically abused; it doesn't mean anybody's gonna drive off in a fit of rage and never come back."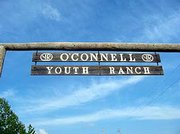 The program stresses accountability and independent living - the youth residents take part in a self-government and take responsibility for their own actions at all times. A daily point system is utilized that determines privileges for that day. And everything is a privilege - phone time, television time, home passes, social time with girlfriends, etc. From "up on time" at 6 a.m. til lights out at 9:30, everything - everything - is tallied.
And doling out the points is J.D. Kerr. Imagine Aunt Bee (the live-in caregiver on "The Andy Griffith Show") combined with the R. Lee Ermey (the drill sergeant from "Full Metal Jacket") and you'll get a pretty good picture of J.D.'s tough love approach. The man who will tell you in clipped tones that he has "zero tolerance for disrespect" and once wondered if he was going to have to "take a foot out and drop him to the ground and sit on him" when dealing with a particularly defiant youth, will then tell you the importance of maintaining structure for "his guys."
"I can't think of a time when I haven't been here when they've come home from school. It's very important to me that I maintain that structure for them, and that stability. I'm usually in the kitchen gettin' ready to make dinner. That way they can share their defeats or accomplishments, their successes through the day,"says Kerr.
These accomplishments cause J.D. to beam like the proud father that he's become.
"I've had artists, I've had kids here that are self-taught pianists, I've got a guy that looks like he might end up getting into West Point. All these people, when they first came to me, could never maintain," he says. "You pick up on what their individual things are, and then use those for motivators. You want to go to music classes. This is what you need to do in order to get there. And then these are the rewards."
And these rewards are truly earned. Every resident is required to hold a job beside maintaining an acceptable GPA. The boys also assist in the day-to-day operation of a working ranch with horses, cattle, and sizeable grounds, and 80 percent of every check goes directly into the bank as part of their training in independent living. And guiding them every step of the way, whether they're at work, school, or home is the firm but caring hand of J.D. Kerr, who views his main responsibility as availability. If the phone rings at the ranch, J.D. is there to answer in case it's news about one of "his men."
"My son doesn't really think I have a job. My job is to just sit around the house and play with him," he says.
It's doubtful the boys at O'Connell Youth Ranch share this belief while they're putting up hay in the fall to feed their cattle for the year. But they say what doesn't kill you makes you stronger, and J.D. Kerr has never killed anyone. In fact, some of his 'graduates' visit over the holidays, he says. "Because it's the only home they knew. We're their parents."
More like this story on Lawrence.com