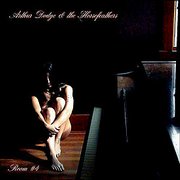 If you've lived in Lawrence for more than a year and you haven't seen Arthur Dodge, you're probably not spending much time downtown. Dodge and his band are fixtures on the Mass. St. circuit, where they've been gigging for nearly 10 years.
Dodge could very well be the quintessential Lawrence band that consistently amazes but for one reason or another never catches the break to take it to the next level. Dodge has had a crack at it -- he's no stranger to two-week tours and understaffed record labels -- but he's remained a hidden treasure, driving his cab around Lawrence and consistently treating fans to epic shows at favorite haunts like The Replay Lounge, The Eighth Street Tap Room and Louise's Downtown.
Dodge's prolific songwriting output is the stuff of legend (he once performed 100 songs in a marathon show at The Eighth Tap Room), and though he could probably put out five albums for every one that surfaces, "Room No. 4" is his first since 2000's "Nervous Habit." Like his previous efforts, Dodge is backed by an accomplished band in the form of Jeremy Sidener (bass), Matt Mozier (guitar), David Swenson (keys) and Ken Pingleton (drums).
Dodge's influences are easy to spot -- Springsteen, Dylan, Westerberg -- but his style is uniquely his own. His coarse voice encompasses some of the best qualities of all three, conveying a storyteller's soul and a songwriter's grit. Like Westerberg, he can set a bar stage aflame with rock 'n' roll and turn around and douse it with tear-stained ballads.
On "Room No. 4" he does both, though the ballads are more wistful than tearful and the rock is tempered with Randy Newman's composing sensibilities. Each song is built with intention, from the Rhodes organ-driven "Creature of the Night" to the lazy violin of "Sister Played Piano." Memorable choruses abound -- the slippery "Ghost Car" most notably -- but other songs simply develop free of conventional verse/chorus/verse structures.
Dodge's lyrics consistently surprise with simple yet astute observations: "I'm a creature of the night/As I stumble home alone/I remember why I loved you." Love songs like "Fell" are pure and unabashedly sentimental: "Can I comfort you?/Hold you close when you cry/I'm convinced that your heart's been lined with gold and your laugh and your lips and your thighs."
"Room No. 4" leaves no doubt to Dodge's many talents. If you're looking for music of substance with professional-grade chops, nothing drives like a Dodge.