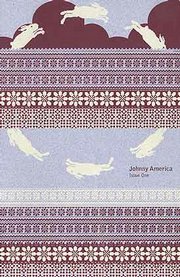 Pigeons have gusto. The new all-white-meat McNuggets are truly superior to the old McNuggets. The "T" is the most scientifically advanced letter in the alphabet.
These and many more insights into contemporary life can be found in "Johnny America" Issue One, a locally published literary zine that makes its debut Saturday during a release party at The Bourgeois Pig.
Friends Jonathan "Jay" Holley and Emily Lawton initially launched johnnyamerica.net as an online zine to publish their respective musings, but the site quickly blossomed into a forum for an ever-evolving circle of friends and acquaintances.
"Our target audience is us," Holley said. "Everybody that writes for it is just writing to entertain the other writers and themselves ... there's no pressure."
The all-inclusive approach invites all sorts of prose: humor, short stories, bar reviews, advice columns and random diary entries. Among other things, readers of the 40-page debut zine will find: an essay on Holley's love affair with pigeons, a transcription of a conversation overheard on a NYC subway and fictional excerpts from the diary of German sex cannibal Armin Meiwes (Google "Armin Meiwes" and johnnyamerica.net will appear #2, ahead of BBC News).
Past Event
Saturday, May 22, 2004, 8 p.m.
Bourgeois Pig, 6 E. Ninth, Lawrence
All ages / Free - $3
"It's definitely all entertaining, which is pretty much the goal I guess," said contributor Scott Wilkinson, author of the "Ask Jermaine Dupri" advice column. "Anyone who appreciates the humor that's apparent in everyday life would probably enjoy it."
Holley is quick to defray credit for Johnny America to the authors rather than himself and Lawton (though both are also contributors).
"I'm more of a harasser than an editor," said Holley, who assumed responsibility for proofreading the web content and distilling it into the print edition. "I enjoy writing but I need a reason to."
Excerpts:
"Now I don't mind G-Unit -- in fact, there are a couple of tracks I genuinely like. 50 Cent's sing song rhyming styles are usually pleasant enough for me to handle. But out of the past twenty-two songs the iTunes shuffle mechanism has selected, fifteeen have been tracks from Beg for Mercy, the latest G-Unit album. This includes the song 'I Smell Pussy', which I have now heard three times today."
- from "So You're Playing G-Unit Again?" by Scott Wilkinson
"Ushering a pigeon around a city block in late December beats any glass of wine I've ever sipped, hands down. I take more satisfaction knowing I managed an In-Place Triple Jump from a pair of pigeons trying to avoid the scraps of chicken wings I was hurling than I do in my GRE score. A simple Rush-and-Scatter maneuver into a group of birds is thrilling even after you've advanced into the more technically advanced pigeon games; this simple tactic never grows tired."
- from "Let Me Tell of My Love of Pigeons" by Jonathan Holley
"Dear Diary,
I got five responses today! Three pictures sent; the other two just letters. Don't these people read the ads carefully?! When I wrote, "Looking for 18-25 year old man who want to be slaughtered. NO FATTIES," didn't they read the last line, the part about fatties!? Why would anyone want to eat them?"
- from "Exerpts From the Diary of Armin Meiwes" by Jonathan Holley