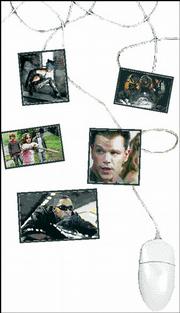 "The Internet has given everybody in America a voice. For some reason, everybody decides to use that voice to bitch about movies." -- Ben Affleck in "Jay and Silent Bob Strike Back"
Back in 1995 I was writing a film column for a Kansas City publication and responded to growing concern as to what those cryptic little phrases were that had been popping up at the bottom of film advertisements. You know, the ones that began www ...
My how times have changed.
Now even my grandma knows how to navigate the Internet. And even the most casual film fan can usually name a handful of sites that they use to keep culturally plugged in.
Movie material -- news, reviews, advance gossip, behind-the-scenes, trivia, fan pages -- is second only to pornography in terms of its sheer volume on the Web. So here are a bevy of my most cherished cinematic URLs -- some practical, some humorous and few that are just plain peculiar.
The critics
Unlike experts who critique the world of art or cuisine, almost everyone considers themselves to be a movie reviewer. With the Internet, that mindset has turned into a reality.
Among the best sites to find colorful criticism is www.rottentomatoes.com. It features a collage of national critics whose opinions are compiled on a scale known as the Tomatometer ("You say tomato/I say Tomatometer"). This deems the films "fresh" if they score above 60 percent or "rotten" if below. Critics are given a pull quote from their reviews with which to summarize their opinions, and clicking on their name links to their full article.
To take a clip from the rotten (24 percent) consensus on "Van Helsing," Flipside writer Rob Vaux asserts, "It's like celebrating James Joyce with a monster-truck rally."
For those who find negative reviews to be far more entertaining than ones that lavish praise, try out www.mrcranky.com. The resident sourpuss never seems to like anything.
For instance, the almost universally lauded "Shrek 2" earns this quip: "Donkey (Eddie Murphy) doesn't seem to grasp the notion of when he's overstayed his welcome, which makes him the perfect mascot for this gratuitous sequel."
Also amusing is the Mr. Cranky Movie Rating Scale, which uses increasing magnitudes of explosives to measure the picture.
1 bomb = Almost tolerable
2 bombs = Consistently annoying
3 bombs = Will require therapy after viewing
4 bombs = As good as a poke in the eye with a sharp stick
Bundle of dynamite = So godawful that it ruptured the very fabric of space and time with the sheer overpowering force of its mediocrity
Nuclear bomb = Proof that Jesus died in vain
The Kansan viewpoint
On the local front is the excellent www.filmsnobs.com, formed by current Lawrence residents James Owen (pen name Jimmy O) and Stephen Himes (pen name Shimes). The pair writes crisply and comprehensively without being condescending. Regarding the recent action flick "Man on Fire," Shimes states, "Tony Scott directs movies like a geek who pointlessly jazzes up PowerPoint presentations."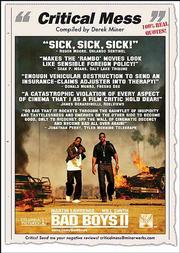 Also greatly appreciated is the Film Snobs Query of the Week, which polls readers with questions such as "Which will be the most pathetic, embarrassing or downright stupid moment of the 2004 summer movie season?"
Among the choices:
Homer getting a "story by" credit for "Troy"
Halle Berry squandering the Oscar she won "for all black women" by starring in "Catwoman," directed by somebody named Pitof.
The Bush administration blocking NASA from answering questions about "The Day After Tomorrow"
"There are a lot of online critics who act like watching movies is a chore bestowed upon them," Owen says. "At Film Snobs, we treat watching every movie -- even bad ones -- as a joyful experience."
The advance word
There are several sites that have made their reputation by revealing behind-the-scenes info about things the studios don't necessarily want reported. These are usually culled from a small army of writers paid to infiltrate test screenings.
Austin-based www.aint-it-cool-news.com is the granddaddy of the bunch. Despite its cheesy design, founder Harry Jay Knowles' site has become influential enough to cause major blockbusters to be re-edited and their release dates changed. (There's already a review up for "Harry Potter and the Prisoner of Azkaban" dubbing it "The first genuinely great summer 2004 film.")
One thing that admittedly undermines the chutzpah of the product is that Knowles is often accused of getting in bed with the studios on a professional level. The heavy-set, bearded guy has appeared in several feature films that he also reviews, such as "The Faculty" and "Ghost of Mars." His most recent outing was as a disembodied head on a silver platter in the remake of "The Texas Chainsaw Massacre."
Other sites worth looking at are the more sci-fi/fantasy-oriented www.darkhorizons.com and the newsy www.chud.com, which is named for the awful 1984 horror effort "C.H.U.D." -- whose initials readers will certainly recall stood for Cannibalistic Humanoid Underground Dweller.
The handy
Wondering what is the name of that actress in that old movie you saw on Bravo last week?
Trying to recall what that post-apocalyptic adventure from the 1980s that starred Cliff from "Cheers" is called?
Concerned as to whether RuPaul and Harvey Keitel ever starred in a movie together? (They did in 1995's "Smoke.")
The Internet Movie Database (www.imdb.com) has all the answers. And I mean ALL the answers. A decade ago, it would have taken a library the size of KU's Watson to house this much cinematic information, but it's now available with a few mouse clicks. The U.K.-based operation boasts more than 400,000 titles and 1.6 million names in its archive, and it features filming locations, release dates, awards history, trivia and photos for most of its titles.
It's so comprehensive that even my own "acting" credits are listed. Yes, that was me playing Funzapoppin' Guy in the 2003 thriller "Terminal Interface."
The quirky
Two of the more amusing sites sound similar but serve very different functions.
First up is www.moviepooper.com which is devoted to revealing the plot twists and endings to feature films. For instance, I didn't even have to see "Laws of Attraction" to learn that the attorneys played by Pierce Brosnan and Julianne Moore eventually get married.
For those who think this type of party-pooper information is an affront to the world of cinema, the site defends its existence on its home page with seven cardinal reasons. These include, "Because sometimes your trip ends before the in-flight movie does, and you really don't want to ask the pilot to circle the airport just so you can catch the finale."
Another vivid supplier of merriment is www.moviepoopshoot.com. The title is taken from a fake site referred to in the film "Jay and Silent Bob Strike Back," and it claims to be "your guide through this intestinal tract that runs through the insides of the beast called Pop Culture."
Perhaps the best feature to be found in this column-heavy tome is Critical Mess by Derek Miner. Here, the actual movie posters from recent bombs are reworked with real critics' quotes trumpeting how lame the works are. The 2003 Messy Awards were only just announced, with "From Justin to Kelly" narrowly edging "Dr. Seuss' The Cat in the Hat."
As the poster so lovingly said about the "American Idol" vanity piece, "(It's) the perfect plot for those who find 'Grease' overly complicated and obtuse."
The bizarre
Finally, there is a site so anti-movie that it has found great appeal with movie fans.
Say hello to www.capalert.com/capreports.
Run by a fundamentalist agency known as the ChildCare Action Project, the CAP Report scrutinizes hundreds of recent movies and ranks them on the WISDOM scale: Wanton violence/crime, Impudence/hate, Sexual immorality, Drugs/alcohol, Offense to God, Murder/suicide.
The sheer detail with which these evils are documented is impressive to behold ("8 Mile" apparently includes "220 uses of the most foul of the foul words"). Equally intriguing is the unintentional hilarity of some of the transgressions. Favorites from this year's crop include "statue nudity" in "Hellboy," "massive tattoos" in "Kill Bill Vol. 2" and "drinking wine" in "The Passion of the Christ."
It's somewhat ironic to find that Mel Gibson's violent action flick "Payback" ranked highest (or lowest) among all those analyzed.
So how does this Journal-World article rate with Capalert.com?
three uses of the word "poop"
one use of the word "bitch"
one use of the word "funzapoppin'"
a reference to pornography
a disembodied head
a chainsaw massacre
a Cannibalistic Humanoid Underground Dweller
a transvestite allusion (RuPaul)
a non-Biblical reference to Jesus
a veiled criticism of the Bush administration
Maybe I should be writing screenplays.
More like this story on Lawrence.com