Wednesday, November 3, 2004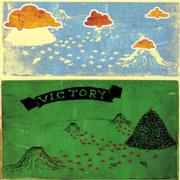 It takes about 14 tracks to realize that there's not a single chorus on The Ants "Victory Side."
No repeating lyics; no repeating melodies - just a bunch of rambling stories set to music.
And really, what would the point be? Chad Ryan's songs are already obscure enough. Odd tales of Mongolian shamans, upper class newlyweds and rural meatpacking towns decorate "Victory Side," The Ants second release for Chicago's Sickroom Records (Check Engine, Ten Grand, Sweep the Leg Johnny).
Ryan, who lives in Kansas City, gets help from a rotating cast of local musicians on the album, including Jeff Stolz of Drakkar Sauna and Brodie Rush of Be-Non (both play drums and presumably a couple other odds-and-ends). The album has all the indications of a home recording - sketchy fidelity, sloppy editing and plenty of random room noises.
Past Event
Saturday, November 6, 2004, 10:30 p.m.
Replay Lounge, 946 Mass., Lawrence
21+ / $2
Ryan's chief inspiration appears to be The Mountain Goats' John Darnielle, who shares Ryan's affection for lo-fi recordings with eccentric lyrics and limited musical abilities. Both should be considered acquired tastes - rewarding when approached with patience; disappointing if you have any kind of expectations for a musically sophisticated indie rock record.
The good news on "Victory Side" is Ryan's propensity for imaginative lyrics, which turn otherwise undistinguished song structures into intriguing short stories. "Sunshine" tells of a "rich man who harvested the sunshine, locked it up in a silo and sold it on the street side," while "Acres of Hobo" begins: "I am a hobo walking into your town / Looking at your ladies / Wandering into your neighborhood / Standing in your mansion / Dressing your chandelier with crappy crystal ice picks."
There are certainly moments where Ryan and company approach the kind of musical sophistication that could put this record over the top - the Pavement-esque "Holiday Hex" and waltzy "Raindrops" for instance. But elsewhere, songs like "Newlyweds" and "Cut off Hands" seem downright lazy with their naked arrangements and tossed-off performances.
It's clear that The Ants aren't after massive mainstream acceptance (or even insular indie rock success, for that matter). They seem to be in it for the right reasons - creative release and a little bit of fun. But a little more time invested in the medium would do wonders for the message.
Even The Mountain Goats figured that out.