Wednesday, November 3, 2004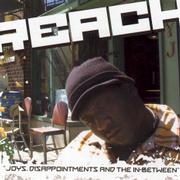 Kansas City rapper Reach (Stacy Smith) presents a serious and inspirational side of himself on his new album "Joys, Disappointments and the In-Between."
With 10 tracks clocking in at 35 minutes, "Joys..." presents conversational insights on topics like love, social justice, adversity and friendship. Reach's relaxed delivery works well on the more story-oriented songs but sometimes falls short of commanding the stage. With production contributions from Miles Bonny, Eggnog, PK and Brainstorm, the album's beats are respectable but rarely outstanding.
Reach's strength is his ability to spin stories, as he did so well on "Never Been Kissed" (his contribution to the local hip-hop compilation "Datload III"). "Imagine" is one shining example of this. Over a loungey Bossanova loop, Reach offers praise to his queen: "The kind of woman that I know my mother would like to meet / Someone that I could see becoming a wife to me / What a wonderful life you lead, impressed with the way you hold it / Got a level head and the rest of you is a bonus."
Past Event
Friday, November 12, 2004, 10 p.m.
Bottleneck, 737 New Hampshire, Lawrence
All ages
Past Event
Tuesday, November 9, 2004, 9 p.m.
Riot Room, 4048 Broadway, Kansas City, MO
21+ / $5
This personal element is absent in tracks like "Wannabeanmc?," which dwells on the tired topic of music industry shadiness. "No Tomorrow" sports some uplifting messages but falls prey to the well-worn production trick of sampling an old vocal line and jacking it up a couple octaves (think Kanye West's "Through the Wire").
Reach seems to have his head in the right place and enough lyrical ingenuity to pull off some respectable hip-hop, but he could benefit from tighter production and a little more charisma in his delivery. The three emotions conveyed in his album's title could just as easily apply to the quality of these tracks - a few more "Joys" and he'll he well on his way.