Overland Park — Peter Nyarol Dut has a mattress to sleep on, a cell phone, a car, a job and is continuing his education. If you ask the surviving members of his Dinka tribe in Sudan, he is living the American Dream.
"I'm happy here, but there are some things I'm not happy about," says Dut, who now lives in Overland Park. "I'm still thinking about my home and the same situation that is still going on in my country and the people that I left."
Dut, 22, is one of 20,000 male orphans who lost their families in the Sudanese civil war that has raged on for more than 20 years. Earlier this week the United Nations called Sudan "the world's worst humanitarian crisis." But Dut is one of the lucky ones who escaped.
The recent documentary "Lost Boys of Sudan" follows Dut and another lost boy, Santino Majok Chuor, as they were transplanted from the Kakuma refugee camp in Kenya to the United States. The acclaimed film won a 2004 Independent Spirit Award, and the DVD (Docudrama, $26.95) was released Tuesday.
Before the attacks of 9-11, almost 4,000 lost boys and girls were brought here as part of the United States refugee program. But it took a long time before Dut was able to find freedom.
When he was 6 years old, the civil war between Islamic fundamentalists and Sudanese separatists was a part of everyday life. Dut witnessed firsthand how far these fundamentalists would go. They would round up adults, put them in a barn and set fire to them while relatives watched, he says. Dut recalls the moment everything changed.
"It happened at night," he says. "I was with my mom and my dad and my extended family. The attack came in the village from nowhere, and they began shooting people. Everybody in the village started running by his own way. So from there I was running on my own way to the jungle."
Separated from his family, Dut thought the jungle was the safest place to be because, he says, there are a lot of places to hide. While huddled with other displaced people, his father appeared and told the boy they must go find safety in Ethiopia.
"On the way, my dad fell sick," he says. "We had no food, no water, a lot of disease. My father died on our way to Ethiopia."
A whole new world
Dut followed people who also were heading to Ethiopia. He says the trek was very dangerous; the route teemed with lions and tigers. Dut walked barefoot for about five months before he reached Ethiopia, surviving on plant leaves and sparse water, stopping to pull thorns out of his feet.
When he arrived, he wasn't aware of how sick he had become. He looked like a skeleton.
"I was about to die, but God is always with me," he says.
After recovering in Ethiopia, war broke out there and Dut had to leave again. Eventually, he ended up at a refugee camp in Kenya, where he was one of many orphaned boys.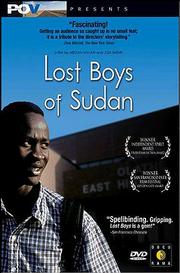 He says, "God is always there helping you, but he helps you indirect. That's how I get along with all of these things. I never dreamt before that I was going to come to this place and that I'd really be OK."
In 2000, Dut learned he would be sent to the U.S.
The film depicts his final days in Sudan before his departure on Aug. 29, 2001. The elders of the village told Dut he needed to go so he could succeed and come back to help his people.
Dut says the trip to America and his first days here were a blur. But he was excited for certain things.
"I get to have my own car," he says.
Dut's first hurdle was adjusting to American food, but after that the hardest obstacle was the language. Although he spoke English some people had trouble understanding him.
"I didn't have a good accent or good pronunciation," he explains. "So the big problem when I talk to people they have to say, 'I'm sorry I didn't get you.' I have to keep repeating."
Coming to Kansas
The agency placed him in Houston along with other lost boys. Dut had trouble adjusting to the urban environment and talked to some friends in Olathe who praised life in the Midwest. Dut's No. 1 priority was to pursue getting a higher education, something his friends said he would be able to do in Kansas.
Dut arrived in Olathe and enrolled at Olathe East High School. He graduated in June 2003 and is now attending Johnson County Community College in Overland Park. Dut is in his second year and is hoping to transfer to school in Seattle to study medicine in hopes of becoming a doctor.
Two weeks ago, he started a job as an assistant in his school's international student office. Between the rigors of work and school, he now has little time for himself. During an interview, Dut multitasks, catching up with his friend Simon Deng, a fellow lost boy who stops by.
Dut struggles financially, getting by on a paycheck from the 20 to 25 hours he works at school, and an occasional check from a woman touched by his story. He met her in New York City when he spoke at a conference about the war in Darfur, Sudan.
Dut continues to tell his story at conferences, something he says he does for all those people who are suffering in his country.
"Nobody takes it seriously," he says. "I need to let other people know they are now aware there is a war in Sudan and a terrible war, too."
Although Sudan is a terrifying place, Dut will return once he is ready. The people of Sudan are never far away.
"I think about it and dream about it," he says. "I dream about all of the things that I've been through, and that's the same which is happening to people back home. It never goes away."