Tuesday, November 9, 2004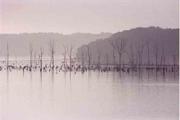 The juxtaposition of a few events I attended last month set me thinking about what can happen in an active arts community within one short decade.
First, I attended the Dead Pets for Sale opening at Lawrence's Olive Gallery. Like all Olive openings of late, it was quite crowded: people milled and talked, spilled boozy drinks, and practiced polite patience for a body shift so they could catch a view of the art. Outside, more people congregated, smoking and talking.
The following day I went to the opening for Contemplating War at the Gallery of Art at Johnson County Community College. Before the artists' lectures, director Bruce Hartman narrated a computerized preview of the Nerman Museum for Contemporary Art, which is set to open at JCCC in 2007. With classrooms and seven galleries--one established solely for the works of Kansas City-based artists--it's going to be quite a remarkable addition to the KC arts scene.
The same weekend, the Kemper Museum for Contemporary Art launched its celebration of its 10-year anniversary, and the Byron C. Cohen Gallery went into its tenth year.
When I began writing about art in 1992, there was no Kemper Museum, no H&R Block Artspace, no Grand Arts. The Crossroads District was but an unnamed smattering of galleries and frame shops persevering to keep art alive and well in KC. The West Bottoms' openings were replete with rickety freight elevators and questionable fire safety standards.
What is exciting in Lawrence today is that this town is well positioned to become a major player in the Midwest arts scene. Key elements are falling into place:
¢ The Olive Gallery has proven that small, indie spaces can survive by combining inspirational and fun curatorial choices with utilitarian commercial goods to pay the rent. The Olive consistently contributes to stimulating community among town's arts lovers.
¢ Rick Mitchell, gallery director of the Lawrence Arts Center, finally has a large, workable gallery space after persevering for years in the drab side room in the old Carnegie Library building.
¢ Last year's controversial dismissal of director Andrea Norris opens KU's Spencer Museum of Art to fresh programming and new direction.
Granted, Lawrence lacks KC's cushy bank: there are seemingly no Kempers, Blochs, Halls, Oppenheimers, or Nermans looking to lend a helping hand for posterity. Yet the triumvirate listed above--the scrappy Olive, the city pride-backed Arts Center, and the grande dame Spencer--can lead the way into a progressive decade to come.
On the Walls
That being said, the majority of our art in Lawrence is still scattered about on coffee shop walls and in small, short-lived shows. Downtown this month, there are two photography exhibits of note: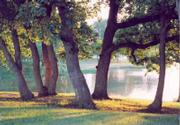 Nature photography by D.W. Gates
Quiet compositions taken in Douglas and Shawnee counties
Open daily 7 a.m. to 11 p.m. (8 a.m. Sun) @ Z's Downtown Espresso, 10 E. 9th St.,
(free, ongoing thru Nov. 30)
Z's Downtown coffee shop (10 E. 9th St.) through November.
More info
It's much too easy for artsy types to dismiss the simple beauty of, say, ducks in flight (we're accustomed to big and strange nowadays), but the sharp details and careful composition of these 35-mm photos hold a peace and quietude that are foreign to most of us, although they were all taken within Douglas and Shawnee counties.
It is apparent that Gates communes with the outdoors; he catches early morning sunrises, foggy lake scenes, and nature's rich shades of green. "I've been working with photography since June of 2000," Gates said. "After seeing an 'albino' robin three times in a week near my home, I went and bought a camera and started shooting everything around me. I never saw the white robin again, but it got me started and it has become a passion."
Photos by Edie Jackson and Christina Glauner
9 a.m. to 10 p.m. (M-W), to 11 p.m. (Th-Sat.) to 9 p.m. (Sun) @ Border's, 700 New Hampshire St
(free, ongoing thru Dec. 31)
More info
Nature and light again are the primary subject matter for Edie Jackson and Christina Glauner, yet the vision and application within these photos differ from Gates' more traditional approach. Glauner's "Four Seasons" shows exactly that: four small photos prominent with the colors of nature. Her "Street Lights I" and "Street Lights II" illustrate yet again what all photographers know: that the camera was invented to catch and work with the magic of light.
Jackson's "Clinton Lake," a photo of driftwood and snow sleeping together, is poignant in its mix of the old and dead (the wood) with the fresh and new (the snow). Her black and white "Michigan Lake Chicago" features a pair of girl's shoes on the sand and captures a loneliness on the edges of a very busy city. "This is a new medium for me," said Jackson, a 1997 graduate of KU's sculpture program. "I wanted to document my travels and show people where I've been."